From Uzbekistan to New York
Barnard student Nazira Davroni is trying to do it all, both on and off campus.
October 31, 2023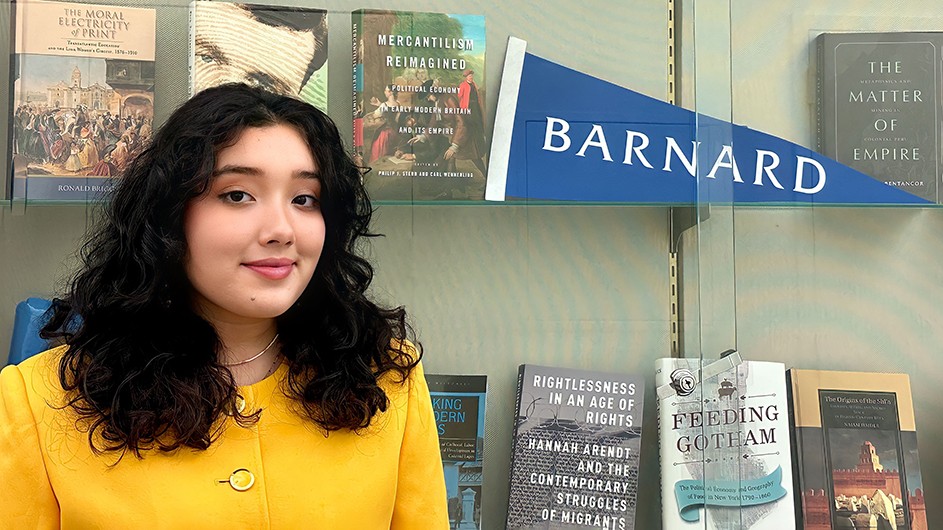 Notebook is a Columbia News series that highlights just some of the many fascinating students who study at our University. 
---
Barnard junior, Nazira Davroni, thrives on attending school in New York. When she isn't studying in one of the many libraries across campus (or at the Rose Reading Room in the main branch of the New York Public Library on Fifth Avenue), you might find her hunting for treasures at a vintage shop or exploring a new neighborhood in one of the five boroughs.
When are you graduating from Barnard, and what is your major? 
I am set to graduate from Barnard in the spring of 2025 with a combined major in Educational Studies and Human Rights.
What drew you to this double major?
I have always been passionate about education and social justice, so it was the perfect fit. The intersection of education and human rights allows me to explore how education can be a tool for social change, while also considering the systemic inequities within our educational systems.
This semester, I am learning about the history of education and its connection to social movements, change in global contexts, and how human rights principles can inform educational policies. I recommend everyone take an Educational Foundations course, even if it's not within your major! It offers a lens through which you can find out about the structures that shape your learning experiences, and what it really means to be an engaged and critical learner.
What do you hope to do after college?
I plan to go to graduate school at Columbia SIPA to further specialize in international education policy, but I am keeping my options open. I would love to travel and work at a nonprofit advocacy organization to apply what I have learned. Or I might explore opportunities in academia and research in this field. One thing is for sure, though: I'm excited to embark on the next chapter of my journey and see where it takes me!
How do you like studying in New York? What are your favorite urban activities?
Studying in New York has been incredible. Being in the heart of a vibrant city has allowed me to engage in various cultural and social activities, where I have met great people and shared many memorable experiences. Most importantly, I've learned so much, whether it's sidewalk etiquette or finding resources in the city.
Some of my favorite activities include strolling through Central Park to observe the turtle pond and its resident birds, taking the Roosevelt Island Tramway for stunning views, and running around the city looking for unique finds. I also love taking the Q train to Brighton Beach because it's my home away from home: I'm from Uzbekistan, and Brighton Beach has a strong Central Asian/post-Soviet community with restaurants like Nargis Café and grocery stores like Tashkent Supermarket, where I find foods from my culture and hear my languages spoken.
Any suggestions on how to best navigate the city, and any recommendations for places to go, things to do, and where to eat?
Get out of Morningside Heights and explore different boroughs! Grab a friend and go to Harlem, Chinatown, Flushing, Jackson Heights, Astoria, Park Slope, and Coney Island, to name just a few places. Familiarize yourself with the subway system, as it is the most efficient way to get around.
Go hunt for clothes and trinkets at local art exchanges, thrift stores, flea markets, or Facebook Marketplace—you never know what hidden gems you'll find. My favorite item is a portrait necklace I got from the Morningside Art Exchange, which I always wear. The city has something for everyone, though it can sometimes be overwhelming. At those times, find a peaceful spot in Riverside Park or Morningside Park, or visit Barnard's Arthur Ross Greenhouse, where you might even spot me!
If you're on a budget, take advantage of student discounts through, for example, the Arts Initiative. You can get free or discounted tickets to museums, movie theaters, Broadway shows, and Lincoln Center events.
Eating out: My favorites are Harlem Shake for delicious burgers and milkshakes, Koku Ramen for a hearty, comforting bowl of ramen, downloading the Too Good To Go app to find discounted meals from local restaurants, and checking out food trucks and delis—a mixed halal platter from the food cart by the Morton Williams Market on Broadway near campus is one of my top choices. 
If you want to find new study spots, get a library passport at Butler Library and explore all of the Columbia and Barnard libraries. They're located across the Morningside campus, and it's fun to get your passport stamped at each one you visit. Or take your work off campus to New York Public Library's Rose Reading Room, find a quiet nook at the Metropolitan Museum, or try to nab a seat at the Hungarian Pastry Shop. 
Take advantage of this crazy experience of going to college in New York. It won't always be glamorous, but it will definitely be memorable and make for funny stories.