A New Book Examines How Modernism Influenced the Home and Domestic Life
In Machines for Living, Professor Victoria Rosner also considers the relationship between gender and design.
October 19, 2020
One of the many changes wrought by COVID-19 has been the transformation of the home from a place just for living to a place for both living and working. Given that many of us are now spending more time at home, Professor Victoria Rosner's new book is especially timely—Machines for Living: Modernism and Domestic Life.
In the book, Rosner, who teaches English and comparative literature and is dean of academic affairs at the School of General Studies, looks at the relationship between modernism and the modernization of the early 20th-century home by bringing together primary sources from literature, architecture, design, science, and technology.
Rosner recently spoke with Columbia News about Machines for Living, along with books that have made her laugh and cry, what she's been reading during the pandemic, and who she would invite to a dinner party.
Q. What gave you the idea for this book?
A. This book was sparked in the summer of 1996, when I was a graduate student doing research in the archives of the now-defunct Women's Design Service in London, and trying to understand the relationship between gender and the built environment—how built and designed spaces communicate ideas about identity, relationships, and power. Looking at all those materials together helped me to grasp how much the home changed in the 1920s and '30s, and the intersection of those changes with modernism. But it was too big an idea for me to tackle for my dissertation, or even my first book, so I had to be quite patient.   
Q. Can you give some examples of Virginia Woolf's architectural works that you discuss in the book, as well as how these works may have affected her writing?
A. Most people don't know that Virginia Woolf was quite interested in architecture and design, and carried out nearly 20 renovation projects at her Sussex home, Monk's House. She took models for her writing from architecture, seeing the two practices as analogous. As Woolf put it, "The thirty-two chapters of a novel… are an attempt to make something as formed and controlled as a building."  
There are so many ways that Woolf's writing centers on architecture—from the fantasy of an isolated room for women's work in A Room of One's Own to the ancestral home at the heart of Orlando to the parallel deterioration of the family and their house in To the Lighthouse.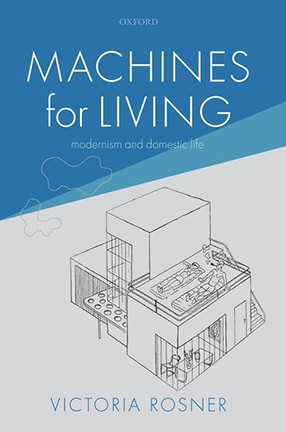 Q. How were Woolf and other women of the time central to modernism's emergence?
A. They are modernism.
Q. What's the best book you've ever received as a gift?
A. Given my interest in the intersections of writing and architecture, it was pretty great to receive as a gift Chris Ware's graphic novel Building Stories. It's comprised of diverse printed materials—comics, flipbooks, posters—all assembled together in a box, like something imagined by Marcel Duchamp.  
Q. What's the last book you read that made you cry? The last book that made you laugh?
A. This question makes me feel insufficiently emotional as a reader. Are other people frequently crying while reading? I'm pretty sure I cried when Beth died in Little Women (spoiler alert), but I read that quite a while ago. How about this: I don't think I cried, but I can recommend some books that left me freaked and unsettled me for days—Magda Szabó's The Door, Olga Tokarczuk's Drive Your Plow Over the Bones of the Dead, Tadeusz Borowski's This Way for the Gas, Ladies and Gentleman.
The last book that made me laugh—that's even harder.  I think I'll just suggest a film for our moment: Mel Brooks's High Anxiety. 
Q. What books would you recommend to readers during this time?
A. Friends have been a sustaining comfort for me in these last months. So I'll recommend some great books on friendship, and women's friendship in particular: Leonora Carrington's The Hearing Trumpet, Min Jin Lee's Pachinko, Audre Lorde's Zami, Sharon Marcus's Between Women, and Nancy K. Miller's My Brilliant Friends.
Q. What are you teaching this year?
A. Next semester, I'm teaching Philanthropy and Social Difference. This course is for anyone interested in how philanthropy changes the lives of both donors and recipients—for better and for worse. We'll learn about the history of philanthropy and about the role of social difference in perpetuating inequality. We will also practice philanthropy as a class: Thanks to a generous grant, we will have at least $50,000 to give away by the end of the semester, and we will have to decide as a group how to distribute these funds as productively as possible.
Q. You're hosting a dinner party. Which three academics or scholars, dead or alive, would you invite and why?
A. I think I'll invite three of my professors from when I was a Columbia student, each of whom expanded my mind and none of whom agreed with each other about much—Wallace Gray, Carolyn Heilbrun, and Edward Said. I'll even give them for an initial topic a book dear to all of them in totally different ways: Joseph Conrad's novel Heart of Darkness. Discuss!