Wango Weng's Films Get the Attention They Deserve at Columbia
The filmmaker, art historian, and collector was the subject of a recent online event organized by the Weatherhead East Asian Institute and the C.V. Starr East Asian Library.
April 13, 2021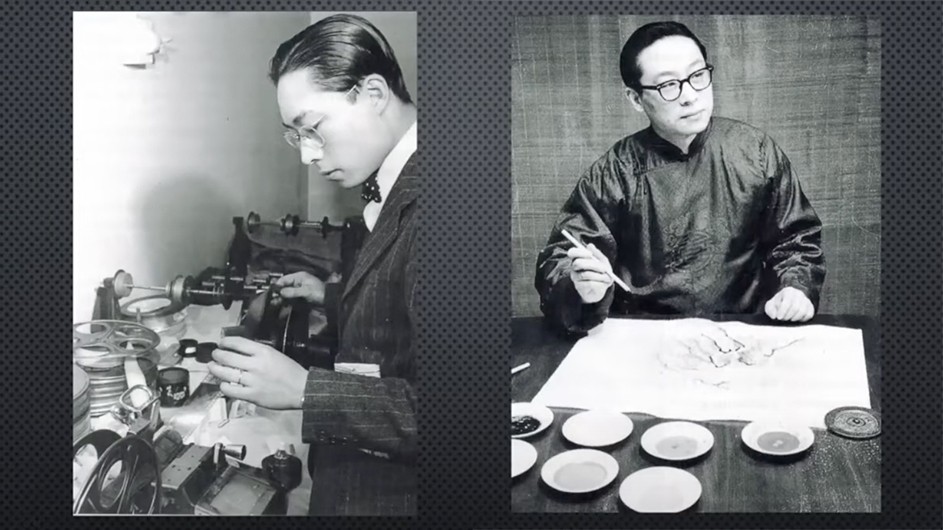 Like the water that appeared so frequently as a motif in his works, Wango Weng was versatile, taking in the life and culture around him, and creating films that reflected all that he absorbed on his journeys. A filmmaker, art historian, and collector, Weng was influenced by his frequent travels across the Pacific Ocean. But while his works thematically bridged the United States and China, Weng's prolific career has been largely overlooked by both Chinese and American histories.
At an online event organized by the Weatherhead East Asian Institute and Columbia's C.V. Starr East Asian Library on March 12, 2021, historians, film scholars, family, and friends of Weng honored his legacy and explored the historical context that shaped his work. Weng passed away at 102 on December 9, 2020, after donating his family art collection to American and Chinese museums, and his film collection to the C.V. Starr East Asian Library at Columbia.
The Transnational Nature of Weng's Films
Ying Qian, a professor of Chinese Cinema and Media, introduced Weng with two clips highlighting the transnational nature of his films. Weng was born in 1918, in Changshu, and first came to the U.S. in 1938, (soon after Japan's invasion of China and the onset of the second Sino-Japanese War) for a master's program in engineering at Perdue University in Indiana.
In the early 1940s, he began creating documentary and educational films related to Chinese art, society, and history. The first clip Qian showed, from A Town on the Yangtze (1951), features Weng as a first-person narrator, bringing an English-speaking audience on a tour of his hometown of Changshu. The second clip, from The East in the West (1947), depicts Chinese students in the United States, and how their studies and the systems in place helped them succeed in this country.
Despite the value these movies add to transnational film studies, Qian noted that Weng's movies and his overall contribution are not widely known. Documentary and educational films produced in association with civic institutions have been an important component of cinema culture, but until recently, they have been marginalized in film studies.
Meanwhile, as a filmmaker of Chinese origin living in the U.S., Weng was missing from both Chinese and American film histories. Although he took part in the making of Frank Capra's well-known World War II propaganda film, The Battle of China (1944), the contribution of Asians and Asian Americans to such filmmaking has not been adequately acknowledged by American film historians. "Engaging with Weng's films," Qian said, can help "bring Chinese and Chinese American histories into the conversation."
Obstacles Faced by Chinese Americans
The challenges of the times also had a dramatic influence on Weng's life and the choices he made. Charlotte Brooks, a panelist and history professor at Baruch College in New York, explained the obstacles that Chinese Americans faced during Weng's time in the U.S. She noted the racism directed toward ethnic Chinese, which was most clearly codified through the Chinese Exclusion Act of 1882.
During the later years of the Chinese Exclusion Act and following its repeal in 1943, Chinese-born students such as Weng formed a more consciously elite group, but their experience during this period was complicated. Stranded in the U.S. after the Chinese Communist Revolution, Weng was able to legally stay in this country, where he and other Chinese-born students benefited from economically minded American policies that granted these educated elites citizenship and work opportunities—in sharp contrast to lower-class Chinese immigrants without legal status.
"But elite Chinese immigrants like the Wengs often grappled with the same kinds of basic racism as their working-class Chinese American counterparts," said Brooks, "unable because of their race to find developers or realtors who would sell them homes in many neighborhoods, unable to climb above a certain level in many professions, and often grappling with deep misunderstandings of who they were, and what they represented."
Ultimately, Brooks continued, Weng and his family were greatly affected by the so-called Yellow Peril and misperceptions of Chinese and Chinese Americans, "which obviously persist to our current day," she added. These misperceptions are exactly what Weng's films tried to address.
Weng's Switch from Engineering to the Arts
The panelists then discussed Weng's career from a diverse range of disciplinary perspectives. History Professor Yanqiu Zheng from Misericordia University in Pennsylvania touched on the mentors and forces that shaped Weng's decision to switch from engineering to the arts. In both disciplines, Weng was negotiating his own interests in Chinese artistic traditions, and his wish to help China modernize and industrialize. Zheng noted the influence of the China Institute in New York in guiding Weng toward the world of educational film. As an industrial art, cinema satisfied Weng's desire to express his love for Chinese traditions, while exploring modern communication technologies.
School of the Arts Film Professor Jane Gaines highlighted the technical and creative achievements of Weng's movies, especially his experiments with Kodachrome film stock as he shot the landscapes of both China and the U.S.
Struggles Involving Identity and Discrimination
Weatherhead Director Eugenia Lean summarized observations from the panel's presentations, noting the thread connecting Weng's work and experiences to the current struggles involving identity and discrimination that Chinese Americans face.
Then Ssu Weng, a physician and Weng's daughter, and Caroline Hsu-Balcer, a filmmaker, designer, and art programmer, spoke more personally about Weng, his passions, and his art.
Finally, Jim Cheng, director of Columbia's C.V. Starr East Asian Library, introduced the impressive body of work that Weng donated to the library. The collection consists of approximately 739 individual film elements, mostly 16mm, spanning 1944 to 1980.
To learn more about the collection, visit the C.V. Starr East Asian Library's website and the Wan-go H.C. Weng film collection.
---
Ariana King is the communications coordinator at the Weatherhead East Asian Institute.