Army Veteran Earns Degrees from Two Columbia Schools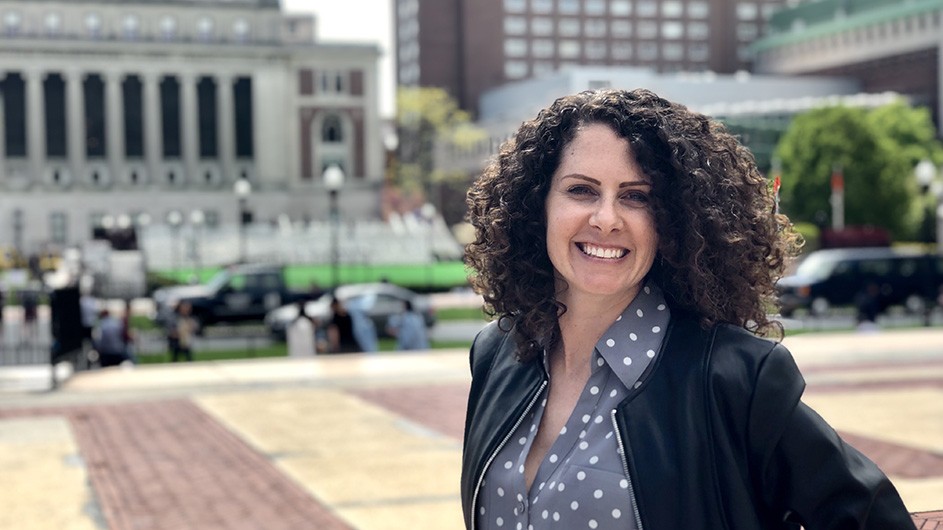 Tara Heidger wears many hats -- graduate student, urban planning scholar, policy researcher, soldier and mother of three. From rural Wisconsin to New York City, with stops in Iraq and Germany, she has navigated many different worlds.
She studied both urban planning and international policy at Columbia, and on May 22 will receive master's degrees from both the Graduate School of Architecture, Planning and Preservation and the School of International and Public Affairs.
"Just stepping onto the Columbia campus is motivating," she said. "There are so many different avenues to pursue here -- classes, faculty and what New York City has to offer."
COMMENCEMENT STUDENT STORIES
Heidger, 33, grew up in central Wisconsin, the sixth generation to live on the family dairy farm. "I had heard of the Ivy League but never thought it was an option for me," she said.  After dropping out of the University of Wisconsin in 2005, she enlisted in  the Army and earned a bachelor's degree online from Columbia Southern University. She later received a master's in urban studies from Cleveland State University.
Her interest in combining urban planning with policy grew out of a deployment to Iraq in 2007, where she saw firsthand how tens of thousands of Iraqis were displaced as a result of war and had to be resettled. She drew on this experience for her master's thesis at the Architecture School, studying how rural resettlement in Rwanda after the genocide there could help reduce poverty among refugees who returned home.
She traveled twice to Rwanda, once for her thesis research, which was funded by the Pat Tillman Foundation, and later as a graduate research fellow at the Earth Institute's Advanced Consortium on Cooperation, Conflict and Complexity. On the second trip, she took along her 60-year-old mother, and found that many more people were willing to speak with her. "They would bring out their own mothers," Heidger said. "It built trust."
She also went to Brazil, where the Columbia Global Center in Rio helped to coordinate a study of a large public housing project that Heidger conducted with several GSAPP classmates. They recommended ways to reduce discrepancies between rich and poor, such as car sharing with the wealthy, and planting an urban garden to improve access to healthy food.
There were other international trips. Last year she went to the United Nations  Peace Summit of Emerging Leaders in  Bangkok, Thailand. Speakers included victims of many global conflicts and genocides, such as in Cambodia and Rwanda. "It was very powerful to hear their stories," she said.
Heidger gave a talk about life in and out of the military. In the audience was C.J. Chivers, a war correspondent and New York Times Magazine writer, who encouraged her to write about why her time in Iraq made her so passionate about understanding post-conflict environments. Her article will be published in the magazine in the coming months. This spring, she took a class in writing about war, which included learning how to report stories of war in an ethically responsible way.  "I have a vested interest in it being accurate, since the writing includes friends that I served with."
In 2017, she won the prestigious Pat Tillman Scholarship for military veterans pursuing higher education. It is named for the NFL player who enlisted in the Army in 2002 and died in Afghanistan in 2004.
Heidger left active duty in 2013, but every summer continues to serve as a reservist in Stuttgart, Germany. She met her husband in the military (he now works in finance) and they have a six-year-old daughter and almost three-year-old twins adopted from India.
In September, Heidger will begin a fellowship in global journalism at the Munk School of Global Affairs and Public Policy at the University of Toronto. She eventually wants to earn a Ph.D. to continue with planning and policy research, and teach in a military setting.  
"I have a bit more of a civilian perspective, now with a civilian education," she said. "I can bring that into the classroom at a service academy."