Ask Alma's Owl: 'America's Grand Strategist'
Dear Alma,

Have any professors from the School of International and Public Affairs ever served as a national security adviser to a U.S. president?
Dear Scholar of Statecraft,
The Polish-born émigré Zbigniew Brzezinski, who died last May at age 89, taught at Columbia's School of International and Public Affairs for nearly 30 years, both before and after his tenure as President Jimmy Carter's national security adviser from 1977 to 1981.
He played a key role in the global issues of the day—the treaties that gave Panama control of its eponymous waterway, the Camp David Accords that brought peace between Egypt and Israel, and normalizing relations with China. He had his share of crises too, including the breakdown of relations with Iran after revolutionaries overthrew the Shah and took Americans hostage at the U.S. embassy in Tehran, as well as the Soviet invasion of Afghanistan. He was an implacable foe of Russian aggression.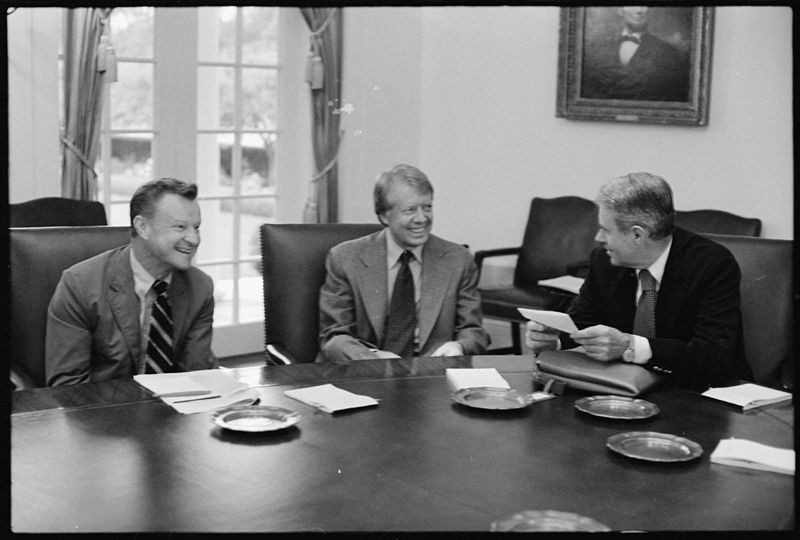 "Barring Kissinger, there is nobody who has had as much geopolitical influence over the course of modern U.S. foreign policy than Brzezinski," said Justin Vaïsse, a French historian of the United States, who is director of policy planning at the French Ministry of Foreign Affairs. His biography, Zbigniew Brzezinski: America's Grand Strategist, was published in March.
The French paper, L'Express, praised the book, describing Brzezinksi, the "man with the unpronounceable name," as being among the "most influential in the world, but also one of the hardest to categorize."
Brzezinski attended McGill University and received his Ph.D. from Harvard. He joined Columbia in 1960 after losing a tenured slot in Harvard's government department by a single vote. Before leaving Cambridge, Brzezinski and his wife held an extravagant farewell party with costumes, vodka, champagne and dancing. "We invited everybody including people who were against me," he is quoted as saying in the book, "to show that je m'en fiche (I don't care)."
Two years later, Harvard offered him a tenured faculty position, which he declined. They tried to lure him back again in 1965. "I thought if I went back to Harvard, I would still have my former professors as colleagues, whereas at Columbia in some way I was a top dog."
As indeed he was. Within a year of arriving he was put in charge of Columbia's Research Institute on Communist Affairs. He was made a full professor in 1962, at age 34.
His teaching style was, well, unconventional. Vaïsse writes Brzezinski "would threaten students with a billy club to teach them what a totalitarian regime was like in the 1950s." His student Madeleine Albright (SIPA'68), who later worked for him in the Carter administration and became President Bill Clinton's secretary of state, wrote that Brzezinski "was brilliant, did not put up with blather, and while he spoke with a Polish accent, he did so in perfect, clear paragraphs.
Even at this time there was little doubt he was going to play an important role in U.S. foreign policy." After his years in government Brzezinski returned to Columbia as a professor until 1989. He later joined Johns Hopkins University as a senior research professor at the Paul H. Nitze School of Advanced International Studies. In those later years, Vaïsse says, he lobbied to enlarge NATO, to intervene in the Balkans, to oppose the war in Iraq, and continued to write major books.
Ever prescient about the state of the world, Brzezinski once wrote, "The capacity to assert social and political control over the individual will vastly increase … it will soon be possible to assert almost continuous surveillance over every citizen and to maintain up-to-date, complete files, containing even most personal information about the health or personal behavior of the citizen, in addition to more customary data. These files will be subject to instantaneous retrieval by the authorities." Remarkably, that was back in 1968.
Send your questions for Alma's Owl to [email protected].