The Columbia-Barnard Community Mourns the Loss of Tess Majors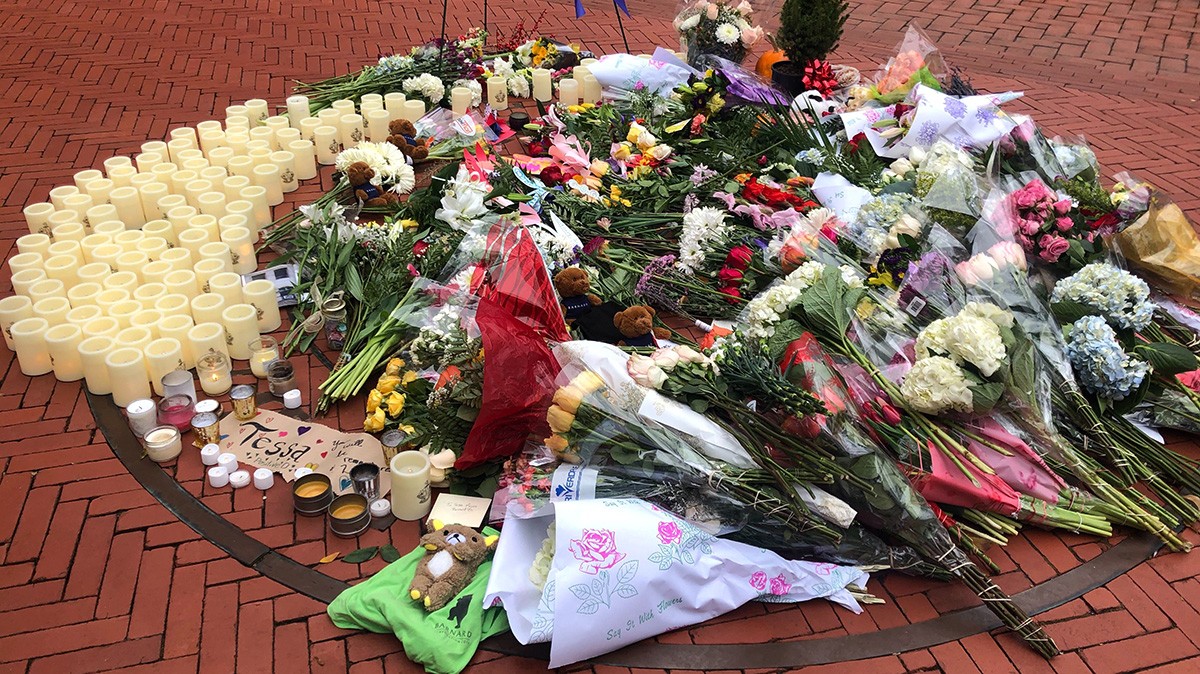 A Community Candlelight Vigil 
Join Columbia University, Barnard College, Friends of Morningside Park, New York City Councilmember Mark Levine and State Senator Brian A. Benjamin for a candlelight vigil in memory of Tess Majors. The vigil is open to the public:
Sunday, December 15, 4:30 p.m., Morningside Park and 116th St., at the bottom landing of the steps.
Remarks by Columbia and Barnard Presidents
On Thursday, December 12, students and members of the Columbia-Barnard community gathered to mourn Tess Majors. Columbia President Lee C. Bollinger and Barnard President Sian Leah Beilock both spoke at the vigil.
Lee C. Bollinger
"I am unmoored by the tragedy that unfolded yesterday evening and that led to the death of Tess Majors. Unmoored because Tess was a Barnard student, and in a very real sense Barnard students are Columbia students just like Columbia students are Barnard students; unmoored because Tess was among the youngest members of our community and we feel especially protective of them; unmoored because Jean and I are parents and grandparents and we can oh so readily imagine the pain and grief of Tess's parents and family; and unmoored because this utterly unspeakable loss happened only a few yards in front of the home where Jean and I live, so we will forever have the searing reality of that physical proximity.
On behalf of Columbia, I want formally to extend our heartfelt love and condolences to Barnard and to President Beilock, who I know will personally carry the burden of grief and mourning of the entire Barnard community.
All of the horror that encompasses this death should not and cannot detract from the appreciation of Tess Majors, the person. Tess must have been extraordinary. I am slowly beginning to get a glimpse of a brilliant young individual. And I am eager to learn more, because Tess will be in my mind, and our collective minds, for a long time to come."
Sian Leah Beilock
"Tonight we come together as one community to support each other in a time of great sorrow. The passing of Tess Majors is an unthinkable tragedy that has shaken us to our core. We are all grieving, and trying to grasp the senseless tragedy that took Tess from us.
Tess was an artist, a musician who played instruments, wrote songs—one of you today called Tess 'a blazing talent'—and Tess had just recently performed the first big gig in New York City. In high school, Tess was the leader of Creative Writing Club, volunteered for political campaigns, was a cross country runner and a musician.
When asked, 'Why Barnard?' Tess wrote: 'As an avid feminist, I have striven towards bridging my community gender divide by being outspoken in my classes, taking an intensive course on social justice, and campaigning for a congressional candidate. I enjoy taking difficult classes and feel invigorated when forced outside of my intellectual comfort zone. I embrace the culture of positivity and growth at Barnard.'
And Tess did—embrace the Barnard culture full on. Tess was just beginning the journey here at Barnard and in life—but I have no doubt Tess was on the way—before being so brutally taken away from us last night in Morningside Park.
In the days ahead we will properly honor Tess, mourn Tess, celebrate Tess's life. Tonight, we gather together to support one another in this time of grief. To hold each other close, to embrace the special close-knit community that is Barnard College. Some of you may be scared. Our faith in the safety of our community and our city has been brutally violated. The unthinkable has happened in a park so many of us have spent time in and valued as a place of refuge and peace.
President Bollinger and I are committed to doing everything we can to reinstill a sense of safety for all of us in our community. I have spoken directly, and repeatedly, to the Police Commissioner who has kept me informed about the investigation. In the days ahead we will be discussing with the police overall safety in our community and what more we can do to restore that sense of safety we all demand and we all deserve in our broader New York City community.
There will be difficult days and nights ahead. As I have asked you in my messages over these past 24 hours, please—take care of each other. Look in on each other. Look after each other. We are a community and we are each other's strength. Today and in the days ahead we need to rely on that more than ever.
Tonight hold Tess and her family in your thoughts and in your hearts. Hold each other. Honor Tess's memory and be there for each other.
As I mentioned before, what makes Barnard so special is its tight-knit community. Our students come from vastly different lived experiences and come together to support one another in times of need. Our faculty and staff are no different. We are truly a community. Tonight is about leaning on one another. With this in mind I would like to really show that mix of community in the room.
Tonight is an opportunity to gather in conversations and come together as we begin to work through our shock and process this senseless tragedy.
We have arranged food, tables, and seating around the Diana Center to allow you to engage in conversation and support each other. Food will be available in the Student Dining Room on the 2nd floor and in the lobbies on this level and on Lower Level 2. Tables are available here and in the lobby areas, and you are welcome to sit in empty classrooms throughout the building as well.
I encourage you to find space, eat, and talk with your peers and with the counselors and staff who are here to support you. And as a reminder, the counseling center is open and will be available throughout the weekend with extended hours. We are here for you and for each other. If you are hurting or if you just need someone to talk to, please reach out."