Columbia Nobelist Explores How Nations Flourish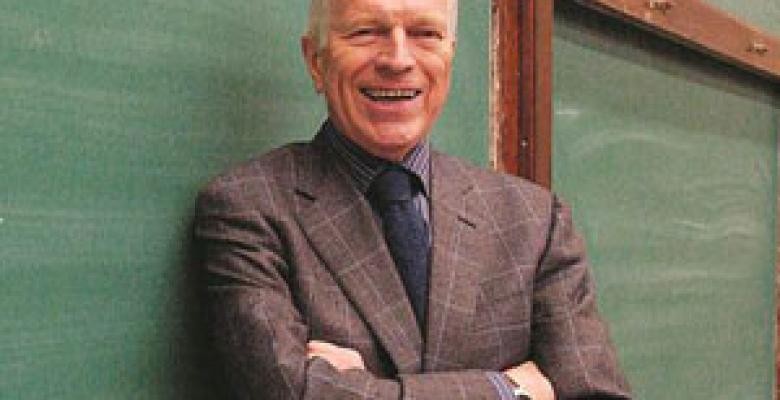 The title is optimistic and uplifting: Mass Flourishing: How Grassroots Innovation Created Jobs, Challenge, and Change. But the message is more nuanced, as befits a Nobel laureate in economics. Does Edmund Phelps believe that Europe and America still have what it takes to create "mass flourishing," that unique combination of wealth and creativity that gave rise to one of the most dynamic periods in human history?
In a new book, the director of Columbia's Center on Capitalism and Society explores what makes nations prosper and why the sources of that prosperity are threatened today. He studies the rise of unprecedented prosperity between the 1820s and the 1960s in Britain and America, and later Germany and France.
Although the book encompasses history and economics, Phelps stops along the way to discuss music, literature and politics, arguing that the music of Beethoven and writing of the Brontë sisters capture the profound changes underway in those societies. His central argument is that modern values, such as the drive to innovate, explore, imagine, compete and create, have led historically to human prosperity and can do so again.
"Mass prosperity came with … mass innovation," he writes. "Routine work, dull and lonely, gave way to careers that took twists and turns and jobs that were rewarding. … As people used their imagination to create new things and their ingenuity to meet challenges, they found self-expression, self-realization and personal growth in the process."
Phelps, who has been critical of economists on both the left and the right, is known for putting "people as we know them" back into economic models, having found early in his career that the deterministic models of classical economics did not capture the unknowns of human life that he saw around him.
In the 1960s and 1970s, he applied this perspective in studying unemployment, economic growth and business swings. In work that earned him the Nobel Prize in Economics in 2006, he showed how expectations and incomplete information play a role in the complex linkage between unemployment and inflation.
The Center on Capitalism and Society was founded in 2001 to study the workings of well-functioning modern economies. Capitalism is the starting point of the conversation. Now, with his new book, Phelps expands his perspective to innovation. He does not believe that economic growth necessarily flows top-down from either scientific advances or the leadership of top business executives. "I don't feel comfortable with elitism," he said.
Rather, he's more interested in "inclusion" –exploring how as many people as possible can enjoy the benefits of society. Phelps lays some blame for the appreciable decline of dynamism, which he sees starting in the 1970s, on the doorstep of myopic CEOs whose short-term thinking has often stifled innovation, which, he argues, tends to come from outsiders.
"Most innovation wasn't driven by a few isolated visionaries like Henry Ford," he writes. "Rather, it was driven by millions of people empowered to think of, develop, and market innumerable new products and processes, and improvements to existing ones."
Phelps blames both socialism and corporatism for dampening economic dynamism. An expansive state, big corporations and big banks, and, in some of the once-dynamic nations, big labor, he says, cast a pall on the market with reams of regulations, red tape, lobbyists and litigation. The economy would benefit if future regulators took internships in any number of industries that the misplaced zeal of their predecessors has diminished.
Phelps' previous books include Rewarding Work, which tackles the problem of unemployment and low wages. He also wrote a textbook, Political Economy: An Introductory Text, that he calls a "four-year labor of love." He earned his bachelor's degree from Amherst and Ph.D. from Yale. His first job out of graduate school was with the RAND Corporation, followed by appointments at Yale's Cowles Foundation and then a tenured professorship at the University of Pennsylvania.
He joined Columbia in 1971. In 2010, he was named dean of the New Huadu Business School at Minjiang University in Fuzhou. A multidisciplinary thinker, he credits another famous Columbian, Jacques Barzun, the cultural historian who died last year, for helping him identify the modern values beginning to emerge in Europe around 1500 that made economic dynamism possible.
Is he optimistic that the U.S. will recover its dynamism?
"I try very hard in my book to offer some hope," he said, pausing to add that he remains cautious about making predictions. "When people have the right attitudes, they get the kind of economy that delivers the good life," he said.