Cracking Journalism's Digital Code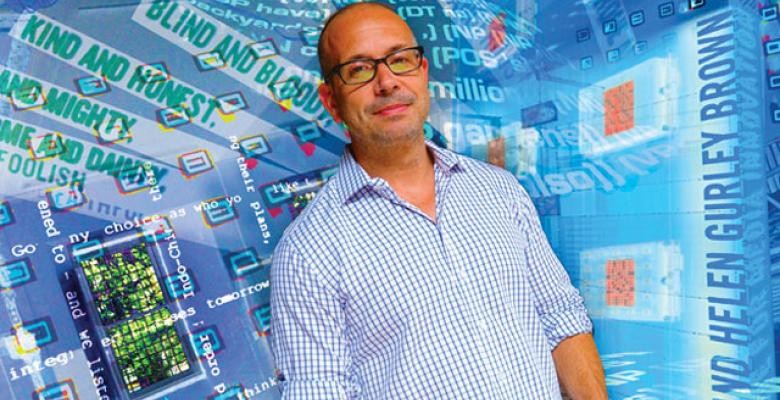 Columbia Journalism School, founded a century ago to train generations of reporters, was only 7 years old when Pittsburgh's KDKA made the first broadcast by a licensed radio station. Its announcement that Warren Harding won the 1920 presidential election set off a cascade of changes in how news was delivered and consumed—and how it would be taught. Disruptions to the journalism business have occurred with regularity ever since. After radio came television, the death of afternoon newspapers, and the rise of cable and 24-hour television news.
Now the digital revolution is upending the practice of journalism. Newspapers and magazines are vanishing amid deep cutbacks and an inexorable march onto virtual platforms. Broadcast media struggle as cable networks and the Web aim at ever narrower audiences. And with social media, anyone can set up a media enterprise and join the fray.
"When you're in the middle of a revolution or a disruption, a durable institution becomes more important than ever, and Columbia Journalism School is one of the most durable in American professional journalism," says Steve Coll, its new dean, who succeeded Nicholas Lemann on July 15. "In periods of tumult, journalism schools have more opportunities than anything else, and this school has done very well in preparing to meet those."
University President Lee C. Bollinger (LAW'71), a First Amendment expert on freedom of the press, became actively engaged in the Journalism School soon after he returned to Columbia in 2002. One of his first public decisions as president was to suspend a search for a new journalism dean and instead convene a task force of respected scholars and practitioners to review the school's academic mission.
"I felt journalism education needed to be rethought," he said. "It would be better if professional schools of journalism could develop a curriculum suited precisely for journalism students. I thought the array of scholarship coming out of journalism schools could be improved substantially."
Bollinger then made news by appointing Lemann, a New Yorker writer and author who had served on the advisory group, as the school's new dean. A decade later, the impact on the school, and University, has been notable as the school added new degree programs, hired prominent faculty members and practitioners, and integrated other fields of knowledge and new technologies.
"The journalism school has become not just a stronger leader within the field of journalism, it's also been a leader within the University as we all try to adjust every part of our inquiry and teaching to these new communications forms and this new reality," Bollinger says.
Three years ago the school started the Tow Center for Digital Journalism and hired Emily Bell, the influential former editor of The Guardian website, to be its director and a professor at the school. In early 2012, Columbia Journalism and Stanford Engineering schools were the recipients of a $30 million gift that funded the David and Helen Gurley Brown Institute for Media Innovation, whose aim is to support the connection between journalism and technology.
"Journalism, much like other fields, is having a moment where data and data technologies are affecting its core practices," says the Brown Institute's director, Mark Hansen. A professor of statistics at UCLA before joining Columbia, he sees himself as a bridge between journalism and technology. "Part of my work is to bring data science into journalism and other fields at the University, and then bring back the unique understandings of those disciplines into the science of data."
One example can be seen in projects funded by the Brown Institute that create new ways to produce and deliver media content. One of the four Magic Grant projects approved at Columbia this year calls for graduate students from the journalism and engineering schools to create software that can track censorship in authoritarian regimes, identifying which stories are revised or deleted after publication.
Another is the school's new two-year dual master's degree program in computer science and journalism. In May, the engineering and journalism schools graduated their first class with training that includes reporting, writing, data mining and software engineering.
"We know how quickly and fundamentally the field of journalism is being remade. Everything from security and source protection to covering a mobile world in the real-time social web requires new knowledge and the exercise of sharp judgment," says Emily Bell, director of the Tow Center.
Students who started classes in August are benefiting from a newly overhauled curriculum. Gone is the school's requirement that students declare concentrations in print, broadcast or digital media.
"That was reflective of an industry that no longer exists. Shouldn't everyone understand digital?" asks Bill Grueskin, the J-school's dean of academic affairs, who led the curriculum revision. Graduates "are not going to be hired as general assignment reporters on a metro daily newspaper any more," he added. "An incredibly different set of skills is required today."
Gone, too, is Reporting and Writing I, the 15-week-long boot camp course that generations of J-schoolers have survived since 1969. In its place is a shorter, intensive reporting module that teaches students to identify a story, zero in on the right information, judge its accuracy and then retrieve it. Students also have a choice of 22 writing classes, such as business writing or politics. Other new course offerings focus on data, multimedia formats and audience engagement.
"There is no substitute for independent, professional, ethical people whose mission it is to identify the important issues and report on them," says Bollinger. "You want people who are professionals, and you want the institutions that employ them to do what we need in a democracy or in the larger world."
Those words could have been spoken by the school's founder, Joseph Pulitzer, a risk-taking entrepreneur who helped invent mass circulation newspapers, fostered investigative journalism and did a good bit of journalistic disruption in his day.