Cross-Disciplinary Frontiers Courses Connect Schools and Students
The new grant program, funded by the Office of the Provost, aims to expand its offerings.
November 17, 2023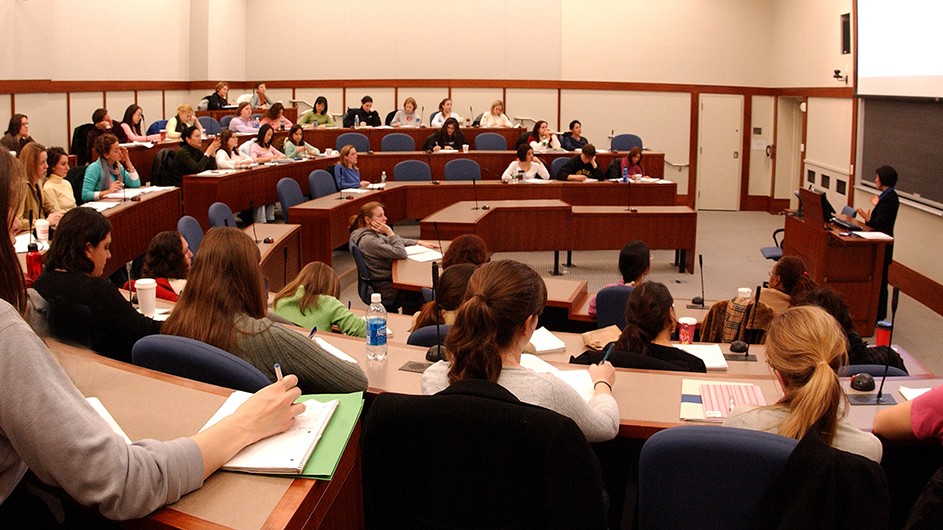 In Wood Auditorium, located on the lowest level of Avery Hall, Kate Ascher and Andrew Smyth are wrapping up a class they are co-teaching this semester, The Future City: Transforming Urban Infrastructure.
This session is devoted to the topic of urban resilience. Ascher, the Milstein Professor of Urban Development at the Graduate School of Architecture, Planning, and Preservation, and Smyth, the Robert A.W. and Christine S. Carleton Professor of Civil Engineering and Engineering Mechanics at Columbia Engineering, have spent the first part of class being "talking heads," as Ascher puts it, lecturing about how climate change (flooding, water shortages, heat) and natural disasters (hurricanes, earthquakes) affect cities, and giving examples of strategies that have been used in cities across the U.S. to combat the climate crisis.
"Now," says Ascher, as she turns her gaze from the screen at the front of the room to the 50 or so students, "we want to discuss how relevant urban resilience is on a global scale. How does it affect you?"
"Who should pay for protective infrastructure or resilience solutions in poorer communities within cities?" asks a student, who cites a case study in urban equity that was just covered in the lecture: New Orleans, before and after Hurricane Katrina.
"We should protect all citizens," says Ascher, "for the public good. That's what FEMA is for in this country."
Grants to Create Cross-School Courses
How smart cities will address social vulnerability and other crucial issues lies at the heart of The Future City, a pilot class for Cross-Disciplinary Frontiers Courses, a new grant program funded by the Office of the Provost. The program supports the development of innovative courses that span multiple disciplines across Columbia. As with Ascher and Smyth, faculty from different schools co-teach and expose students, also from various schools, to scholarship across fields and classmates in different areas of study. Awardees receive up to $75,000 per year for two years.
Two more pilot courses are scheduled for the spring 2024 semester: The Scientist and the Storyteller bridges the gap between science research and the distribution of important health information to the public, and is taught by Columbia Journalism Professor Duy Linh Tu and Julie Herbstman, a professor of environmental health sciences at the Mailman School of Public Health. The Roman Art of Engineering: Traditions of Planning, Construction, and Innovation, which provides an interdisciplinary study of Roman engineering and why it's relevant today, will be taught by Francesco de Angelis, a professor in the Department of Art History and Archaeology, and Columbia Engineering Senior Lecturer Julius Chang.
"Some of Columbia's most vital scholarship emerges when members of its 17 schools and numerous disciplines come together to explore questions and challenges from multiple perspectives," said Samuel Sia, a Columbia vice provost and professor of biomedical engineering. "To encourage this cross-pollination in the classroom, we created this program, which aims to provide faculty with opportunities for expanding the reach of their teaching beyond their own school and department, and advance the frontiers of the University's educational offerings with courses that count toward degree programs for students at two different schools. These courses also respond to the interests of students in enriching their knowledge with scholarship at the boundaries of diverse fields, where they can learn alongside students from other disciplines."
Promoting Different Pathways
To better prepare its students for an increasingly complex, diverse, and interconnected world, Columbia hopes to offer more courses and programs like this. Another example is Columbia College's newest major, cognitive science, which embraces concepts from psychology, neuroscience, linguistics, economics, computer science, and philosophy, among other areas, and is the first multidisciplinary major to be offered jointly by Columbia College and Barnard.
There will be a second round of class proposals for the Cross-Disciplinary Frontiers Courses program, for the 2024-2025 academic year. Sia said that, while faculty will determine whether classes are primarily for graduate or undergraduate students, the provost's office plans to work with awardees to open up classes to both grads and undergrads as much as possible.
Back to the Future
Back in The Future City classroom, a student from Cambodia speaks about how countries like hers, where developing economies are focused on growth, find it hard to fund and pursue resilience plans when they are building out primary infrastructure and connectivity.
Another student responds by bringing up the proposed commitment of the developed world to fund the remediation of some of the environmental problems caused by already-industrialized countries, which impact nations like Cambodia.
Based on this discussion, it sounds as if the Cross-Disciplinary Frontiers Courses Program is very much meeting a need that students and professors are eager to explore.