CU People: Chevoni White, Public Safety Sergeant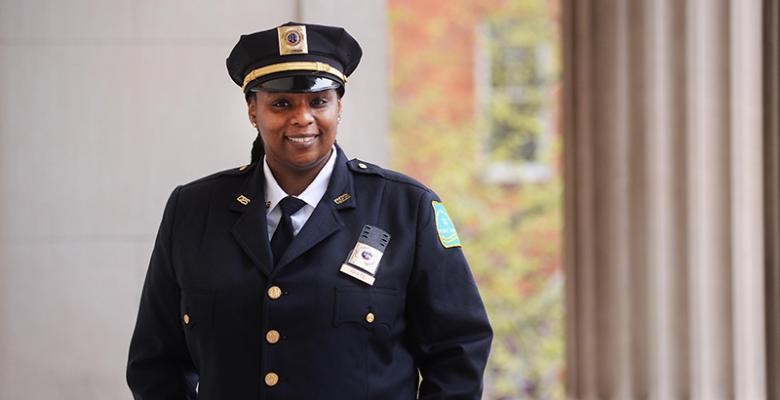 Title
Public Safety Sergeant
Joined Columbia
October 2014
What She Does
After almost three years working on Morningside Heights, Sergeant Chevoni White now guards Columbia's new Manhattanville campus, where she is responsible for patrols that cover the 17 acres from the Studebaker Building to Prentis Hall, including the first buildings to open on campus, the Jerome L. Greene Science Center and the Lenfest Center for the Arts. Her role includes a wide spectrum of responsibilities, she said, from returning lost ID cards and giving directions to deterring crime and acting as a first responder. "Most importantly, we help keep everyone safe," White said.
Her day starts with a staff meeting in which she and her colleagues share updates and review instructions from their managers. She then speaks with the security staff in each building that she monitors and, throughout the day, keeps track of patrols and chronicles any incidents in a log book, ensuring that things are running smoothly. Remaining vigilant is important, she said. "If an officer calls for assistance, you need to know exactly where to go. If someone on campus uses a call box, you need to know immediately where they are calling from."
Most Memorable Moment
\"Getting hired at Columbia," White said. \"It's really the start of the career that I wanted.\"
What She Likes Most About the Job
"I like helping people," White said. She also enjoys "meeting so many talented students and faculty." White also enjoys the camaraderie among her colleagues. "You rely on each other," she said. She admires how long some public safety staff have remained at Columbia—for 20 or 30 years in some cases. "That's a great sign," she added.
Road to Columbia
A native New Yorker, White grew up in Brooklyn where her father, a security supervisor, inspired her to be "strong and focused." Her mother, a daycare provider, taught her "to be humble and count your blessings." As a student at Richmond Hill High School and Two Bridges Borough Academy, White took a course in law and began to take an interest in security. After high school, she worked for American Airlines at JFK airport as an airplane cleaner and supervisor—a job that included everything from replacing upholstery to conducting security checks. She later enrolled in a course and became a licensed security guard in 2006. White went on to work as a plainclothes officer at chain stores and handled security at Manhattan nightclubs. In 2014, while working at the front desk of a Columbia dormitory on West 113th St. for a private security firm, a Columbia public safety sergeant came to sign her log book. White thought to herself, "I'd like to do that job." She added, "I made it my goal to make it happen."
In October 2014, White joined Columbia as a public safety officer, mostly patrolling dormitories on the Morningside Campus. Twice in two years she was recognized as officer of the month. In April, she was named supervisor of the month. "That encouraged me to keep wanting to do better," she said. Her efforts to do better paid off quickly. White became a sergeant in October 2016, with only two years of seniority as a security officer. In April, she was named the first supervisor of the month and is currently assigned to the Manhattanville campus.
"It's an honor to be staffed at Columbia's newest campus," she said. "To witness its growth is amazing. Being a part of the Manhattanville experience gives me a sense of pride." She added: "The community and the University will both be exposed to many different ways of life and a wonderful mix of cultural diversity."
In Her Spare Time
White, whose daughter Shniyah will enter her senior year of high school in the fall, most enjoys spending time with her family. "I feel accomplished with myself and want to set an example for my daughter," she said. She likes cooking, bicycling in Central Park and playing handball—a game in which she often has an an advantage as a left-hander who can hit with both hands. "It can surprise opponents," she said.