Doctoral Student Tackles the Public Health Implications of Youth Football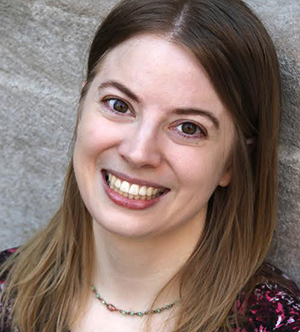 It's not every doctoral student who can boast of a peer-reviewed article in the New England Journal of Medicine before graduation.
Published in February, Kathleen Bachynski's article, "Tolerable Risks? Physicians and Youth Tackle Football," questioned new recommendations issued last fall by the American Academy of Pediatrics, on the risks of football injuries to young players. It came out shortly after the release of the movie Concussion, starring Will Smith as a neuropathologist who discovers Chronic Traumatic Encephalopathy.
That degenerative disease, often found in athletes who experience repeated head trauma, has become a major concern as dozens of professional football players have reported symptoms consistent with CTE. (A diagnosis can be confirmed only post-mortem.)
It has already had an impact. Within days of its publication, she received a call looking for more information from the office of U.S. Senator Tom Udall, who had just introduced a bi-partisan bill called the Youth Sports Concussion Act. It is aimed at protecting young athletes from sports-related traumatic brain injuries, particularly from manufacturers using false safety claims in their advertising.
The article was based on Bachynski's dissertation at the Mailman School of Public Health, where she will receive her Ph.D this spring. It grew out of a class she took during her first semester, "The Ethics of Public Health," taught by Prof. Ronald Bayer. "The session that particularly inspired me was an examination of the ethics of motorcycle helmet laws," she said. "In many ways the seeds of what became my dissertation were planted in that class."
Bachynski's curiosity on the subject was piqued by the question of whether governments should require motorcycle riders to wear helmets, and their use in other settings. How effective are helmets in different contexts, and when should they be mandated were issues she wanted to research further. "I did not expect to fall down that fascinating rabbit hole," she said.
The dangers of tackle football can start early, Bachynski warns. "Youth football is the sport with one of the highest risks of brain injuries," she said. "I felt that that prioritizing the optimal health of children warranted stronger recommendations."
The academy's suggestions—more adult supervision, stronger referee enforcement of proper tackling rules, skilled athletic trainers on the sidelines, among others—don't go far enough, she said. She supports a wholesale shift from tackle football to touch or flag football for children.
"Tackle football is a very popular school sport, and it is uniquely risky because it involves full body contact play after play," she said. "I think many people believe that helmets protect against concussions, but they don't," she said, adding that the overall goal in concussion prevention should be limiting cumulative head trauma.
For her, one step in the right direction is the Ivy League's ban on full contact practices, announced in March, a practice that Columbia follows. Her letter to the New York Times published on March 5 supported that move. In addition, she points out that helmets can't stop the movement of the brain, which can occur even if you don't directly hit your head: "As a very rough comparison, you can't stop an egg yolk from shaking even if the shell doesn't break," she explained.
Bachynski, a native of Bloomfield Hills, Mich., received her bachelor's and a master's in public health from the University of Michigan. Her master's thesis examined the prevalence of migraine headaches among college students, comparing athletes with non-athletes.
Prior to coming to Columbia, she worked for the Veterans Affairs Ann Arbor Healthcare System and then the U.S. Army's Public Health Command. She has studied suicides in the military, motor vehicle collisions and, while at Mailman, tobacco-control policies.
One of the things that drew Bachynski to the Mailman School was that it includes social science and humanities research within a school of public health, allowing her to interact with historians of medicine, public health ethicists, anthropologists and others.
Among her favorite experiences outside the classroom was being part of Bard Hall Players, the theater group on the medical campus. "I thought maybe I'd just play a little oboe as background music in a scene or two—but I got hooked!" She ended up participating in nine productions, principally as an actor. There were academic benefits, she said. "I think theater has helped me deliver more effective and engaging presentations of my academic work."
Bayer, who taught the class that sparked Bachynski's interest in football safety, would likely agree. "Kathleen is an exemplar of what we would hope for in our doctoral students. She took an issue of huge social importance and handled it with rigor," he said.