Historic Black Activism: 8 Trailblazing Columbians to Know
As we observe Black History Month, Columbia News looks back at Black Columbians who made history through their activism.
By
Jennifer Pellerito and Kelly Moffitt
February 12, 2021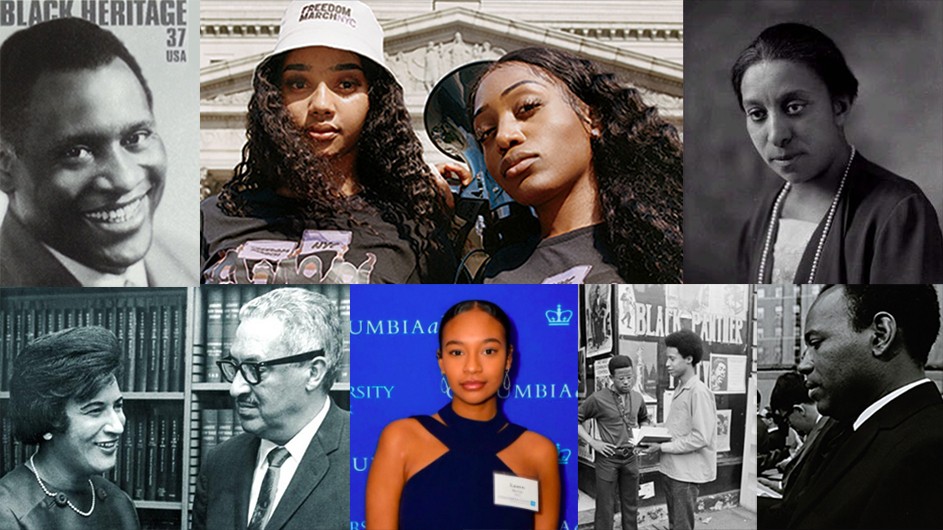 The summer of 2020 saw a powerful resurgence of racial justice activism, set in motion by  George Floyd's death at the hands of police in May, disparities laid bare by months of a pandemic, and the run-up to a critical presidential election. As has been historically the case, Black leadership was at the forefront of many of those grassroots movements. 
As we observe Black History Month, we're looking back at Black Columbians who made history through their activism. We're seeing that legacy live on today in the activists of this new moment. You can also learn more about notable Black Columbians on our Black History and Culture website. 
An Unsung Suffragist: Lucy Diggs Slowe (GSAS'1915, TC)
Lucy Diggs Slowe (pictured right) cannot be easily summed up with one moniker: she was an unsung suffragist, one of the original sixteen founders of Alpha Kappa Alpha Sorority (the first sorority founded by African American women), and she was the first Dean of Women at Howard University in 1922. On top of all that, she was a tennis champion, winning the national title of the American Tennis Association's first tournament in 1917, the first African American woman to win a major sports title. In the photo above, Slowe is pictured next to Mary Burrill, with whom she shared her life for more than two decades. Read more about Slowe in The New York Times. 
Activist, Actor, Artist, Athlete: Paul Robeson (LAW'1923)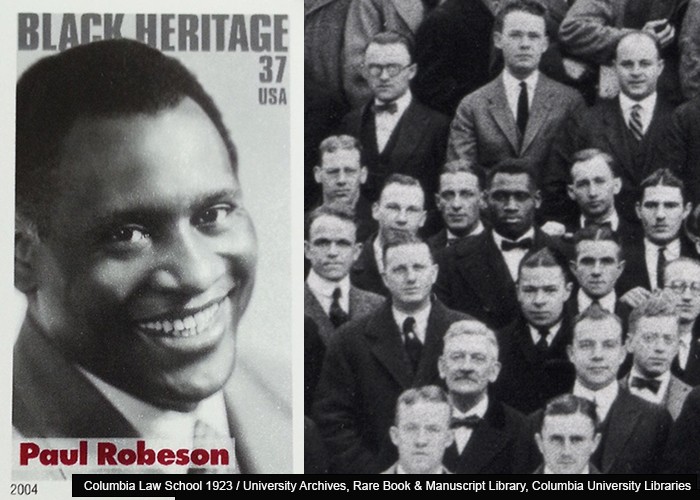 To put himself through Columbia Law in the 1920s, Paul Robeson taught Latin and played pro football on the weekends to pay tuition. After graduating, he only practiced law for a short time before taking the world by storm on screen and stage. His rendition of "Ol' Man River" in Show Boat certified his status as a box office star. He earned his greatest acclaim, however, as a concert singer, performing a broad repertoire of spirituals, classical music, world folk songs, and political tunes that reflected the struggles of the marginalized and disenfranchised. Read more in Smithsonian Magazine. 
Key Civil Rights Strategist: Constance Baker Motley (LAW'1946)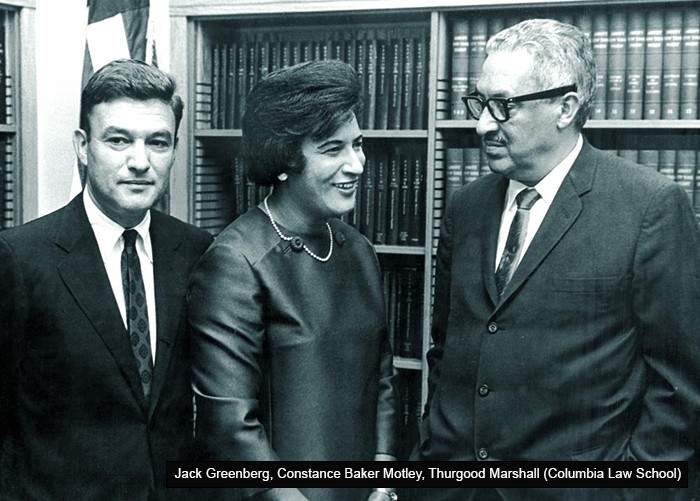 Constance Baker Motley, pictured above between Jack Greenberg and Thurgood Marshall, became the first African American woman appointed to the federal judiciary on Jan. 25, 1966, when she was appointed to the United States District Court for the Southern District of New York. She became Chief Judge in 1982, the first woman and first African American woman to serve as such for the Southern District of New York. A graduate of Columbia Law, Motley joined the legal staff of the NAACP Legal Defense and Educational Fund before she had even graduated. Later, as associate counsel, she became its principal trial attorney. It was then, from 1945 to 1964, that Judge Motley worked on all the major school segregation cases supported by the NAACP Legal Defense Fund. She wrote the legal brief for the landmark Brown v. Board of Education case. She played a prominent role in desegregation cases involving universities from Mississippi, Alabama, Florida, Oklahoma, Georgia, and South Carolina. Read more at Columbia Law. 
Racial Justice Pioneer: James Meredith (LAW'1968)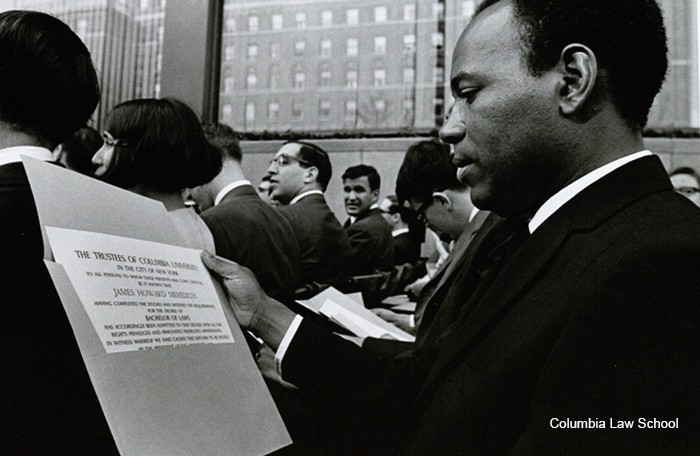 James Meredith, pictured above with his Columbia degree, risked his life to desegregate Ole Miss in 1962, a 16-month court battle led by Constance Baker Motley (see above), and required the backing of the U.S. Justice Department, the NAACP Legal Defense and Education Fund, and President John F. Kennedy. His next stop was Columbia Law, where he continued his legacy of activism. By the time he received his degree in 1968, he had published a memoir, organized a voter registration march that drew thousands, survived an assassination attempt, and run for Congress. "Getting a degree from Ole Miss impacted my life more than any other single thing," Meredith said. "Next to that, without a doubt, was a law degree from Columbia Law School." Read more at Columbia Law. 
Panther, Poet, Professor, Prisoner, Oscar Nominee: Jamal Joseph (Film Professor)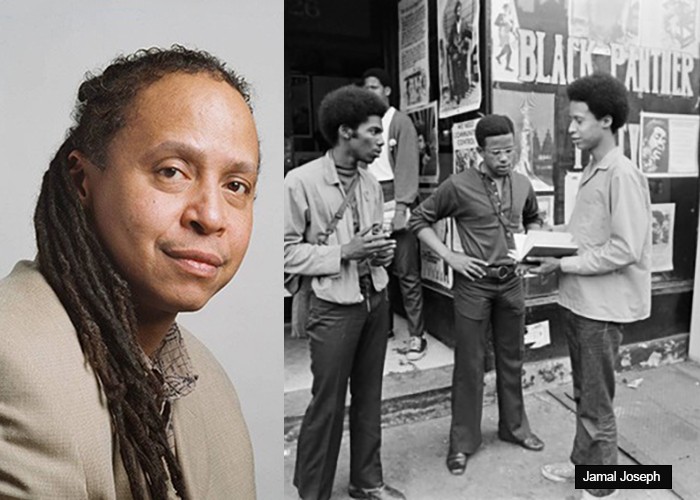 Many years before Jamal Joseph became a professor at Columbia, he stood on Low Steps in 1969, in front of a crowd of protestors demanding that the University recognize the Vietnam War as a war of capitalist exploitation. Joseph, who grew up between Harlem and the Bronx, was an honors student and, by age 15, a member of the Black Panther Party. His time in the party was spent community organizing and volunteering for initiatives like the Free Breakfast for School Children Program. In 1969, Joseph was arrested as part of the Panther 21, who were accused of planning a bombing. He was held at Rikers Island and spent six years at Leavenworth Penitentiary, where he earned three college degrees before a jury lifted all charges against the Panther 21. Now a film professor at Columbia, Joseph has written and directed for Black Starz, HBO, Fox TV, New Line Cinema, Warner Bros., and A&E. He has been nominated for an Oscar and written several books, including his memoir Panther Baby. Read more at Columbia News. 
Freedom March NYC Leaders: Nialah Edari (BC'17) & Chelsea Miller (CC'18)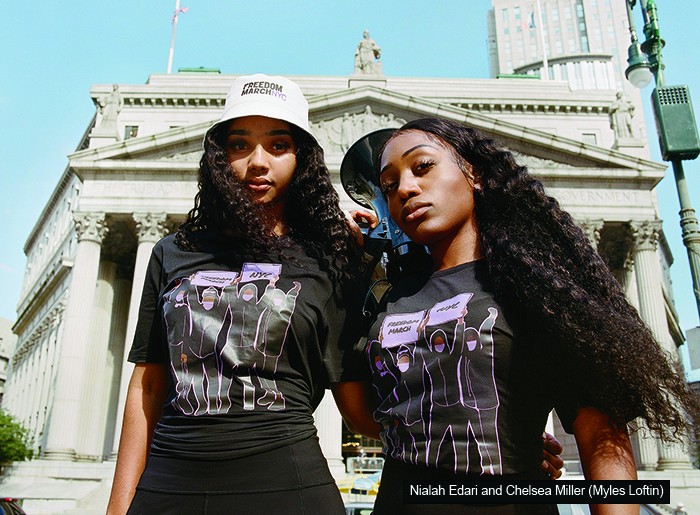 On May 31, 2020, the 99th anniversary of the Tulsa race massacre and six days after the death of George Floyd, Nialah Edari and Chelsea Miller, pictured above, led the first Freedom March NYC from Washington Square Park to One Police Plaza. In the two days following, Edari and Miller raised more than $50,000 for Freedom March NYC and organized more protests across the city. What they ended up building was a fully fledged youth-led civil rights group. Their mission? To train organizers nationwide in nonviolent mobilization. "People ask themselves, 'What would I have done during the civil rights movement? What would I have done during the time of slavery?'" Miller said. "Well, this is your answer: whatever you're doing now." Read more in Columbia Magazine. 
Climate Justice Activist: Lauren Ritchie (CC'22)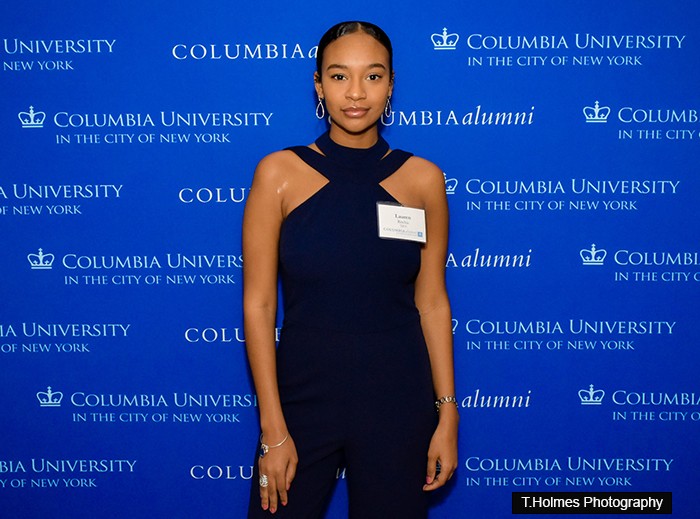 Lauren Ritchie is in her third year of undergraduate studies at Columbia, focusing on sustainable development and political science, but you may better know her as The Eco Justice Project (@ecojusticeproject) from her 50,000+-follower Instagram about global climate justice, which promotes inclusive climate action and aims to make sustainable living more accessible by amplifying the voices of marginalized communities. She also leads Columbia Climate Conversations, a new panel series made to engage the undergraduate community in the climate movement. "It's important to recognize that there are centuries of environmental racism and injustice that went into the systems we have today, and that isn't going to disappear overnight," Ritchie said. Read more on the Earth Institute blog.