How Many of These 'Secret' Spots of Columbia University Do You Know?
In basements, stairwells, factories, and courtyards lie some of Columbia University's most intriguing and little-known bits of history. 
August 24, 2021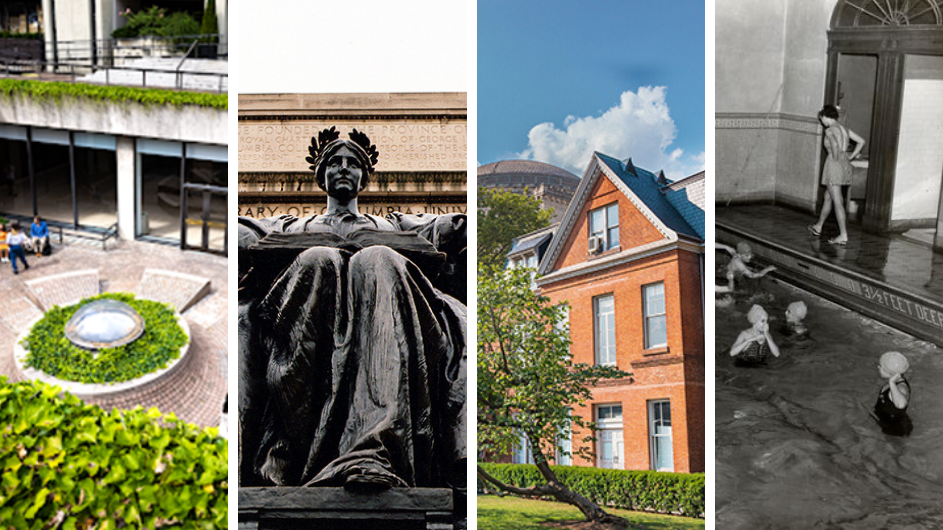 In basements, stairwells, factories, and courtyards lie some of Columbia University's most intriguing and little-known bits of history. 
As Columbia prepares to welcome students back to campus after a year of connecting remotely because of the COVID-19 pandemic, Columbia News wants to test your knowledge of intriguing trivia about Columbia's different campuses. 
Try your hand at the nine-question quiz below and let us know by tagging @Columbia how you fared. 
1. Columbia University is home to the oldest indoor pool in New York City. Where is it located?
A. Barnard College
B. Teachers College
C. Union Theological Seminary
D. Zuckerman Brain Institute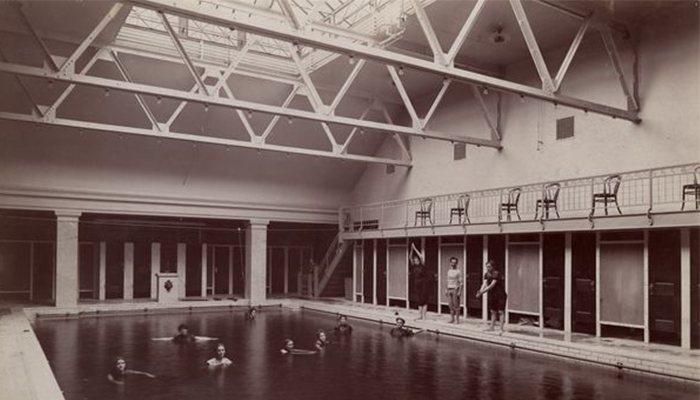 ANSWER: B. Teachers College
Teachers College is home to the oldest indoor pool in New York City. It was built in the late 1800s and lives in the basement below Thompson Hall. It was initially built to be part of the largest gymnasium for women in the country circa 1904, the Frederick Ferris Thompson Memorial Building, which was four stories high and contained the pool, showers, locker rooms, dressing rooms, three bowling alleys, handball and fencing courts, exercise room, and a two-story gym with an elevated running track. 
The pool itself is built in the style of European Roman baths, with a balcony above the cabanas, and a large, ornate skylight above the water. It is 20 yards long and ranges in depth from 3 feet to 6 feet. The best part? It features a lion's head fountain in honor of the Columbia Lions. Though the pool has been out of use for more than a decade, you can learn more about the history of the aquatic center here.
2. In what building was the Manhattan Project initially housed on Columbia's campus?
A. Havemeyer Hall
B. Mathematics Hall
C. Pupin Hall
D. Prentis Hall
ANSWER: C. Pupin Hall
In the basement of Pupin Hall, John R. Dunning, Enrico Fermi, and other physicists built the Cyclotron, an atom-splitting machine that played a key role in the birth of the atomic bomb during World War II. It was here that uranium isotopes were first separated in the United States, producing uranium-235, which paved the way for the Manhattan Project and the first nuclear tests in New Mexico. Dunning published his results in 1939, and after the war became dean of Columbia Engineering.
The Cyclotron was later decommissioned, and in 2007, dismantled. The magnet that first separated uranium into a fissionable form is gone. But Room 118, where the famous experiment took place, remains, said Abhay Pasupathy, a physics professor at Columbia.
In 2017, Pasupathy was visited by one of the last survivors of the Hiroshima nuclear explosion, Shigeaki Mori, who had come to town to speak before the UN. "Mr. Mori said to me that he now felt at peace with science and was happy to see me there in the lab and see how far the world had come," Pasupathy said. The picture above shows their visit to Room 118. Learn more about Columbia's nuclear history here.
3. Between the fourth and fifth floor of which building on Morningside campus lies a paleozoic alpha predator entombed in the floor?
A. Avery Hall
B. Lewisohn Hall
C. Low Library
D. Mathematics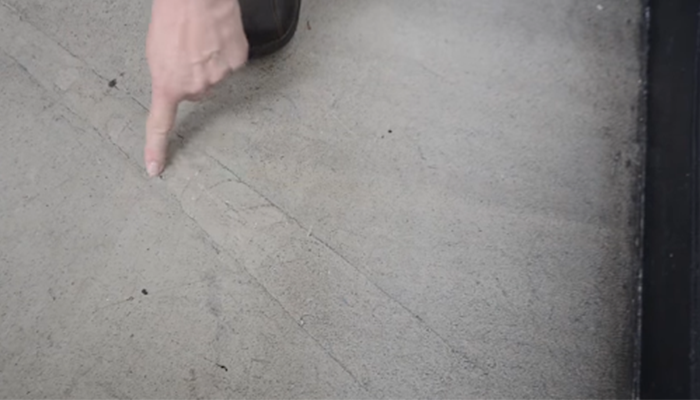 ANSWER: B. Lewisohn Hall
Between Lewisohn Hall's fourth and fifth floor, an ancient Paleozoic predator stares out from the staircase landing. Just two feet long from snout to tail, this squid-like creature may not look like much, but during the Ordovician Era (485.4 million years ago) it dominated most of the other thumb-nail sized life in the sea. How did it wind up in Lewisohn? Well, its fossilized remains just happened to be part of the stone quarried to be turned into a stairwell. Take a tour of other hidden geological landmarks on the Columbia's campus here. 
4. Before Morningside campus became home to Columbia University, it used to be the Bloomingdale Insane Asylum. What is the only building left on campus from that era?
A. Buell Hall
B. Low Library
C. Philosophy Hall
D. St. Paul's Chapel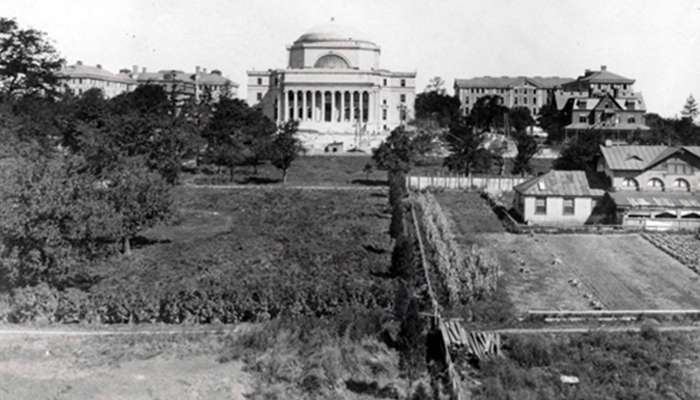 Answer: A. Buell Hall
Before Columbia found a place to call its own on the Upper West Side of Manhattan, Morningside campus was home to the Bloomingdale Insane Asylum, a private hospital for the mentally ill. Buell Hall, originally known as Macy Villa, is the only remnant of that time left on campus. The building was built in 1865 for the wealthy inhabitants of the hospital and, today, is the oldest building on campus. It has played host to several different schools and organizations on Columbia's campus over the years, including the School of General Studies and the Alumni Association, but today it is better known for housing Maison Française.
5. Columbia is home to its own seismic station. Where is it located?
A. Piermont Pier on the Hudson River
B. The basement of Columbia Engineering
C. A root cellar at Lamont-Doherty Earth Observatory
D. Nevis Laboratories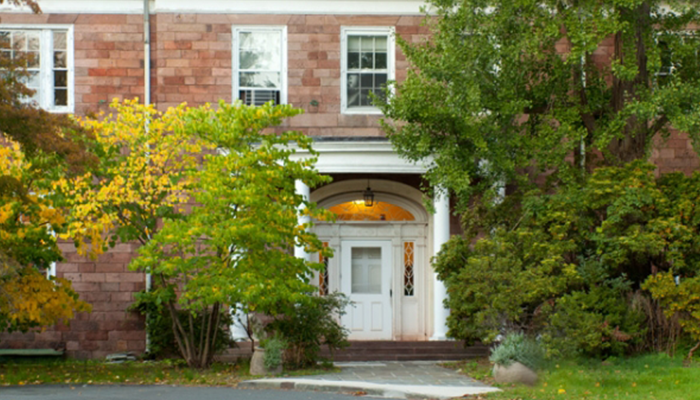 Answer: C. A root cellar at Lamont-Doherty Earth Observatory
Columbia's seismic station, known globally by the code PAL, for Palisades, NY, is housed in a root cellar on the grounds of the former Thomas Lamont estate, now Lamont-Doherty Earth Observatory. The first modern long-period seismometer, named for its inventors, Frank Press and Maurice "Doc" Ewing, was developed and operated here. The Press-Ewing seismometer was deployed worldwide in the early 1960s, forming a global network that provided key data that led to the theory of plate tectonics—the idea that Earth's crust is constantly being recycled.
The root cellar is now home to a modern digital seismic sensor and recorder, while the original Press-Ewing seismometers are on display in a museum beneath the Lamont-Doherty cafeteria, formerly the Lamont family swimming pool. Read more about the Press-Ewing seismometer here. 
6. A bubble? An eye? This popular study spot for SIPA students has a curious glass centerpiece that actually allows light into what?
A. Alice's International Cafe
B. The Economics Department
C. Kellogg Conference Center
D. Lehman Social Sciences Library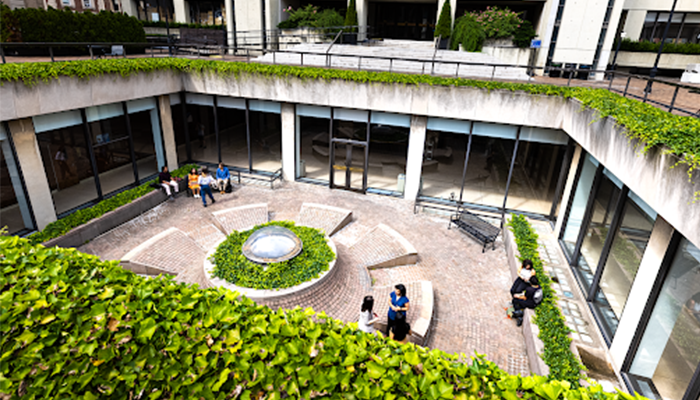 Answer: D. Lehman Social Sciences Library
Known to the SIPA community ("Seeples") as the fishbowl, this glass and brick architectural feature is the centerpiece of an outdoor courtyard on the fourth floor of the International Affairs Building (IAB), which was designed by Harrison & Abramovitz and completed in 1970. Surrounded by benches and plantings, this unique setting is a popular spot to study and socialize. The fishbowl's dome allows light into Lehman Library below. Learn more about the library here. 
7. Did you know that Columbia has a campus in the Pacific Ocean? What's the name of Lamont-Doherty Earth Institute's national seismic research vessel currently at sea?
A. R/V Lamont-Doherty
B. R/V Marcus G. Langseth
C. R/V Sally Ride
D. R/V Maurice D. Ewing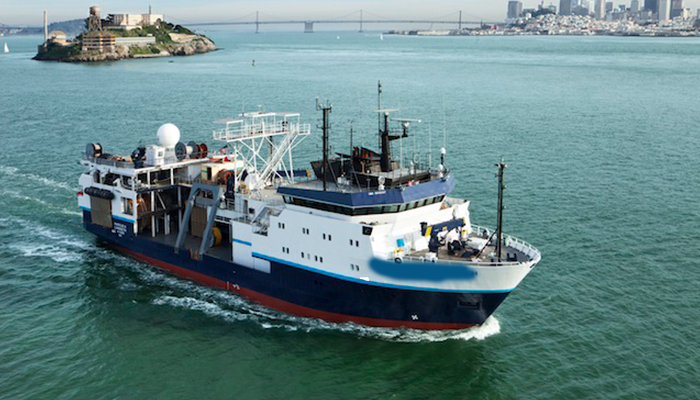 Answer: B. R/V Marcus G. Langseth
Currently at port near Seattle, Wash., the R/V Langseth is Columbia's floating campus at sea. It has traveled the world over but was recently on a research 'cruise' in the Pacific. Its mission: to map the sub-seafloor to bring hidden earthquake hazards to light and reveal the ongoing evolution of the solid earth. The ship is named for Marcus Langseth, a pioneering earth scientist at Columbia. It's owned by the National Science Foundation, operated by Lamont-Doherty Earth Observatory, and belongs to the University-National Oceanographic Laboratory System (UNOLS) fleet. Learn more about the ship and its most recent mission here.
8. The Manhattanville Campus is home to several historic buildings, including Studebaker where university administrative offices are located. What brand of dolls used to be manufactured there?
A. American Girl
B. Bratz
C. Cabbage Patch
D. Madame Alexander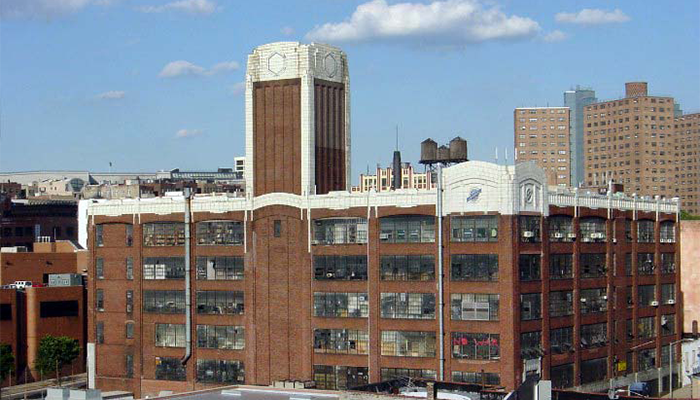 Answer: D. Madame Alexander
The Studebaker Building used to be home to the eponymous Studebaker Automobile factory (you can still see the brand's insignia at the top right of the building in the picture). In the 1930s, Borden Milk Co. bought the building to use as a milk processing plant. Later, the American Museum of Natural History leased it for use as a warehouse and the Madame Alexander Doll Company rented the sixth floor to manufacture dolls. CUIT is now located on that floor, and you can see what it once looked like here.
9. You've probably taken a picture with our favorite lady, Alma Mater. But what animal is hidden in the folds of her skirts?
A. Owl
B. Lion
C. Cat
D. Bear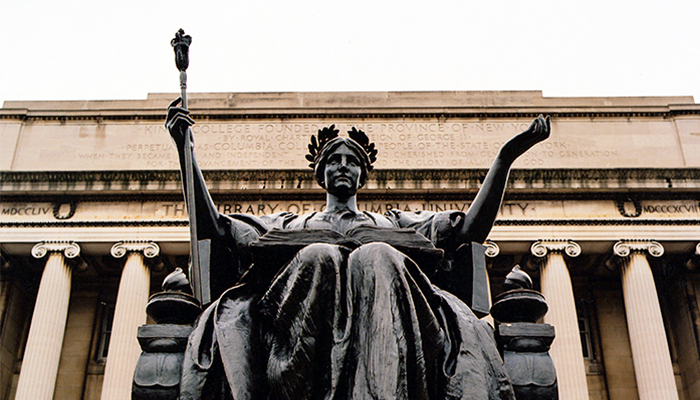 Answer: A. Owl. 
You know we couldn't miss this one. And we'll leave it to you to find on your own. If you look closely in the folds of Alma Mater's skirts, you'll find an owl. Happy scouting!