Find Cooking (and Life) Inspiration From Julia Child This Thanksgiving
The latest documentary, JULIA, from the filmmakers who brought us RBG, arrives just in time for Thanksgiving. Bon appétit!
November 19, 2021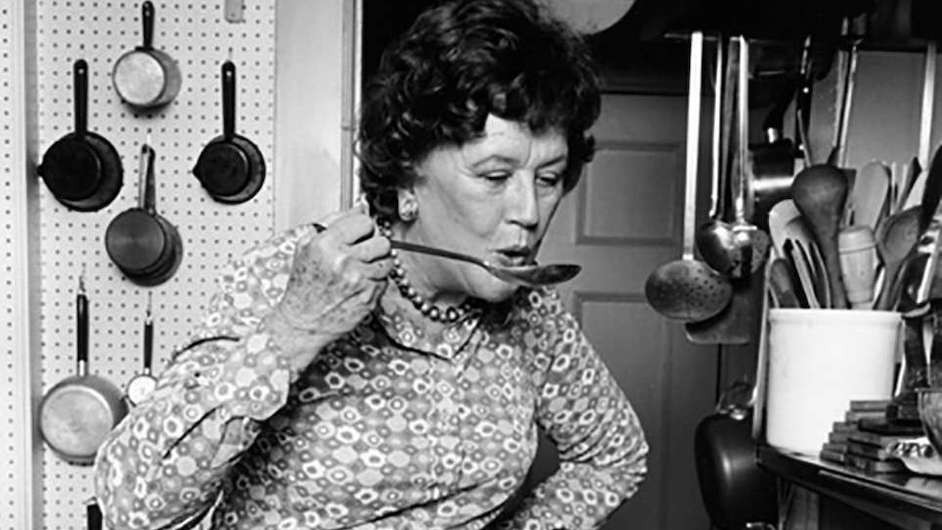 Standing at 6' 3" with a penchant for sharp knives and copious amounts of butter, Julia Child made French cooking accessible and fun to millions of Americans through her PBS series, The French Chef. The new film, JULIA, co-directed by Julie Cohen (JRN'89), former adjunct  professor at Columbia Journalism School, and Betsy West, the Fred W. Friendly Professor Emerita at the school, explores how Julia conquered the male-dominated field of French cooking to become one of the first iconic celebrity chefs.
Columbia News caught up with Cohen and West to find out the secrets to Julia Child's marriage and career, how she was a feminist trailblazer, and tips that Julia might have given for Thanksgiving dinner.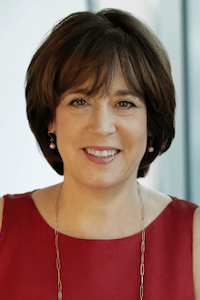 Q: Your last film was the award-winning documentary RBG. Why did you choose to focus on Julia Child for your latest movie? What are some similarities between them?   
A: When she was suggested to us as a follow up to RBG, we realized that Julia Child was another groundbreaking, ceiling-cracking person. Both women defied expectations for what a woman would do in the 20th Century, and both transformed the world we live in. Ginsburg's legal arguments ended centuries of discriminatory laws and practices. Julia's groundbreaking cookbook and television show changed the way Americans eat and how we think about food. And, by example, she opened up opportunities for women on television and women in the culinary world. One thing they did not have in common: Ginsburg was a famously bad cook and proud of it.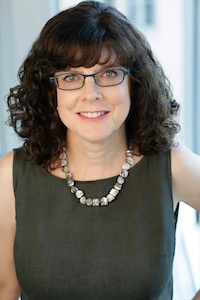 Q: Julia had a famously good marriage. What made it so successful? How did Paul, her husband, support her and her career? 
A: Like Ruth Bader Ginsburg and her husband Marty, Julia and Paul had a feminist marriage ahead of the times. When Julia met Paul in the Far East during World War II, he was the more knowledgeable person who introduced Julia to art, culture, and food. After Paul's job took them to France and Julia discovered her passion for cooking, the marriage thrived. Julia was cooking delicious meals for Paul, and he was cheering her on as she and her French partners were writing the ambitious Mastering the Art of French Cooking. It was when they moved back to America and Julia emerged as a superstar The French Chef cooking show that Paul really stepped up. His own career had ended, but instead of resenting Julia's success, he became Julia's chief advisor. Paul helped her plan TV shows, pitched in behind the scenes and, as an accomplished photographer, took many of the behind the scenes pictures throughout their marriage that give our film an intimate look at Julia's story. Who says a feminist marriage can't be romantic? Among the hundreds of photos Paul took of his wife, is a tasteful nude!
Q: What advice do you think Julia would have to help us approach Thanksgiving this year?  
A: Julia's advice to the home cook was always the same: you can do it. And, when you emerge from the kitchen to serve your friends and family, don't look back. Even if you are not completely satisfied with how the dish came out, never, ever apologize.  
Q: Did both of you learn to cook any of Julia's recipes? If so, which ones were your favorites and why?  
A: We were making JULIA during the pandemic lockdown, working by day over Zoom in our respective home offices, and cooking every evening with our respective husbands. Betsy's husband already loved to cook salade niçoise, which they perfected together. And Julie is partial to the yummy broiled potatoes that we show viewers how to cook in one of the scenes of the film. Thanks to our brilliant cinematographers, we show a lot of mouthwatering dishes in JULIA and advise people not to go to the theater hungry, or to have a dinner plan for immediately after the film. 
Q: If Julia Child rose from the dead so she could come to a dinner party at your home, what is the one question that you'd like to ask her and why? Do you think she would approve of your meal? 
A: Julia was not only an excellent cook, she was a generous one. We like to think that she would approve of whatever dish we managed to get up the nerve to serve her. At the dinner table, we might ask her what she thinks about the practice of taking and posting pictures of food on social media. In private, we might ask how she managed to keep such a positive attitude even when she faced discouraging times and difficult challenges.