Literary Lion: 5 Questions with Playwright Lynn Nottage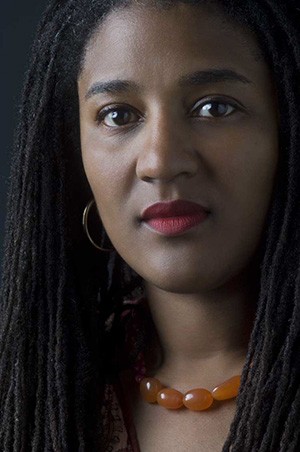 Associate Professor Lynn Nottage is an award-winning playwright and screenwriter. Her plays include By the Way, Meet Vera Stark (Lily Award, Drama Desk Nomination); Ruined (Pulitzer Prize, OBIE  Award, Lucille Lortel Award, New York Drama Critics' Circle Award, Audelco, Drama Desk Award and Outer Critics Circle Award); Intimate Apparel (American Theatre Critics and New York Drama Critics' Circle Awards for Best Play); and Fabulation, or The Re-Education of Undine (OBIE Award). Nottage is the recipient of a MacArthur \"Genius Grant\" Fellowship and numerous other honors. She is a graduate of Brown University and the Yale School of Drama, where she has been a faculty member since 2001.
Q. How does the intersection of teaching and writing affect you?
Years ago, I discovered that the classroom could be used as a laboratory to investigate questions I had about craft. That notion liberated me, and ever since I have viewed teaching as an essential part of my writing process.
Q. How important to the craft of writing is reading?
Reading plays for many is a struggle, but it's necessary for playwrights to understand how dialogue lives and breathes on the page. A play has two lives, a literary life and a theatrical life, both equally important to the creative cycle of the work. That said, a play isn't complete until the audience has experienced the magical way a writer brings language and ideas to life before an audience. It is impossible to fully appreciate how a play functions until it's been staged, and as such reading a play is only one half of the experience.
Q. Do you focus on one particular kind of writing or can you easily switch genres?
I am primarily a playwright, but over the years I have dabbled in film and television to fill the coffers. Playwriting is a more fluid and organic process for me, and it hasn't always been easy to translate my skills to another medium. However, I do love the challenge of storytelling and problem solving with a different set of literary and visual tools; I think it is what keeps drawing me back to writing for the screen.
Q. How does living and working in New York influence your writing?
I grew up in New York, so this city has infiltrated all aspects of my being, including how and why I make art. I consider myself lucky to be part of a vibrant community of art-makers, but over time I've definitely worked hard on calibrating my need to be immersed in the fast paced rhythm of the theatre world and my desire to isolate in order to write.
Q. What are you working on now?
I am currently rewriting a new play called Sweat, which will premiere at the Oregon Shakespeare Festival in August. The play follows the unraveling of a group of steel workers in Reading, Pennsylvania, as they are confronted with the possibility of losing their jobs and, for many, their identity.