The Open Book Is the Theme of This Year's Morningside Lights
Melissa Smey shares her thoughts on the cherished Columbia tradition.
September 19, 2023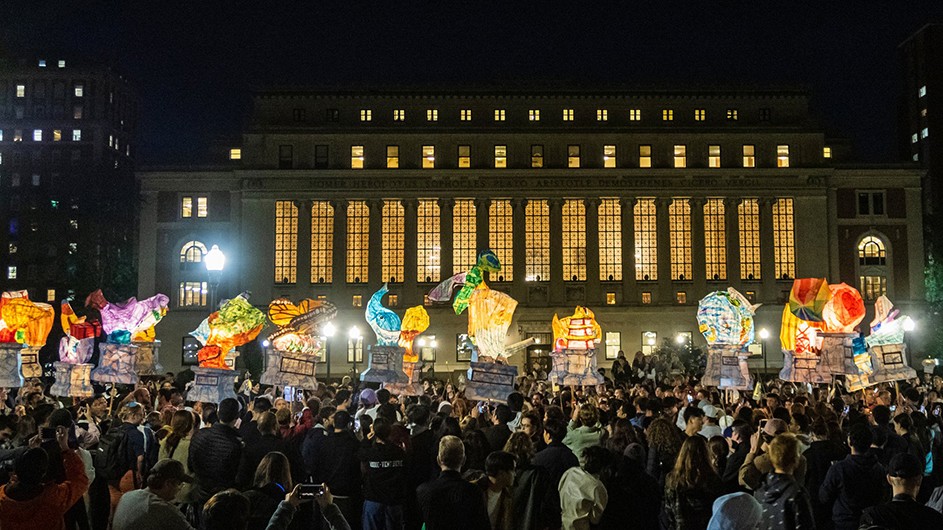 This year, Miller Theatre's annual Morningside Lights returns for the 12th time with the Open Book, a celebration of the free exchange of ideas and an homage to libraries, which preserve access to knowledge and affirm our freedom to read. Each of the 50+ community-built lanterns that are created will pay tribute to a book that inspires and enlightens.
Morningside Lights, presented this year in partnership with Columbia Libraries and the New York Public Library, kicks off with a week of free lantern-building workshops, September 23-29. The procession starts at 8 pm on September 30 in Morningside Park at 116th Street. Learn more at morningside-lights.com.
Melissa Smey, director of Miller Theatre and associate dean/executive director of the School of the Arts, talks about the magic and meaning of Morningside Lights with Columbia News.
How did you come up with this year's theme? And how did the partnerships with Columbia Libraries and the New York Public Library happen?
We always want a theme that feels relevant and will be engaging to a broad array of participants. Partnerships are such an important part of Morningside Lights, because they help us to connect with new constituencies and expand audiences. We were interested in working again with Columbia Libraries, after successful collaborations in past years. We also tried to imagine what the illuminated procession would look like traveling through Morningside Park to the center of campus, and were inspired by the idea of books as a possible lantern form. We shared this broad idea with Alex Kahn and Sophia Michahelles, our partners at Processional Arts Workshop, and with Vice Provost and University Librarian Ann Thornton and Jonathan Cain and Allison Morrow from the Libraries.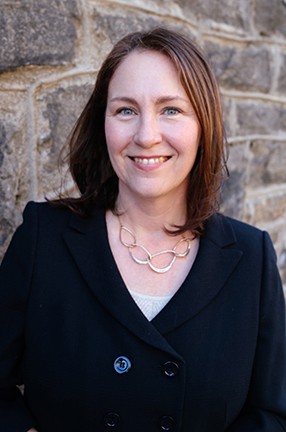 Eventually, we arrived at the Open Book. Before I came to Columbia, I worked at the New York Public Library, and always wanted to find a way to collaborate with NYPL on Morningside Lights. Ann facilitated this year's connection to NYPL, and the theme is a perfect fit. Nearly 30 local branch libraries are participating, from hosting nano-lantern workshops to offering NYPL library card sign-ups during the workshops at Miller Theatre.
As you look back over 12 years of these workshops and processions, are there any that stand out in particular, and, if so, why?
Every year is special, but three themes stand out. In 2017 the theme was Secret Gardens, which gave us an opportunity to learn about and then foster connections with so many amazing leaders of community gardens. Each group brought its own personality to their creations—one garden hosted regular concerts, so they incorporated musical instruments into their lantern form. Walking around the neighborhood, it was nice to see that several of the lanterns found permanent homes in the gardens and were still on display years later.
The following year's theme was Flight, which was the first time we incorporated movement into the lantern forms—birds with flapping wings—and it is the only time all the lanterns had a uniform shape. The color palette was drawn from migratory bird plumage, and it was inspiring to see the procession come to life in Morningside Park—a beautiful flock!
In 2020 we were determined to find a way to continue the Morningside Lights tradition while we were all working remotely. With Processional Arts Workshop, we completely rethought the process. In a typical year, each lantern is touched by dozens of volunteers over the course of the week-long workshops. That year, volunteers made space in cramped New York City apartments, at kitchen tables and on hallway floors, to make lanterns from kits we distributed from Miller Theatre. The theme, Harlem Night Song (a poem by Langston Hughes), prompted participants to create lanterns that illuminated the poem and embodied a spirit of togetherness in dark times. Participants shared video footage of their creation process and their audio recordings of the poem. We were overwhelmed by the submissions. We weaved them into a beautiful video that served as a virtual procession—and also reminded us that we are connected even when apart.
Why do you think Morningside Lights is such a cherished and meaningful Columbia and community tradition?
First: it's a lot of fun to make a lantern! New York City is so big and can be so busy. Morningside Lights is a chance to contemplate ideas, meet new people, and make art. Many participants will join us saying, "I'm not an artist." Our team provides a supportive frame to encourage experimentation and expression, and it's so fulfilling to hear, "Wow, I can't believe I made that," and to see how proud everyone is of what has been created. There are families that return every year, with children that grow from elementary school to high school. As those families become experts, they share their knowledge with newcomers.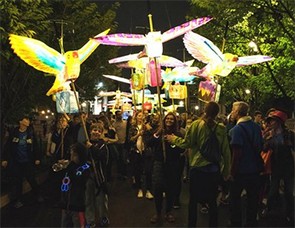 It's important that Morningside Lights takes place at the start of Columbia's academic year, a time when new students are eager for opportunities to be part of the arts on campus. I think, too, the difference between a parade and a procession is important. For a parade, there are performers and spectators. With a procession, everyone is invited to join and be part of the community and the journey.
Anything you want to add?
I hope that the Open Book will resonate with everyone who cares about libraries, learning, and books. We are so lucky to have access to the incredible resources of Columbia Libraries and the New York Public Library.
We look forward to welcoming everyone to the 12th annual Morningside Lights procession on Saturday, September 30! The procession kicks off at 8 pm, in Morningside Park at 116th Street, and travels around the park's perimeter back to Columbia's campus. The full route is posted on our website, and you can join us anywhere along the way.