As we approach 20 years since the terrible events of September 11, 2001, our community remembers that day, those we lost, and the impact that the terrorist attacks have had on our world. 
Columbians Remember: 20 Years Since the September 11 Attacks
"I was there when each of the towers fell. I was very fortunate in that I was able to survive both collapses. After the second tower collapsed, there was an eerie silence that pervaded the smoking ruins and the rest of lower Manhattan."

— James McShane, Vice President for Public Safety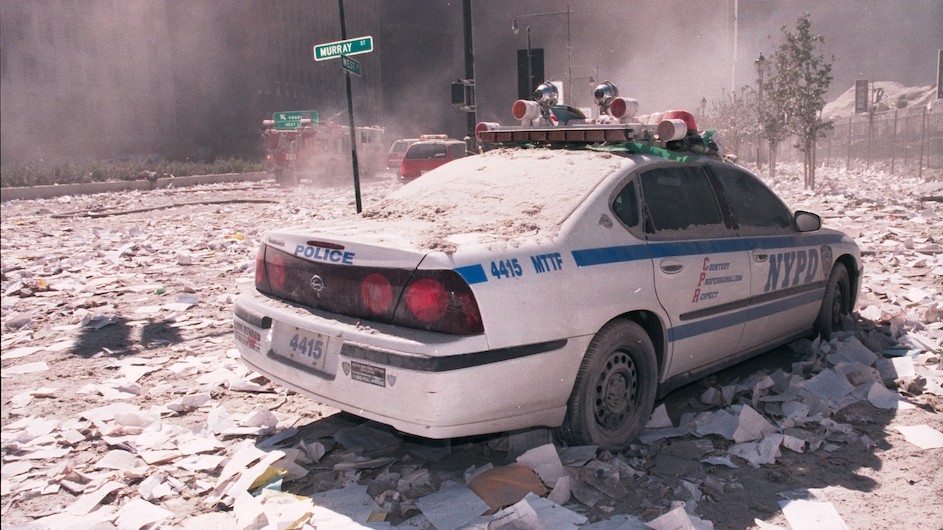 Reflections on the Impact of 9/11
President Bollinger's Message to the Community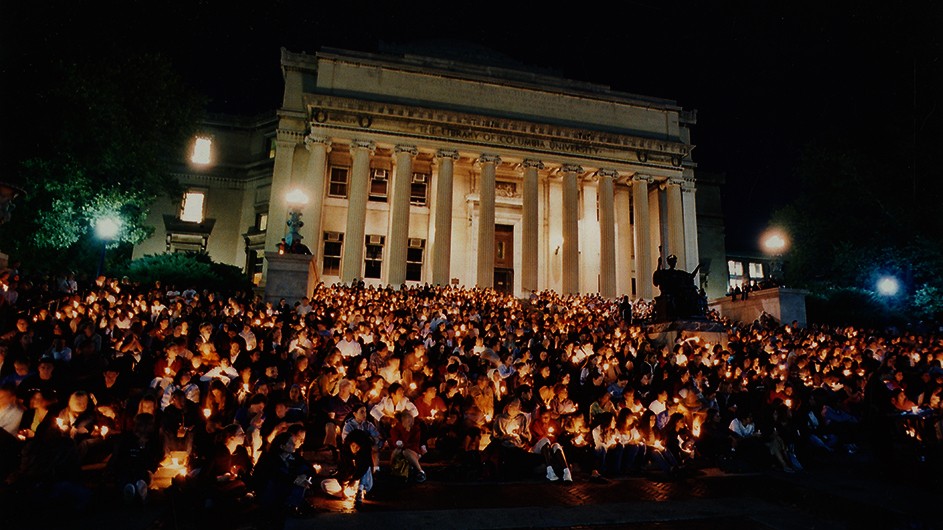 "Today we honor the 42 Columbia alumni who died in the attacks. We honor the large number of our students, faculty, staff, and alumni who lost family members or friends."

— Lee C. Bollinger, Columbia University President
In Memoriam
The Columbia University community honors the memories of the nearly 3,000 people who lost their lives in the tragedies in New York, Washington, D.C., and Pennsylvania on September 11, 2001.
This is a list of the Columbia alumni who perished in the attacks.
PAUL A. ACQUAVIVA
LAW'97

RICHARD A. ARONOW
CC'75

PAUL V. BARBARO
SEAS'91

DANIEL D. BERGSTEIN
SEAS'84

MICHAEL J. BERKELEY
BUS'87

JOSHUA D. BIRNBAUM
GS'01

GAVIN CUSHNY
SEAS

JOSEPH A. DELLA PIETRA
CC'99

JOHN B. FIORITO
CC'82

ARLENE E. FRIED
LAW'93

RICHARD P. GABRIEL, SR.
BUS'72

ROCCO NINO GARGANO
GS

VASSILIOS G. HARAMIS
SEAS'71

JOHN C. HARTZ
BUS'62
BROOKE A. JACKMAN
CC'00

DOUGLAS G. KARPILOFF
SEAS'71

HOWARD L. KESTENBAUM
GSAS'69, GSAS'72

SEILAI KHOO
CC'86

ANDREW J. KIM
SEAS'96

KAREN J. KLITZMAN
SIPA'88

NAUKA KUSHITANI
TC'86; SIPA'88

MATTHEW G. LEONARD
LAW'87
CHARLES A. LESPERANCE
BUS'73

ALISHA C. LEVIN
TC'92

EDWARD LICHTSCHEIN
SEAS'93

ARNOLD A. LIM
SPS'01

JOSEPH MATHAI
BUS'76

DIARELIA J. MENA
SPS
ROBERT M. MURACH
CC'78

BRIAN J. MURPHY
BUS '87

THERESA (GINGER) RISCO NELSON
GS'80

LEAH E. OLIVER
SEAS'98

JEAN HOADLEY PETERSON
TC'77

EHTESHAM U. RAJA
SEAS'96

THOMAS M. REGAN
BUS'98

NASIMA H. SIMJEE
BUS'93

HARRY TABACK
BUS'84

RONALD TARTARO
SEAS'85, '86

TYLER V. UGOLYN
CC'01

VICTOR WALD
SIPA'75; BUS'76

WEIBIN WANG
GSAS'94

BRIAN P. WILLIAMS
CC'94
Stories from Around the University