Food to the Front Lines  
Nursing school graduate Eytan Israelov delivers free meals from his family's restaurant to hospitals across New York City.
May 14, 2020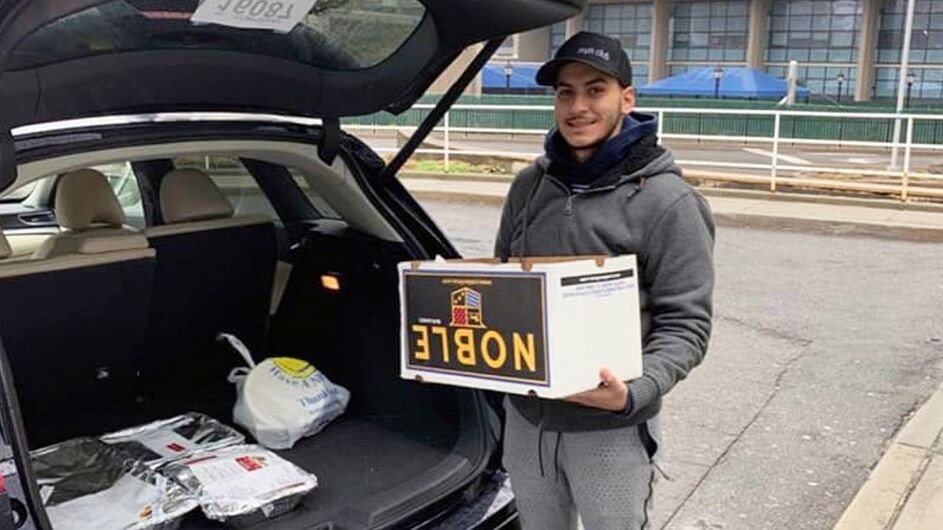 In early March, Eytan Israelov got the news that his internship at NewYork-Presbyterian Hospital/Columbia University Irving Medical Center had been canceled because of a surge in cases of a new coronavirus.
It was suddenly an all-hands crisis, and as Columbia nurses joined the COVID-19 front lines, student nurses, like Israelov, were offered an opportunity to volunteer as paid interns at the hospital.
"I was in a quandary. I wanted to help, but my wife was due to give birth in April, and I just couldn't risk it," said Israelov, a Masters Direct Entry (MDE) student at Columbia School of Nursing. The 15-month program officially ends in October, but all MDEs will take part in the school's virtual commencement ceremony May 19.
Israelov and his wife, Gabriela, a nursing student at Touro College, pondered what assistance they might offer. The answer came in a Facebook post from a doctor at Brooklyn NYU: five employees in the ER needed kosher food. And, the Israelov family just happened to own a Middle Eastern kosher restaurant.
The restaurant, Ganey Orly, in Rego Park, Queens, had been shuttered by COVID for several weeks, and Eytan's father, Rafael, said he'd be thrilled to go back and cook. His father had opened the eatery in 2006, a few years after he and his wife, Ludmilla, came to the United States from Uzbekistan by way of Israel. For Eytan, who was 3 when the family moved to the U.S., Ganey Orly became a second home. 
Israelov replied to the doctor's request, and in late March made his first delivery: several pans of kosher food considered a Ganey Orly specialty, Plov (rice, carrot and meat mixture), with Samsa (baked dough rolls) on the side. The employees loved it.
"What we did was great," Israelov said. "But now, I wanted to take it further. I wanted to go beyond serving employees who kept kosher and deliver our food to all kinds of hospital workers across the city." 
He approached his father with a proposition: If his Dad could supply the food wholesale, he'd fundraise to pay the at-cost expenses and deliver the meals across the city.    
With the support of his family, Israelov turned to social media and launched a Feed the Frontlines campaign, which during the first week secured $5,000 in contributions. Since then, he's raised $15,000 and fed more than 1,000 workers at 35 hospitals in each of the five boroughs. Aside from monetary donations, people also have contributed items, such as surgical masks, KN95 masks and straps that make masks more comfortable.
Leana, the Israelovs' daughter, was born on April 22, mother and child both healthy. She arrived just after finals, the same week deliveries hit the 1,000-meal milestone and just before the reopening of Ganey Orly, with which Israelov is lending a hand.   
Still, he hasn't stopped delivering meal and plans to keep at it until he begins his job search in October. A few friends now help with the driving—he does have a capstone project to complete by August—and with requests from hospitals pouring in so quickly, he has had to schedule deliveries on a first-come, first-served basis via a Google spreadsheet.
"I hope the virus will recede soon and I won't be doing this forever," Israelov said. "But as long as COVID is here, I'll keep it going. Those in the trenches are our heroes, and I want them to know they have our support."