2022 Music Pulitzer Prize Winner Raven Chacon Speaks at a GSAPP Event
The composer, performer, and installation artist's work gives voice to the voiceless.
November 07, 2022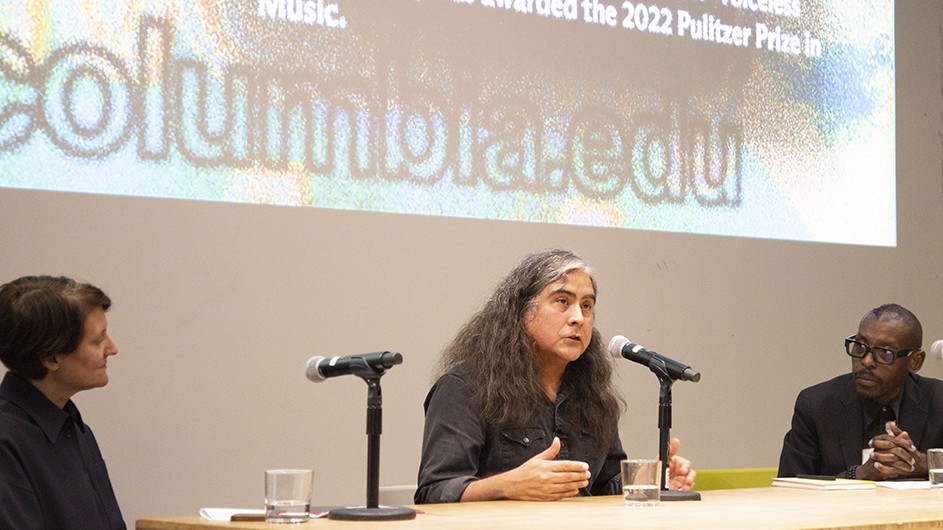 On October 10, 2022, the Graduate School of Architecture, Planning, and Preservation (GSAPP) hosted a lecture by Raven Chacon, a composer, performer, and installation artist from the Navajo Nation. In 2022, Chacon became the first Native American composer to win the Pulitzer Prize for music, with Voiceless Mass, a work for an ensemble and a pipe organ that premiered at the Cathedral of St. John the Evangelist in Milwaukee in 2021.
GSAPP Professors Mario Gooden and Lucia Allais (also director of GSAPP's Buell Center) joined Chacon for a discussion following his talk. GSAPP Dean Andrés Jaque introduced Chacon, and said that his work "presents territories and land as the entanglement of people's ecosystems and technologies, as the site of both occupation and resistance, and uses sound as a medium that expands the capacity to collectively sense the violence embedded in those entanglements."
Chacon underscored the expansive nature of his practice by including large-scale land art and site-specific installations produced during his affiliation with the Indigenous art collective Postcommodity (2009–2018), as well as performances, compositions using both graphic scores and traditional notation, and field recordings.   
Exploring Environments Through Sound
Chacon began by playing excerpts from one of his earliest works, a series of three manipulated field recordings created at a time when he was unaware of sound art. Venturing to sites on tribal lands selected for their quietness—Window Rock, Arizona; Sandia Mountains, New Mexico; and Canyon de Chelly, Arizona—Chacon recorded soundscapes, and later amplified each to the point of distortion. By turning up the volume, he aimed to unearth new patterns and textures.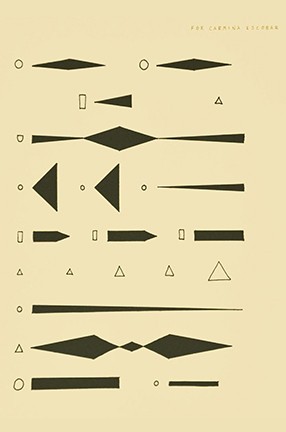 Since then, Chacon has continued to probe the relationship of sound to space. His 2010 performance and composition Drum Grid calls for up to 20 drummers to disperse across a grid of street corners throughout a neighborhood. Each player takes turns imitating the sounds of their neighbor one block away; their interpretations are sometimes skewed by everyday activities masking the signals.   
"It becomes complicated quickly," said Chacon. "The public that has stumbled upon these performers in the street often misinterpret this as some kind of protest or some other kind of single action, and then they realize they're surrounded by 20 drummers in this neighborhood. In a way, it generates conflict, which was not an intention of the piece. It was actually to do the opposite—to get people to walk around their communities, their city spaces, and engage with things that might be in those places."
The arrangement for Drum Grid comprises a text-based instruction and graphic score illustrating how the performers should position themselves across street blocks. As a result, musical training is unnecessary for enacting the performance.
"One reason I make these scores accessible is because I'm interested in who might be on stage representing these pieces," said Chacon. "Drum Grid is about allowing people who are from certain communities to be the people on the streets. It's not about busing in professional musicians to, say, the south of Albuquerque and do this thing. It's getting the people who live there to do it."
Bringing Attention to the Void
The composition for Voiceless Mass is dedicated to the memory of the Indigenous children who did and did not survive residential schools and forced assimilation practices administered by the Catholic Church, which also led to the loss of Indigenous languages. Chacon prefaced an excerpt by reading aloud his program notes: "Voiceless Mass considers the futility of giving voices to the voiceless when ceding space is never considered an option by those in positions of power."
The composition exploits the emptiness of a vaulted religious structure by reverberating the instrumentation with a visceral force. Similar to his over-amplified field recordings, Chacon's composition for Voiceless Mass intensifies listeners' experience of the vastness of the space. "It kind of confuses you, especially if you watch the performance," Allais said. "You don't know that those instruments made those noises, you don't recognize the instruments anymore. Yet, at the same time, there's no doubt that the organ is a wind instrument, and that this wind is a kind of architectonic breath."
"Voids mean something," said Chacon. "They might mean a loss of memory, or a time before humans existed—which is the case with my composition American Ledger. It tells the chronology of this land that's now the United States. There's voids in that, there's voids when things were lost, when languages were lost, when people were displaced, and when people were moved here from other continents."
Silent Choir (Standing Rock) by Chacon, recently exhibited at the Whitney Museum's 2022 Biennial, presents another instance of a powerful void. For this work, the artist recorded the silent protest of Indigenous women who led a group of water protectors against police in 2016, near the Standing Rock Indian Reservation during the No Dakota Access Pipeline resistance.
"This is the sound of 400 people staring and having nothing to say. It's the sound of the shame of the police and their refusal to look back," said Chacon. 
---
Shannon Werle is the assistant director of communications at GSAPP.