5 Questions: Composer and Performer Is Now a Professor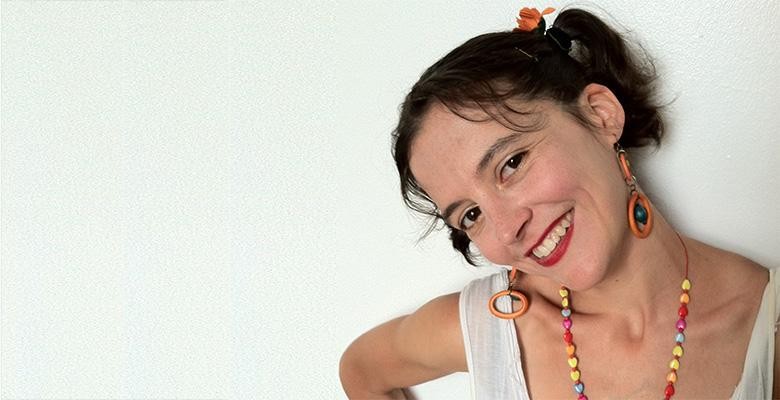 Natacha Diels's passion for music has taken her from one end of the country to the other and back again. Born in Los Angeles and raised in Texas and New Mexico, she moved east to attend New York University, where she earned a bachelor's degree in flute performance and a second degree in integrated digital media. A flautist and composer, in 2003 she founded an experimental music collective, Ensemble Pamplemousse, where she composes and performs pieces that combine traditional instrumental technique and electronic music. Although she officially receives her doctorate in musical arts on May 18, Diels has already started a new job as a professor of music at the University of California, San Diego.
Q. What brought you to Columbia?
A. Choosing Columbia for my doctoral studies allowed me to continue my work with Pamplemousse while focusing and developing my individual artistic practice. I was also motivated by Columbia's Computer Music Center, founded in 1958 and one of the oldest in the country, which I was very involved in. Professors Douglas Repetto and Brad Garton developed the center into a unique area for open and productive experimentation.
Q. Is there one thing that defined your time at Columbia?
A. It's not overstating it to say that the five years I spent at Columbia were the most artistically productive to date. In addition to my own work, I was able to develop my teaching skills and syllabi—teaching Columbia undergraduates was tremendously rewarding, and those students remain very special to me. I also was able to devote more time to organizing and promoting Ensemble Pamplemousse, which helped bring the group to the international stage.
Q. Was there some experience outside of the classroom that had the greatest impact on you?
A. The composition part of Columbia's music department is unusually supportive and challenging. I was consistently inspired with the dialogue and music my classmates incited and produced. I loved the concerts of the student-run organization Columbia Composers—social and artistic gatherings that are open to the public, ensuring a non-isolationist spirit, which is essential to any community, but particularly an artistic and academic one.
Q. Are there professors who encouraged you in unexpected ways?
A. My composition teachers, George Lewis and Fred Lerdahl, greatly inspired me through their teaching and their artistic openness. George's devotion to diversity forever changed my perspectives on the issue within music composition and computer music, and his tremendous multifaceted approach to making music is eternally stimulating. Fred's devotion to and excellence in teaching, and the strength and openness with which he supports his musical ideas, have informed my own teaching philosophies. Douglas Repetto was also a huge inspiration—his endless generosity in teaching electronic music and sound art and his artistic creativity defined and encouraged a spirit of support and excellence in the Computer Music Center's community.
Q. What's next for you?
A. I'm currently an Assistant Professor in Composition and Computer Music at the University of California, San Diego. I've just completed a couple of compositions, for Ensemble Dal Niente/Parlour Tapes+ in Chicago, and for the SPOR festival in Denmark. I'm working on a piece for Talea Ensemble to be premiered at the Darmstadt summer festival. I'm also continuing my work with Ensemble Pamplemousse: We recently completed a European tour, including a visit to Columbia's Global Center in Paris and a concert at Miller Theatre.