5 Questions: Professor Ramin Bahrani Debuts Film Adaptation of 'Fahrenheit 451'
Ramin Bahrani's film, a modern retelling of Ray Bradbury's dystopian classic was produced for HBO and will also screen at this year's Cannes Film Festival.
May 08, 2018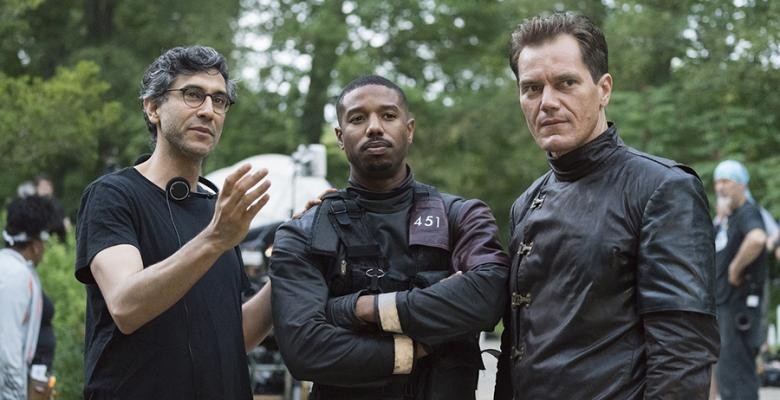 Columbia professors are about to have their books burned on screen. Director Ramin Bahrani, an associate professor of film at the School of the Arts, jokes that he was "honored" to ignite books by colleagues Hamid Dabashi and Joseph Stiglitz while filming an adaptation of Ray Bradbury's 1953 dystopian classic, Fahrenheit 451.
Starring Michael B. Jordan and Michael Shannon as the novel's book-burning firemen, the film presents a modern retelling that includes today's new media landscape. It was produced by HBO Films and will premiere on the cable channel May 19 after debuting as a midnight screening during this year's Cannes Film Festival.
Bahrani (CC'96) is no novice on the festival circuit. His films have been screened at the Venice, Cannes, Sundance, Berlin and Toronto film festivals. In 2008, his Goodbye Solo won the FIPRESCI critic's prize for best film at Venice. A Guggenheim fellow, he has been the subject of retrospectives at venues such as the Museum of Modern Art in New York and the La Rochelle Film Festival in France.
"Whatever I teach in my classes helps me on set. I think of my students whenever I am shooting a film. They always remind me to stay focused on the basics," said Bahrani, who teaches directing. "I always discuss my work with my students if there is a chance that they can learn from my experiences, including my mistakes. I also learn from their questions, their films and their way of seeing the world and cinema."
Q. How did you research the film?
A. I re-read the novel many times and researched interviews with Bradbury discussing his intentions and motivations. I knew Bradbury had reimagined Fahrenheit 451 as a stage play in the 1980s, changing many key plot elements. Knowing this, I felt approval to make my own changes, while always trying to stay true to Bradbury's themes and vision.
Q. What motivated you to do a contemporary version now?
A. One of Bradbury's fears when he published the novel in 1953 was the wave of televisions flooding into American homes. He felt the bombardment of sensations would eliminate reading and critical thought. Our current world's obsession with social media and reliance on the internet offered eerie similarities to Bradbury's prophetic vision.
Q. How does the film explore the current state of politics around the world vis-à-vis literature, free expression, the media and education?
A. The firemen not only burn books, they censor everything on the internet. As tech companies consolidate power, their ability to control all information, including our private lives, becomes not only easy, but inevitable. Bradbury seemed to predict the era of fake news and alternative facts. He was right to proclaim that we-the-people want control and censorship over our lives and minds.
Bradbury was no Luddite. He wrote screenplays, including adapting Moby Dick, and he also wrote 64 episodes of the TV series, Ray Bradbury Theater. I was honored to have a chance to adapt the work of an American master.
Q. What inspired the color-blind casting of the film?
 A. Since race is never mentioned in the book, I turned to my friend, Michael Shannon, whom I had the pleasure of working with on my last film, 99 Homes. Thankfully, he accepted. For the role of Guy Montag, I turned to Michael B. Jordan. I have always loved his work, from The Wire to Fruitvale Station, and had wanted to collaborate with him for some time. I thought he would be perfect in the role. They're brilliant in the film and I love them both like brothers.
Q. What are you working on next?
A. An adaptation of the Man Booker Prize-winning novel, The White Tiger, written by Aravind Adiga, my friend and classmate from our undergraduate days at Columbia. We are both Columbia College alums. Netflix is my partner for this film.