AAAS Elections, Statistics Fellows, and More Columbians Honored
From science to engineering, writing to social sciences, here are the Columbians who received awards recently.
May 04, 2022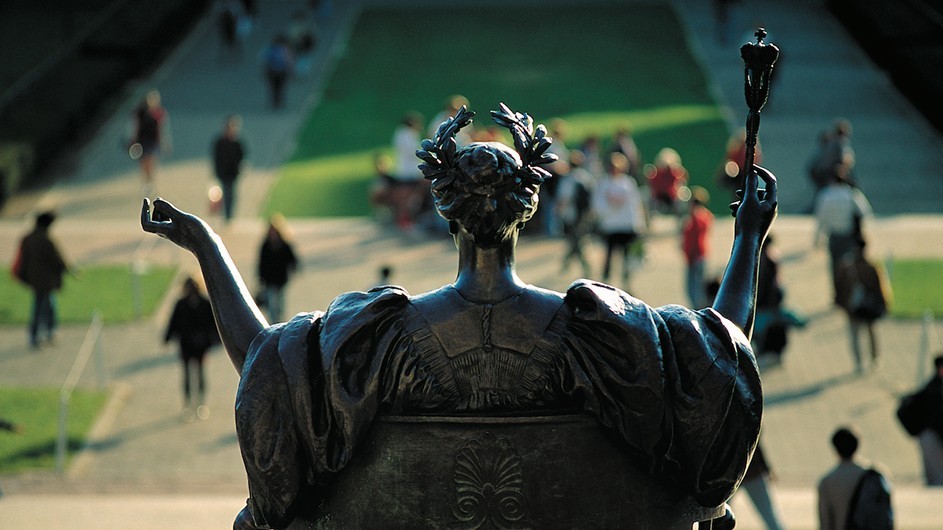 Columbia News produces a biweekly newsletter (subscribe here!) and article series featuring a roundup of awards and milestones that Columbia faculty, staff, and students have received in recent days. In this edition, you'll find awards and milestones from April 7 to April 21, 2022.
Have an award or milestone you'd like to have featured in the newsletter or article online? Please send an email to [email protected]. Note that we'll be running this series every other week. 
You can take a look at past accomplishments on our Awards & Milestones page. And you can subscribe to receive the newsletter in your inbox.
FACULTY
ARTS & HUMANITIES
Six Columbia professors have been elected members of the American Academy of Arts and Sciences, joining some of the world's most accomplished leaders from academia, the arts, public policy, and research in one of the nation's most prestigious honorary societies: Panagiota Daskalopoulos, Thomas A. DiPrete, Saidiya Hartman, Andreas Huyssen, Jennifer Lee, and Mae Ngai.
Miya Masaoka, associate professor of music and director of the Sound Art Program at the School of the Arts, and Konstantina Zanou, assistant professor of Italian, were recently awarded 2022-2023 Rome prizes.
SCIENCE & MEDICINE
Elizabeth Ford, director of mental health and criminal justice initiatives in the Department of Psychiatry, has received the Judge Stephen S. Goss Memorial Leadership Award for her work on people with behavioral health needs involved in the criminal justice system. She will be honored at the Judges and Psychiatrists Leadership Summit on May 17.
Zhezhen Jin, Bodhi Sen, and Tian Zheng, professors of statistics and biostatistics at Columbia's Graduate School of Arts and Sciences and Mailman School of Public Health, have been named fellows of the Institute of Mathematical Statistics. They are being recognized for their contributions to statistics and related applications in computing and medicine.
Elizabeth Olson, professor of biomedical engineering and auditory biophysics in Otolaryngology/Head and Neck Surgery, was elected president of the Association for Research in Otolaryngology.
ENGINEERING
Xi Chen, a professor of computer science, has won the 2021 Gödel and Fulkerson prizes for his work on complexity theory, which classifies the difficulty of problems or how efficiently they can be solved by algorithms to determine the limits of what a computer can do.
LAW & SOCIAL SCIENCES
Eric Foner, DeWitt Clinton Professor Emeritus of History, is the recipient of the 2022 Sol Stetin Award for Labor History from the Sidney Hillman Foundation.
Ester Fuchs, professor of international and public affairs and political science and director of the Urban and Social Policy Program at Columbia's School of International and Public Affairs, was among the featured honorees named to Mindr Global's 2022 list of 30 Women of Influence.
Eunice Hong (LAW'16), director of the Davis Polk Leadership Initiative at Columbia Law School, recently won the Red Hen Press Fiction Award and will have her first novel published next year.
STUDENTS
Nineteen graduating students representing Columbia's schools were named 2022 Campbell Award winners: Sai Mali Ananthanarayanan (SEAS'22), Michael Antwi (BUS'22), Alden A. Bush (NRS'20, NRS'22), Anthony Sertel Dean (SOA'22), Tanika D'Souza (JRN'22) Michael Higgins (GS'22), Varna Kodoth (MSPH'22), Lillian Liao (VPS'22), Jasmine C. McClam (SIPA'22), Trina Nurse (SSW'22), Kaley Overstreet (GSAPP'22), Alisa Petrosova (CS'22), Hart I. E. Rapaport (CC'22), Annel Monserrat Becerra Rodriguez (LAW'22), Michelle Nadine Skelton (DEN'22), Carly Stein (BC'22), Ashley Wells (GSAS'22), Hezekiah Henry Williams (SPS'22), and Yijuan (Rachel) Zhu (TC'22).
Carolyn J. Quijano, a PhD student in history, was recently named a 2022-2023 Rome Prize winner.
Roman Rivera, a PhD student in economics, was recently selected as an awardee in the Ford Foundation 2022 Dissertation Fellowship competition.