After 60 Years of Public Service, Diplomat Finally Earns His Ph.D.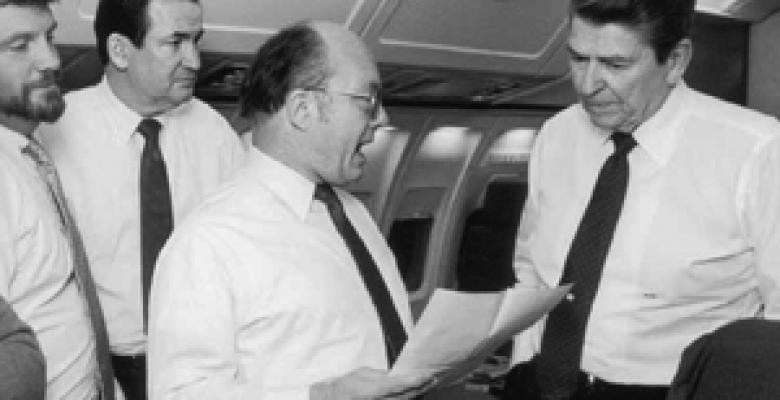 Most scholars earn a Ph.D. then go on to a career in their chosen field and publish some books. Jack F. Matlock Jr. did all that, but in reverse.
Now, at 83, he has completed his dissertation in Slavic languages and literatures and is graduating from the Graduate School of Arts and Sciences. The thesis is on the difficulties of translating the work of 19th-century Russian author Nikolai Leskov into other languages.
It is the latest achievement for Matlock who, without his doctorate, has had an illustrious career in diplomacy as ambassador to the Soviet Union and Czechoslovakia and later as a professor. Over the decades, Matlock has witnessed key moments in 20th-century history firsthand.
After earning his master's in Slavic languages at Columbia in 1952, he taught Russian language and literature at Dartmouth. He also prepared most of the index to an 11-volume collection of Stalin's works. "I read his entire works, twice," Matlock recalls.
In 1954, he began his application to the U.S. Foreign Service. One of his three interviewers voted against hiring him, believing he was too specialized. "I was all-but-dissertation back in 1953," he said. "If I had completed my Ph.D. at the time, it is possible I would not have been appointed."
Posted to Moscow in 1962 during the tense days of the Cuban missile crisis, Matlock translated a 14-page sealed letter from the Soviet Ministry of Foreign Affairs, presumed to be from the office of Nikita Khrushchev. "Unlike in academia, a C-minus translation on time is better than an A-plus too late," said Matlock. In this case, there was no pressure, except, perhaps, that the fate of humanity hung in the balance.
Matlock was ambassador to Czechoslovakia from 1981 to 1983 and served in cities such as Vienna, Dar es Salaam, Tanzania, and Accra, Ghana, as well as on the staff of the National Security Council and as director of Soviet affairs at the State Department.
He attended most U.S.-Soviet summits from 1972 to 1991, from détente to glasnost. President Ronald Reagan appointed him ambassador to the U.S.S.R. in 1987, and he helped the president prepare for pivotal meetings with Mikhail Gorbachev by playing the role of the then-Soviet leader in mock summit meetings.
"I was limbering [Reagan] up. It was a little batting practice before going to the mound," said Matlock, who had the opportunity to observe Gorbachev close up and noted that he did not care for Reagan's jokes initially. "He found them a little cutting, but then he learned to parry them with his own jokes."
In books like "Superpower Illusions: How Myths and False Ideologies Led America Astray—And How to Return to Reality," Matlock challenges conventional wisdom about the relationship between the two Cold War adversaries.
For example, he maintains that the Cold War did not end with the collapse of the Soviet Union in 1991. He argues instead that it ended in principle with Gorbachev's speech to the United Nations in December 1988, when he implicitly renounced Marxist class struggle as the basis of Soviet foreign policy.
Proficient in French, German, Russian, Czech and Swahili, Matlock was a senior research fellow at Columbia in 1991 and was later named the first Kathryn and Shelby Cullom Davis Professor in the Practice of International Diplomacy from 1993 to 1996.
In 2005 he got a nudge to finish his Ph.D. from Catharine Theimer Nepomnyashchy, the Ann Whitney Olin Professor of Russian Literature and a former head of Columbia's Harriman Institute. They were at a memorial service for diplomat and historian George F. Kennan, a leading authority on the Soviet Union. "Jack, why don't you just finish that degree?" Nepomnyashchy asked him. Matlock figured, "Why not? It's 80 percent completed."
Besides his scholarly pursuits, Matlock, who divides his time between a home in Princeton and his wife Rebecca's family farm in Tennessee, enjoys gardening, which offers a respite from the thicket of foreign policy.
Matlock is proud of his decades of public service, and his contributions to U.S. foreign policy. "I am satisfied that I had a career that suited my interests and abilities."
And, of course, he's pleased with his dissertation. "It's nice to have it finished."