Amale Andraos Appointed Dean of Graduate School of Architecture, Planning and Preservation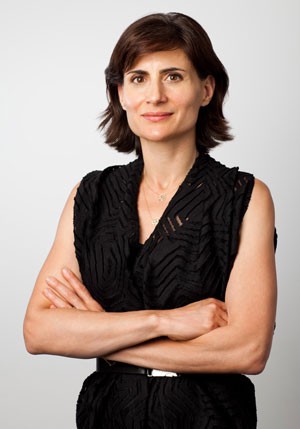 Columbia University President Lee C. Bollinger today announced his appointment of Amale Andraos as the next dean of the University's Graduate School of Architecture, Planning and Preservation. She is an associate professor of architecture, planning and preservation at the School and a principal at WORKac, a New York-based firm devoted to projects that seek to reinvent relationships between urban and natural environments. The appointment is effective on September 1.
"An inspiring teacher, a respected colleague, and a pioneering practitioner whose innovative commissions in cities around the world have earned widespread admiration, Amale is a new leader among a rising generation of creative architects and designers of our physical environment," said Bollinger. "She is just the kind of person who can further expand the role of the School as a center of interdisciplinary thinking across Columbia about how to develop a more just and sustainable society."
Andraos is a leading voice on urbanism and globalization, and related environmental and social concerns. She has written and presented widely on these ideas while applying them in practice. Some of the noteworthy projects she has worked on include a new conference center in Gabon, the master plan for seven new university campuses in China, the Blaffer Museum in Houston, the Children's Museum of the Arts in Manhattan, and the Edible Schoolyards at P.S. 216 in Brooklyn and P.S. 7 in Harlem.
"Columbia is already a leader in addressing the challenges of high-speed urbanization around the globe and I believe it can lead in recasting architecture in dialogue with our urban societies and the natural environment," said Andraos. "This is a School whose creativity and diversity of global perspectives makes it an ideal place to consider these large issues and ideas, and I am honored by the opportunity to continue and expand on work that Mark Wigley has done in welcoming people like me to the conversation."
Andraos joined the faculty at Columbia in 2011. In the preceding decade she taught at Princeton, Harvard, University of Pennsylvania, Parsons School of Design, New York Institute of Technology, Ohio State's Knowlton School of Architecture and the American University of Beirut. Before cofounding WORKac in 2003, she worked with acclaimed architect Rem Koolhaas in his Rotterdam and New York offices.
Andraos was born in Beirut, Lebanon, and has lived in Saudi Arabia, France, Canada and the Netherlands. She holds degrees from McGill University School of Architecture in Montreal and the Graduate School of Design at Harvard. A veteran of several design juries and international competitions, she serves on the advisory board of the Arab Center for Architecture, the board of the Architectural League of New York and the steering committee of Columbia Global Centers, Middle East. She and her partner are the recipients of numerous honors including eight AIA Design Awards, a New York Design Commission award and two MASterwork Awards from the Municipal Art Society of New York. Andraos's husband and partner in WORKac, Dan Wood, earned his architecture degree at Columbia.
"In welcoming Amale, who will bring her own unique perspective as Dean, I want to thank Mark Wigley for his decade of deeply thoughtful and daring leadership," said Bollinger. "Mark has not only helped us in achieving the high quality of new architecture on our own campus, he has done so much to establish Columbia as a dynamic, interdisciplinary hub for testing new ideas with the potential to reimagine urbanization, preserve our historical legacy, and improve the quality of life for people in an increasingly urban global society. Amale impressed me as being ideally suited to continue this wonderful trajectory of the School."