Amgen Scholars Program Helps Science Students Learn by Doing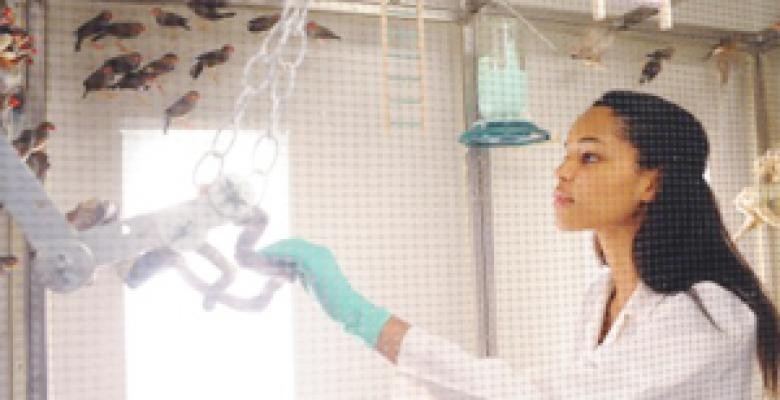 Suppose you're in an elevator standing next to someone with a million dollars in grant money to fund your research, if only you can convince her in the brief span of an elevator ride. You're in need of the proverbial elevator pitch.
Columbia and Barnard undergraduate summer students engage in such role-playing as part of a summer research program funded by the Amgen Foundation, the main philanthropic arm of the biotech company Amgen. The Amgen Scholars Program, now entering its seventh year in the U.S., is one of many initiatives aimed at strengthening science education and exciting students about scientific careers.
Program administrators emphasize the importance of oral skills because even the best science cannot often succeed without the ability to communicate one's research goals to foundations, sponsors and grant makers.
In 2006, the Amgen Foundation awarded Columbia and Barnard a four-year grant to support the program, which offers students invaluable laboratory experience. In 2010, the foundation renewed its grant for another four years.
"Exposure to all aspects of research is crucial to training the next generation of American scientists," said Alice Heicklen, a senior lecturer in Columbia's biological sciences department and program director of the Amgen Scholars Program. "Here, we can offer a stellar research program in cutting-edge labs to a group of promising students from around the country."
Columbia and Barnard are among 10 academic institutions nationally and three abroad to receive such funding from Amgen. There are about 25 to 29 Amgen Scholars on the campus each summer. The students come from Columbia, Barnard and universities like Harvard and Duke as well as smaller colleges like Carleton and Lafayette. They arrive after Memorial Day for a 10-week stay and engage in independent projects mentored by scientists from the University community.
In her sophomore year, Georgia Squyres (CC'13) was so eager to work in a lab that she scrolled through the alphabetical list of biology professors and emailed every one whose research looked interesting. Her search stopped after hearing from Lars Dietrich, an assistant professor in biological sciences.
"I really didn't get too far down the list—as you can see, his last name starts with D," said Squyres. "I went in for a really fun interview with him—we talked about our favorite bands, like Radiohead."
She studied how bacteria cooperate successfully with one another to survive in challenging environments. "It was exactly what I needed at that point in my career," Squyres said.
Approximately 120 faculty members, who can be drawn upon as mentors, are essential to the program. Anita Burgos was in the Amgen program in 2009 while she was at NYU and worked with Sarah M.N. Woolley, associate professor of psychology. Now a graduate student studying neuroscience at Columbia's College of Physicians and Surgeons, Burgos said of faculty mentors like Woolley: "They are invested in your success."
Amber Miller, a physics professor and dean of science in the Faculty of Arts and Sciences, said, "Doing research in a laboratory is like an apprenticeship. You learn by doing, and the stronger the mentor, the more a student will grow as a scientist."
Besides the elevator pitch, students practice an oral exercise in which one student explains his research to another, who in turn describes it to a group. "It's valuable for the students to listen to how jargon has been cut out in the retelling," said Heicklen.
Summer students receive guidance in developing their writing skills as well. Burgos recalled reading an article about olfactory neurons by University Professor Richard Axel, who won the Nobel Prize in Physiology and Medicine in 2004. She said learning how a scientific article was structured proved helpful in composing her own.
The students get to know one another by living together and participating in social outings such as a field trip to the biopharmaceutical company, Regeneron, in Tarrytown, N.Y.
In July, Columbia's Amgen Scholars head to California to attend a symposium where they meet Amgen Scholars from other universities and hear from academic and industry leaders.
"We couldn't add some of the components that make this program so stellar without outside funding," said Heicklen.