An Architect-Artist Tackles Climate Change and Other Issues With Speculative Projects
In an online GSAPP event, Olalekan Jeyifous discussed how his visionary works of Crown Heights and Lagos offer hope for the future.
May 06, 2022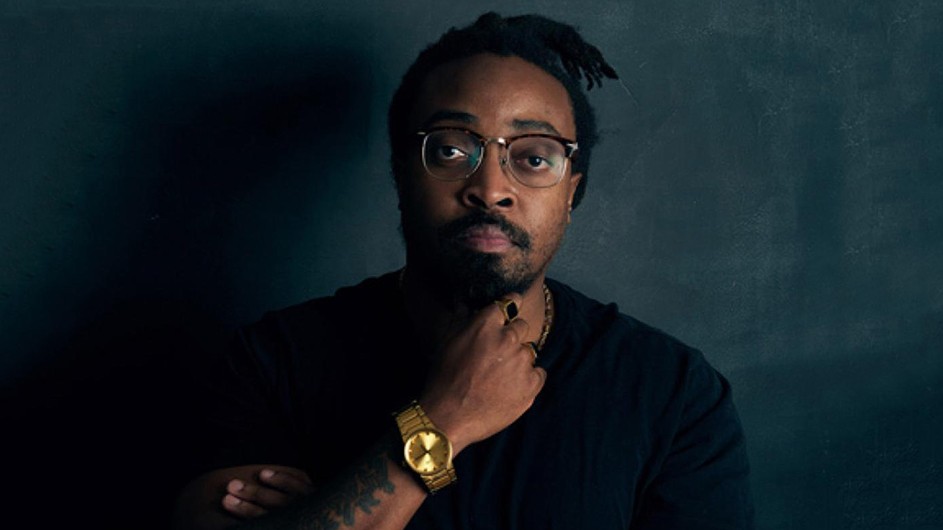 On April 14, 2022, Brooklyn-based artist Olalekan Jeyifous delivered the lecture "Co/a-temporal Fictions" at the Graduate School of Architecture, Planning, and Preservation (GSAPP). The title captures Jeyifous's tendency to play with the traditional sense of time and space, collaging familiar materials into vivid sci-fi landscapes. Jeyifous was born near Lagos, Nigeria, and this booming mega-city is a recurring subject of his work. 
"I think of a lot of these speculative projects as existing in the now, but in an alternate reality, or parallel world space," Jeyifous said.
In his introduction, GSAPP Professor Mario Gooden hailed Jeyifous as a visionary, saying his work "challenges us to consider relationships between art, politics, popular culture, and the cultural imaginary as these relationships inform urban spaces."
Imagining Radical Futures
Jeyifous discussed the evolution of his career and work process, starting with a collaboration with writer Matty Vaz, Adverspeak + PPPP. Jeyifous, who was responsible for the visual component, illustrated a dystopian society in which a public-private partnership program compensates everyday citizens for substituting nouns, verbs, and adjectives with brand names in their daily conversations. The work was shown as part of the Future as Disruption exhibition at The Kitchen in New York in 2008 and the New Museum, also in New York, in 2010. 
In 2015, Jeyifous reached a larger audience with the publication of New Lagos, 2081 A.D. on Tumblr. This series of illustrations, commissioned by designer Walé Oyéjidé to introduce his menswear line, rendered Lagos with a sci-fi aesthetic. Jeyifous experimented with photomontage for the first time to create the work, layering personal photographs as well as images from the internet and friends into comic book-like drawings.
"We hadn't given much thought to how this could be perceived as radical, but it was," said Jeyifous. "There wasn't that kind of challenge to the sanitized, homogenized western aesthetic of science fiction visuals, and also what could be considered as advanced. Much science fiction imagery relies on slick steel and glass, and is not rooted in the culture of a place, so I think that's why these works resonated."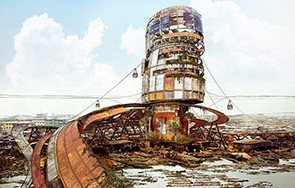 Buoyed by the viral fame of New Lagos, 2081 A.D., Jeyifous sought to create a work with more intention. The result was Shanty Megastructures, illustrations of high-rises that resemble informal Lagos settlements. The work—which was shown at multiple venues including the 2015 Bi-City Biennale of Urbanism and Architecture in Shenzhen, China—critiques the global phenomenon of impoverished communities that are displaced by large-scale developments. Shanty Megastructures focuses on the area in Lagos surrounding Third Mainland Bridge, which connects Lagos Island to the mainland, and is notorious for traffic congestion. Jeyifous's towering buildings are clad in patchwork patterns of scrap material, dotted with solar panels, and embellished with vertical vegetation systems.
"I was interested in the creative sustainable practices of slum settlements, which are highly self-organized, and perform these practices both as a function of necessity as well as ingenuity," Jeyifous said. 
His visions of Lagos developed into a further iteration in 2017, Mad Horse City, which included 360-degree, virtual-reality futuristic animations of the city. The work was screened as part of African Mobilities, an exhibition organized by the Architekturmuseum der TU in Munich, Germany, and the University of the Witwatersrand in Johannesburg, South Africa. The work envisions Lagos in the year 2115, with mobile aquaponic farms, double-height motorcycle taxis, and children wearing augmented-reality goggles and hard drive-equipped chest plates. 
Tackling Climate Change With Speculative Architecture 
During the pandemic, Jeyifous's Brooklyn neighborhood of Crown Heights inspired his next project, Bodega Ecohaven. Fast-forwarding Brooklyn into the future, he illustrated bubble farms capable of supporting microclimates, a rainwater harvesting and drone delivery service, and buildings operated by gardens with solar power-generating petals. The project, according to Jeyifous, is "inspired by the pandemic, and witnesses in real-time the collapse or untenable nature of the infrastructures and systems that are supposed to maintain us as citizens of this country—everything from living wage to health care to adequate education—and imagines what it would look like to build a world of our own."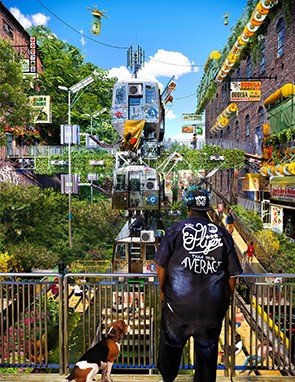 Jeyifous exhibited these drawings in New York in 2021 as part of an installation, [TFN] Frozen Neighborhoods, in the Museum of Modern Art's exhibition, Reconstructions: Architecture and Blackness in America. [TFN] Frozen Neighborhoods offers a scenario in which the impact of climate change is so severe that the federal government begins issuing mobility credits for each household, which can be exchanged as a commodity on the free market. 
"A lot of architecture in the public imagination—and what we learn in schools—is about solutions, and the power of building and design to solve or address a variety of social, political, and environmental issues," said Jeyifous. "The work can do that in certain instances, but it must be supported by systems and infrastructures. In other instances, practicing traditional architecture in precarious communities where there may not be infrastructures to support long-term, well-meaning projects—I think that's where speculative architecture can be very useful and important."
---
Shannon Werle is the digital editor in the GSAPP Communications Office.