Architect Elizabeth Diller on MoMA and the Shed
A partner at Diller Scofidio + Renfro discusses her firm's biggest projects of 2019.
November 22, 2019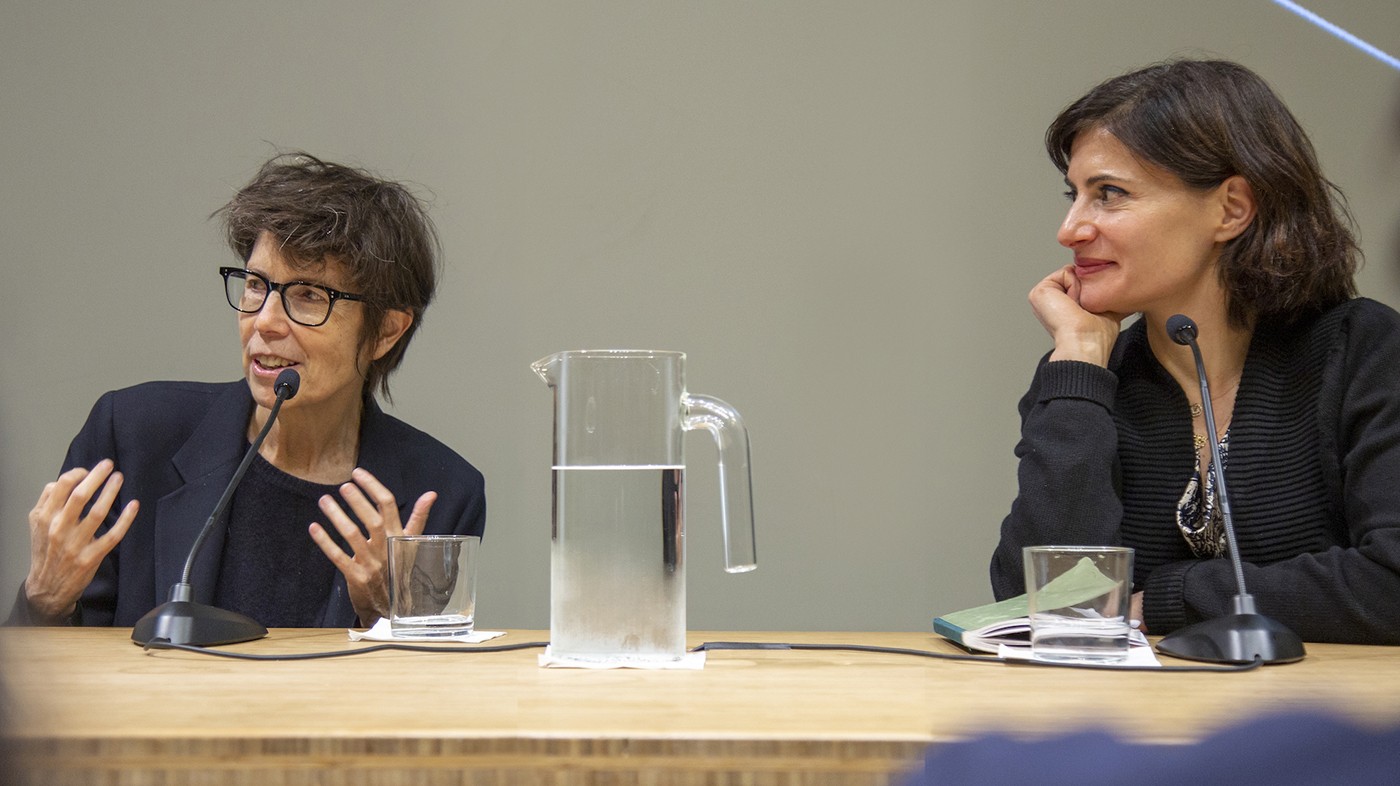 On November 11, 2019, Elizabeth Diller, a cofounding partner of Diller, Scofidio + Renfro and the recipient of the first MacArthur Foundation fellowship awarded in the field of architecture, spoke to a standing-room-only crowd on campus about the completion of two of New York's most recent high-profile building projects, the latest expansion of the Museum of Modern Art and the opening of the Shed, the multi-arts center in Hudson Yards.
Amale Andraos, dean of the Graduate School of Architecture, Planning and Preservation, which hosted the event, introduced Diller and noted the astonishing impact of her firm's work.
"DS+R, an interdisciplinary design studio that integrates architecture, visual arts and performing arts, has shaped what it means to be a cultural institution today and for the future, as well as reimagined how we interact with these institutions and how we understand their role in urban public space," Andraos said, adding that the firm's work is more than buildings. "The practice has creatively probed the boundaries of architecture as a discipline" and "has a remarkable capacity to visibly render material, the constant question we pose ourselves as architects, which is where to draw or build the line."
In her talk, Diller compared the Museum of Modern Art with the Shed, both of which are in midtown Manhattan, "six avenues apart and 27 streets north-south from one another, yet they couldn't be more different," she said.
Museum of Modern Art
The renovation and expansion of MoMA, an established institution that was founded in 1929, was surgical.
The museum has an enormous, preeminent permanent art collection, and wanted to show more of it.
The galleries needed to be more flexible and up-to-date in terms of technology.
There was a lot of curator collaboration to eliminate medium-specific galleries that presented a series of historical blocks of "isms"; instead, the space now crosses disciplines and is more project-based to tell the story of modernism in new, fresh ways.
The Shed
DS+R had been part of the 2004 High Line team that transformed the elevated rail line into a public park.
So, in 2008, when New York City asked for proposals for a flexible cultural facility at Hudson Yards along the High Line, DS+R responded and was selected as lead architect.
From the get-go, the Shed, which was designed to commission, produce and present all types of performing arts, visual arts and popular culture, was like a start-up; there was no institutional backing.
Moving the Shed's outer shell takes five minutes and the horsepower of one Prius engine; it's very old-fashioned, damage-proof technology.
After Diller's presentation, Andraos asked her if designing projects in her own city, New York, is different from working in other places. Diller answered that there are a lot of architects who parachute into other cultures, and they need to be sensitive to the fact that culture isn't global. However, she said, "it would be bad if we just worked in our own backyard, we need to import and export talent, but there's a huge learning curve."
Andraos then asked Diller if she thought architecture schools should teach students about entrepreneurship and how to create business plans.
The key, Diller said, was to "keep everything in balance." She suggested that students should be willing to "do something you're unqualified to do because it could be your best work."
But Diller conceded that being an expert in everything is impossible. "We used to think architects were generalists, but we're specialists who find the right collaborators. Architecture is not independent and autonomous; it's part of everything else. So, figure out how to make the right alliances to have your voice heard."