Architecture Professor Mabel Wilson Shines Light on New National African American Museum
To write the book about the new National Museum of African American History and Culture, Mabel O. Wilson pored over architecture drawings and environmental impact reports, and interviewed dozens of people involved in the project, including architects, a structural engineer, and John Lewis, the civil rights leader and Georgia Congressman who helped win government support for its construction.
The result is Begin with the Past: Building the National Museum of African American History and Culture, the official Smithsonian Institution history of its 19th museum, which opens on Washington, D.C.'s National Mall on Sept. 24.
"My goal was to show people the ways buildings tell the stories of places and people," said Wilson (GSAPP'91), a professor at Columbia's Graduate School of Architecture, Planning and Preservation and a senior fellow at the Institute for Research in African American Studies.
Wilson has her own design studio in New York, called Studio &, and was a finalist, with Diller Scofidio + Renfro, in the competition to design the new museum. "I had the architectural perspective and I had the historical perspective," she said. Her previous book was Negro Building: Black Americans in the World of Fairs and Museums. She came to Columbia in 2007 with a Ph.D. in American Studies from New York University.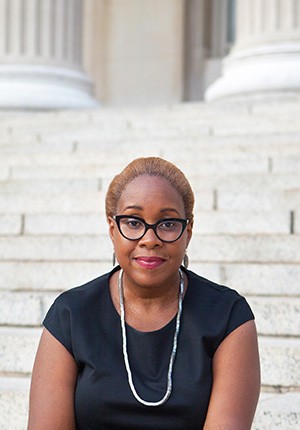 The history of the new museum goes back to 1915 and a campaign by the Grand Army of the Republic to build the first monument to honor black soldiers who fought in the Civil War. It became an effort to create a museum, a place for African Americans to understand their contributions to the nation. That effort was derailed by fund-raising difficulties and then the Depression. The idea was revived by dedicated citizens and civic leaders several times until 2003, when President George W. Bush authorized the museum's creation and Congress approved an expenditure of $270 million.
Lonnie G. Bunch III, then director of the Chicago History Museum, in 2005 was named to head the new national museum and set out to raise another $270 million and assemble a collection. There were few big collections of African American art and artifacts to draw from, said Wilson. Thousands of individuals contributed items from among their own possessions and donated money, often in small amounts. Among those who contributed family heirlooms was Columbia trustee A'Lelia Bundles (JRN'76), who donated items belonging to her great-great grandmother, Madam C.J. Walker, who built a hair-care empire in the early 1900s and became a millionaire.
The museum was built to accommodate items large and small. The collection now includes 37,000 objects, 3,500 of which are on display, including slave shackles, Harriet Tubman's hymnal and shawl, and even a railroad car divided into separate sections for black and white passengers. There are photographs of lynchings and items from a slave ship that sank off the coast of Africa. A milliner's shop patronized by African American women donated its entire collection of flamboyant, colorful bonnets. Chuck Berry's red Cadillac and Muhammad Ali's boxing gloves are also there.
"My cultural experience and heritage are there," said Wilson, who was invited to a preview tour the week before the museum opened. "It's interesting to be in a space where you can see your own personal history connected." At one exhibit, when she commented that a sewing machine was just like one her grandmother had, an African American man standing nearby said his grandmother had one like it, too.
Another book published by the Smithsonian combines narratives from a number of scholars, curators and authors with descriptions of objects from the museum's collection. Dream a World Anew: The African American Experience and the Shaping of America includes an essay by Farah Griffin, the William B. Ransford Professor of English, Comparative Literature and African American studies at Columbia.
More Than A Building, A Dream Come True: The Opening of the African American Museum
For Wilson, the biggest challenge when she started on the book was describing something not yet built. Now that the museum is complete, she is impressed with the results. Located near the Washington Monument and the White House, it is the only museum on the National Mall not made of white marble.
Designed by Freelon Group/Adjaye Associates/Davis Brody Bond, the building is made of a three-tiered structure covered with a thin metal screen, the Corona, that mimics historic iron grillwork found in African American communities in Charleston, S.C., and New Orleans. It reflects light and changes colors during the day; at night, the lights within the building shine through. Huge windows on the top floor provide views of the Martin Luther King Memorial and the Lincoln Memorial. Landscaping around the museum evokes slaves' ocean passage from Africa to America.
"The narrative of slavery is a real reminder to America of how much enslaved labor is woven into the fabric of the nation. The mission of the museum is to make African American history understood as American history," said Wilson. "I was honored to be asked to do the book."