The Post-Conflict Cities Lab Helps Architects and Planners Rebuild in the Middle East
The dean and two professors from Columbia's architecture school discuss plans for the new lab and what it's like to work in the fraught region.
February 07, 2020
In a wide-ranging discussion with Columbia News, Amale Andraos, dean of the Graduate School of Architecture, Planning and Preservation (GSAPP), and architecture-planning professors Hiba Bou Akar and Ziad Jamaleddine talk about the school's Post-Conflict Cities Lab, a groundbreaking program that launched in December 2018. The lab's core mission is to provide both theoretical and practical solutions for architects, planners and preservationists working on design and reconstruction projects in cities worldwide that have undergone wars or other forms of violence and unrest. As cities increasingly become the main stages for such conflicts, the lab aims to meet the critical demand for how to respond to the challenges of rebuilding in such risky, compromised settings.
Q. What was the impetus for starting the Post-Conflict Cities Lab?
HBA. We needed an infrastructure that brings together all the expertise at GSAPP—people who work on housing, resiliency, urban design and urban planning—to think about cities in conflict. Our inaugural project is "Urban Research and Practice in Post Conflict Settings in the Middle East and North Africa Region," and it's funded by a $350,000 Ford Foundation grant. This project focuses on housing access for low-income Lebanese and Syrian refugees in Beirut, and aims to bring together people working on urban activism towards more equitable built environments in the Middle East. The lab will enable GSAPP and our partners across Columbia to be at the forefront of the conversation about what kinds of interventions are vital in these settings of war and peace. How do you train students for this work? The way Lebanon has approached post-war city planning and reconstruction in Beirut has been disastrous; due to privatization, there is a lack of housing accessibility for the poor, who have increasingly become marginalized and displaced. So with the lab, we hope to approach these questions differently, within local contexts and drawing on global perspectives, with projects in places like Medellin and Belfast that have experienced different forms of violence. The lab aims be an interdisciplinary, cross-campus hub bringing together experts from the sciences, social sciences and humanities.
 ZJ. My interest in engaging with the Post-Conflict Cities Lab involves religious practices and spaces of worship in the Middle East. All over the region, many cities are in conflict and post-conflict. Much of this unrest manifests itself in religious spaces, in mosque demolition or mosque construction. For example, in the last decade, we've seen how the rise of Islamic extremism in the Middle East has tried to purify the religious landscape by demolishing spaces of worship that belonged to other Muslim religious sects. This history of destruction or religious erasure--in contrast to the rich, hybrid history of Islamic architecture--has not been carefully examined. There's also a wave of construction with a fabricated Islamic identity that serves primarily a non-local audience. These mosques are typically supported by regional geopolitical actors like the United Arab Emirates (UAE) trying to convey itself as a moderate Muslim nation through a specific form of religious architecture. These usually grand mosques are a pastiche of several mosques from the history of Islamic architecture. So they're not building for a specific community, but to attract tourists.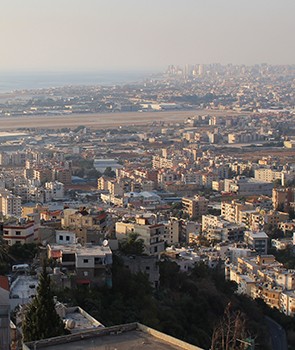 ZJ. This also happened in Beirut, and it was covered in the book The Arab City: Architecture and Representation, co-edited by Dean Andraos. During the post-civil war reconstruction period in Lebanon in 1990, many of the downtown modernist-era buildings were demolished because they did not belong to the "religious coexistence" marketing agenda of the real estate company handling the reconstruction effort. One of the first new buildings in Beirut that was finished in 2000 that falls under this forged religious narrative was the Mohammad Al-Amin mosque, which is the largest of the Ottoman-style revivalist mosques in Beirut, supported partially by Saudi Arabia, partially by Turkey. With the Post-Conflict Cities Lab, we will be able to investigate these spaces of worship, the messages they convey and how religiosity has a role to play in the reconstruction of post-conflict cities.
Q. How does the lab's first project—"Urban Research and Practice in Post Conflict Settings in the Middle East and North Africa Region"—further its goals?
HBA. This project is based on the research I did for my first book that was published last year, For the War Yet to Come: Planning Beirut's Frontiers. In it I look at how many militias from the Lebanese civil war ended up becoming religious political organizations that were using planning, architecture and real estate tools to create and maintain their own territories. There's always this assumption in urban planning that the future is going to be better than today. This notion of progress that has shaped the field was mostly a Eurocentric modernist tool of organizing territories and their futures, but in Lebanon and throughout the Middle East, people don't think about the future in the same way. In Beirut, specifically, the future is not always about expectations of progress. For many people, it's about segregation and living with pollution on a daily basis because in some areas the urban planning produced overlapping industrial and residential zones. How can we shape a different kind of future that is more collaborative and create communities across boundaries?
The Middle East is always thought of as an anomaly that doesn't apply elsewhere, but with the Post-Conflict Cities Lab, we're saying that you have to look at the Middle East because from there you can learn how to deal with severe issues that affect us globally. In Beirut, I'm studying how Syrian refugees and the lowest-income Lebanese found shelter in the peripheries of the city, in apartment buildings originally intended for the middle class, sold as places to enjoy birds and trees, but that ended up as failed, unfinished projects with no security.
AA. We tend to think about places like Lebanon and the Middle East as exceptions where nothing works, but my fear is that the future looks like Lebanon; it's a microcosm that has been under geopolitical strain for more than a century. You can learn a lot there about conflict and intentions, but also about resiliency and how people come together and overcome, as they are doing now. It's a very sharp lens through which to look at the broader world, and architecture's and planning's roles in shaping the world.
Modernism in architecture and planning assumed a top-down belief in progress and tabula rasa, and post-modernism was a retraction with architecture and planning adopting self-critical positions that rendered the disciplines very scholarly and closed. We're at a moment now where projects such as the Post-Conflict Cities Lab are trying to be both critical and engaged at the same time.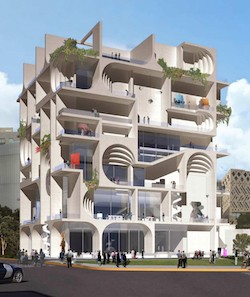 Q. Amale, your firm, WORKac, has designed the new Beirut Museum of Art. How do those plans align with the lab?
AA. The museum is on the site of the Green Line, which during the Lebanese civil war separated predominantly Muslim West Beirut from predominantly Christian East Beirut. Through art  and educational programs, the museum will support the contemporary art scene, which is very concerned with questions of war and identity, but as importantly, the museum will expose to a new generation Lebanon's long history of engagement with modernity through art and culture. Our project is about the possibility of encounter between art, life and the city, with outdoor galleries designed to create a sense of undoing the autonomy of the museum by making it part of the dusty life of Beirut—to move away from an idea of art as elitist, and create instead an invitation to engage with notions of otherness. But right now, given the dire circumstances of Lebanon's revolution, with people demanding fundamental change and half the population crossing into poverty, the museum may be on hold and in need of being reimagined.
Q. What are the practical realities of working in Beirut or elsewhere in the Middle East? How do you measure progress in a contested city?
AA. Echoing what Hiba said, we have this confidence in the West that what we draw is going to get built. In a place like Beirut that has gone through so much instability, the future is unknown. Things are more disorganized and seem to happen in ways that they couldn't happen here. So you are designing with uncertainty.
ZJ.  The question can be answered from two different angles. There's the professional practice angle that Amale is touching on—designing and building in precarious conditions where your project could be halted at any moment. When you have local or regional conflicts, you are forced to continuously readapt. The other angle involves ground research, which becomes very difficult in the Middle East, where it's hard to access archival spaces or even impossible to reach certain geographic places in, for example, Iran or Syria.
HBA. You just have to go with the flow in Lebanon. The field itself—literally and figuratively—shifted on me several times while I was doing research there as political alliances changed between various groups. Sometimes I had complete access and people were transparent with me. A few years later, people were wary of speaking with me, so I had to find other venues for collecting data. You have to think about accessing information in different ways. How do you teach this to students? I tell them there always needs to be an intimate understanding of the field and several Plan Bs.
Q. Will future projects at the lab engage with climate change?
AA. At GSAPP we're very conscious that climate change crosses everything and is completely reshaping the built environment. What is difficult in places like Lebanon is that people don't necessarily make the connection between the conflict they're experiencing and climate change. What ignited the current revolution in Lebanon was in great part the forest fires that the government clearly could not respond to. The Syrian conflict was partially a result of three years of droughts. But when you're on the ground and you're hungry and there's garbage, you don't make that broader connection. Part of our goal as architects, critics and planners is to make those connections visible to others and to connect the dots because climate change is here, affecting all of us every day.