Art Historian Vidya Dehejia Illuminates Chola Indian Bronzes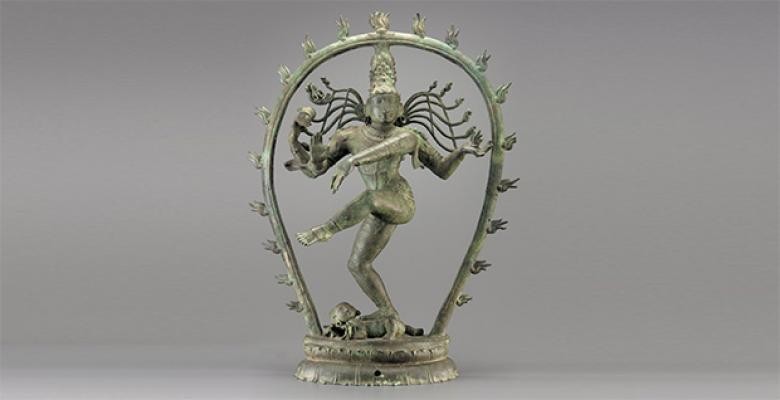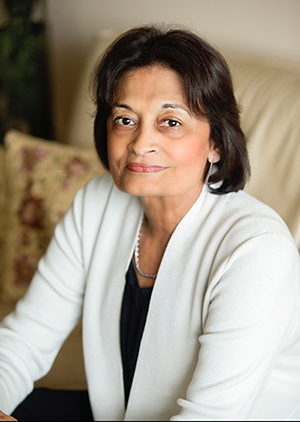 Chola bronzes, large statues of Hindu deities that fill the temples of south India, are perhaps the best-known images of that country's religious art. Produced from the ninth to the 13th centuries in what is now the Indian state of Tamil Nadu, these sacred figures, each one different from the next, have long been collected and displayed for their beauty.
Vidya Dehejia, the Barbara Stoler Miller Professor of Indian and South Asian Art, wanted to delve into the workmanship that went into their production and see how Hindus used them. These figures didn't sit permanently in temples, but were portable images that were carried in festival processions, festooned with flowers and jewels.
"There is nothing quite like these images anywhere else in India," Dehejia said. "They played a fundamental role in the ritual and social life of Chola citizens, and their sheer physical perfection of form was seen as a reflection of spiritual beauty and spiritual purity."
Surprisingly, they have never been studied in context, and even that work is old, she notes. The last monograph on Chola history was written in 1935 and revised in 1955. So she began looking at the bronzes not merely as divine images of Shiva and other gods in the Hindu pantheon, but as clues to how Chola citizens lived, worked and created a society.
Dehejia is no stranger to the subject. Her family is from Tamil Nadu, and she has already written two books, curated exhibitions and taught Columbia's classes on Chola bronzes.
The results of her recent research formed the basis for six prestigious A.W. Mellon Lectures in the Fine Arts that she delivered in April and May at the National Gallery in Washington, D.C., where she used the bronzes to describe the life of the Chola period, its festivals and traditions.
In his review of Dehejia's lecture series, Philip Kennicott, the Washington Post's Pulitzer Prize-winning art and architecture critic, wrote, "A distant culture has been brought into… focus, beauty has been engaged, essential questions asked, and larger political themes adumbrated." He described Dehejia as "one of the world's foremost experts on the subject."
Dehejia introduced the bronzes by comparing some of their early creators to Western sculptors such as Lysippos of ancient Greece and the Italian Renaissance sculptor Donatello. She also noted that when the great 10-story Chola temple in Thanjavur was completed in 1012, the cathedrals of Romanesque Europe were yet to be built. By the time the last great Chola temple in Tribhuvanam was completed in 1212, the Gothic cathedrals of Europe were just reaching their peak with the completion of Notre Dame in Paris.
In looking at the bronzes anew, Dehejia started at ground level. The Chola bronzes are made of 90 to 95 percent copper, and "there is no copper in granite-rich Tamil Nadu, a fact blissfully ignored thus far," she said. The bronze for the temples in the heart of the Chola region required 200 tons of copper. Dehejia laid out the basis for her hypothesis that the island nation of Sri Lanka was the source of the copper: she noted, inscriptions on Sri Lankan monuments attest to local copper mines in that region, claims that have been corroborated by metallurgy scholars. Later this year, samples of five Chola bronzes from U.S. museums will be tested to determine if she's right.
Over the past two years, several Columbia Ph.D. students have joined Dehejia in India to look at a number of sites. The students weren't just scholars in art history, but came from other specialties too, such as literature, architecture and history. "Having that different focus enables students to ask questions that art historians might not ask, and that is always rewarding," Dehejia said. "It makes you rethink the material. You may stand by what you said, or you may change your mind, but it's always very useful."
Dehejia will incorporate much of her new scholarship into the next course she teaches on Chola bronzes at Columbia, which will be timed to coincide with the publication by Princeton University Press of a book—her 27th—based on the Mellon lectures. This fall she is teaching a class on rock-cut architecture of India and another one on visual narratives in Indian art.
"In the West, we speak of God creating man in his image," Dehejia said. "In India, we may speak without the slightest suggestion of disrespect, of artists and poets making the gods in their own image."
Image Carousel with 6 slides
A carousel is a rotating set of images. Use the previous and next buttons to change the displayed slide
Slide 1: Goddess Uma, 10th Century

Slide 2: Queen Sembiyan, end 10th century

Slide 3: Shiva as Victor of Three Forts, late 9th century

Slide 4: Shiva as Lord with the bull (missing today), 1011.

Slide 5: God Krishna, ca. 1225

Slide 6: Dancing Shiva, 10th century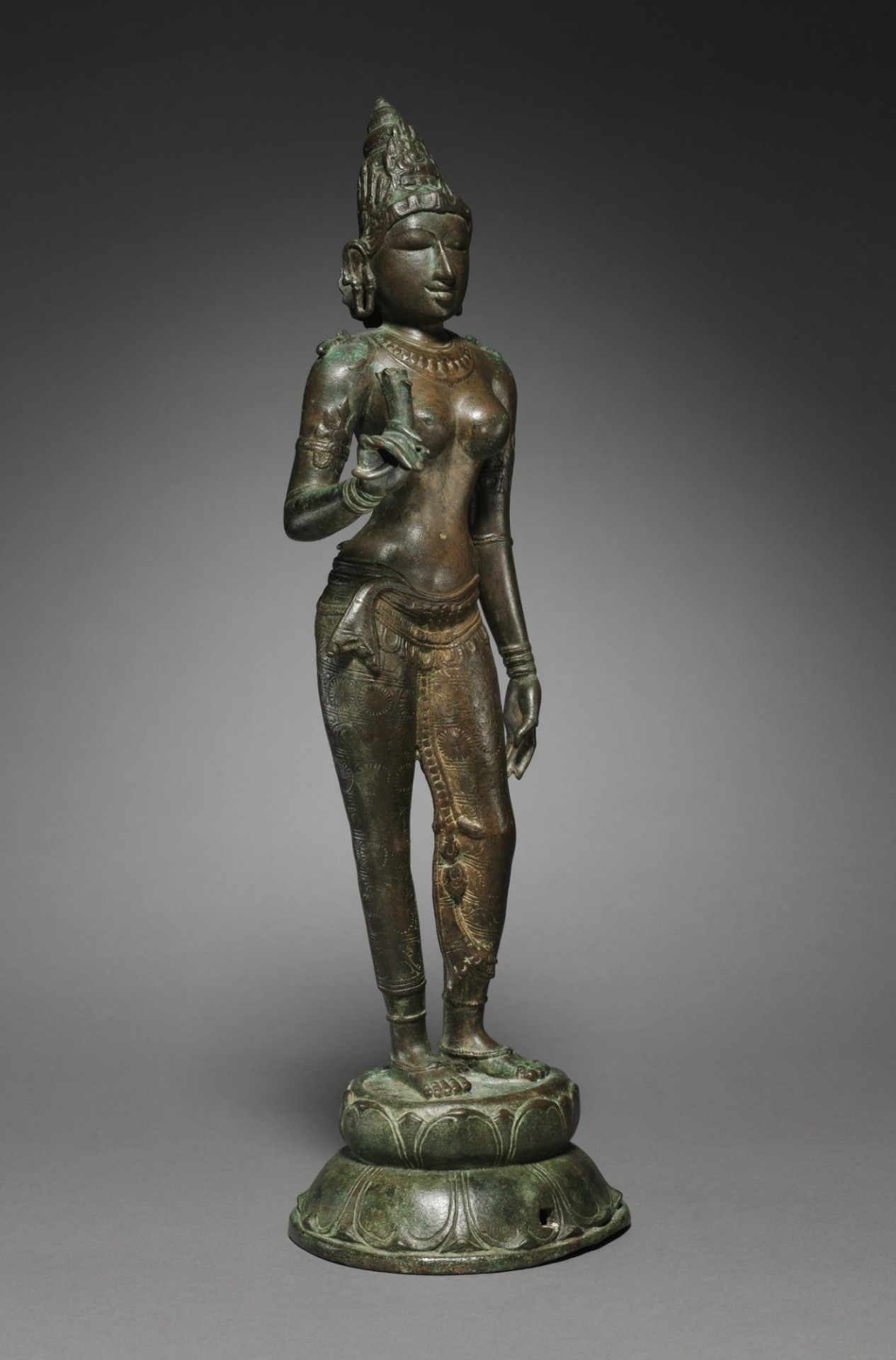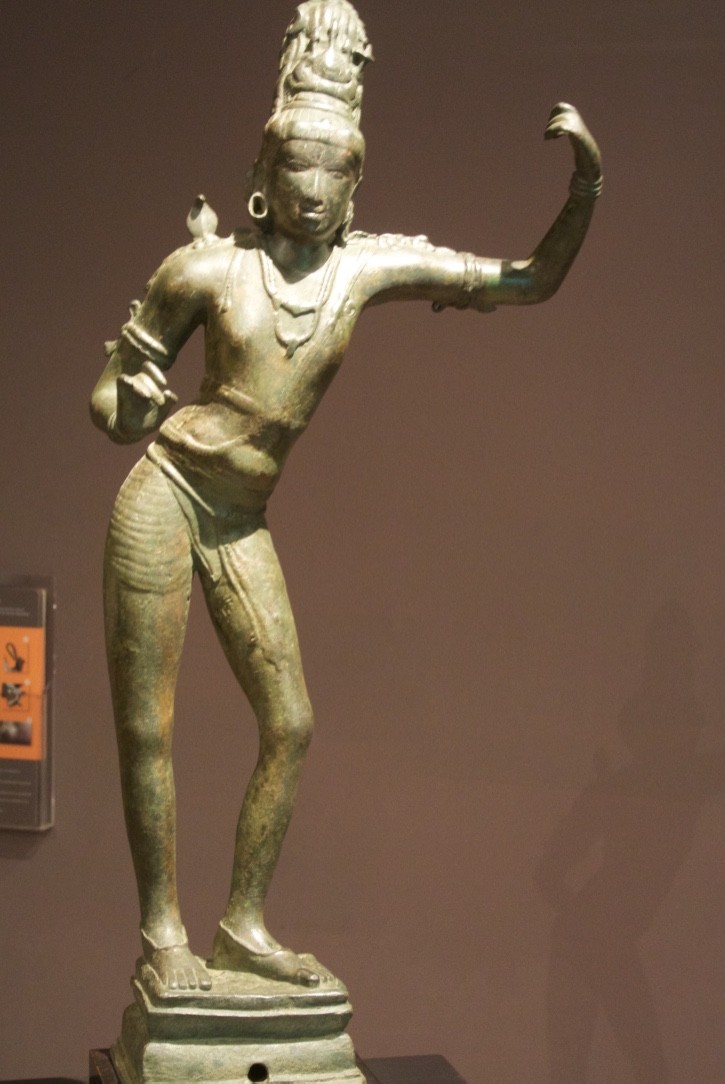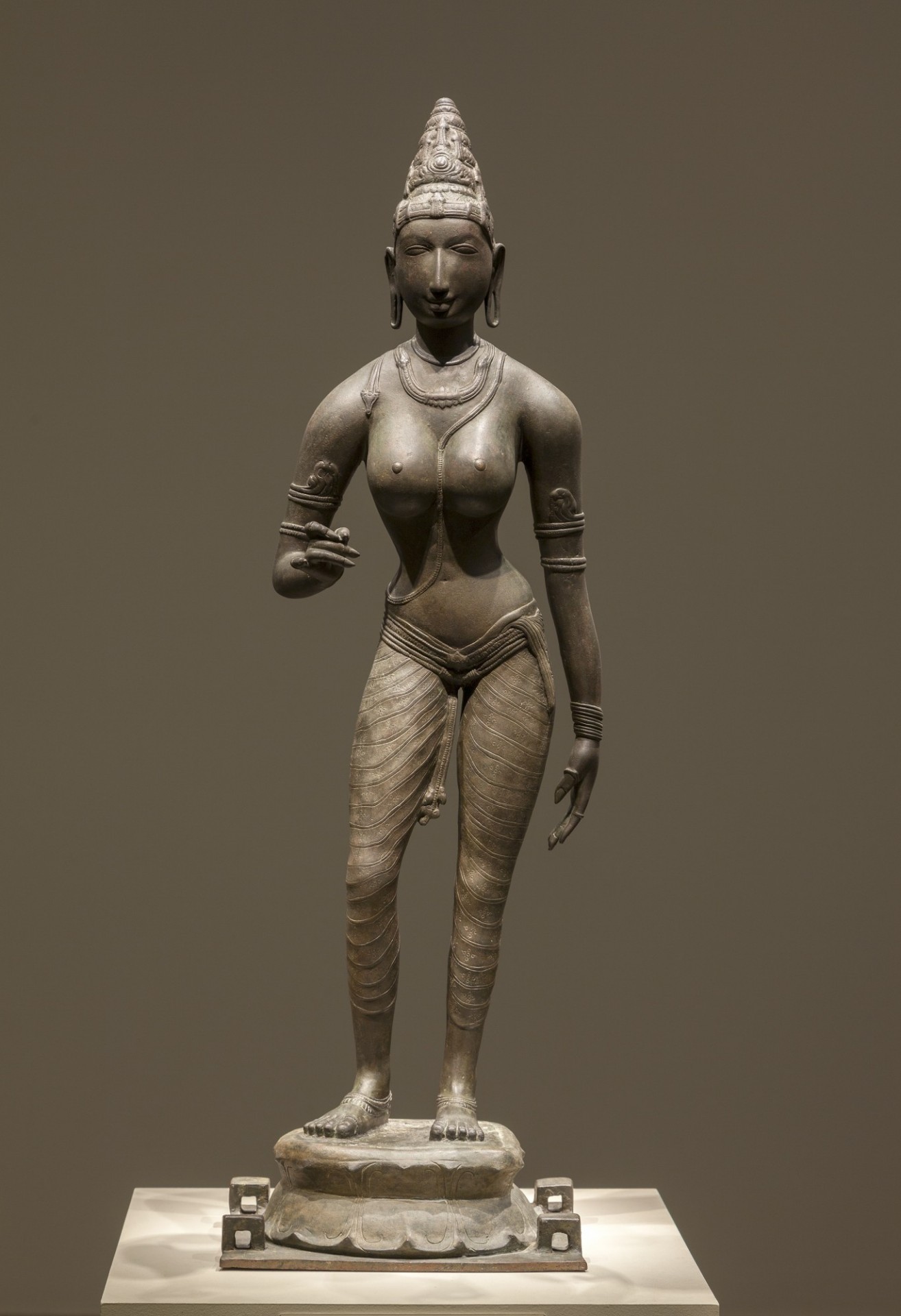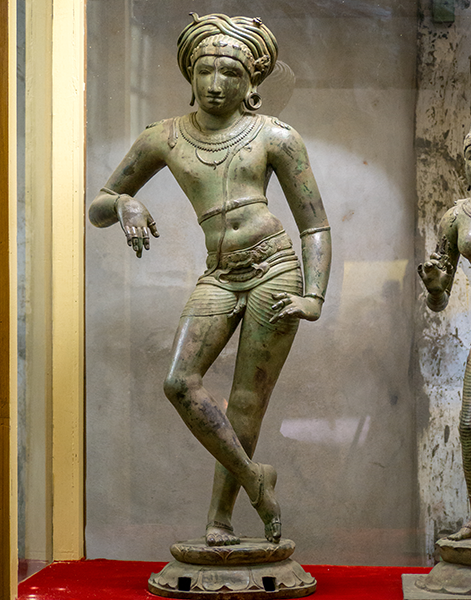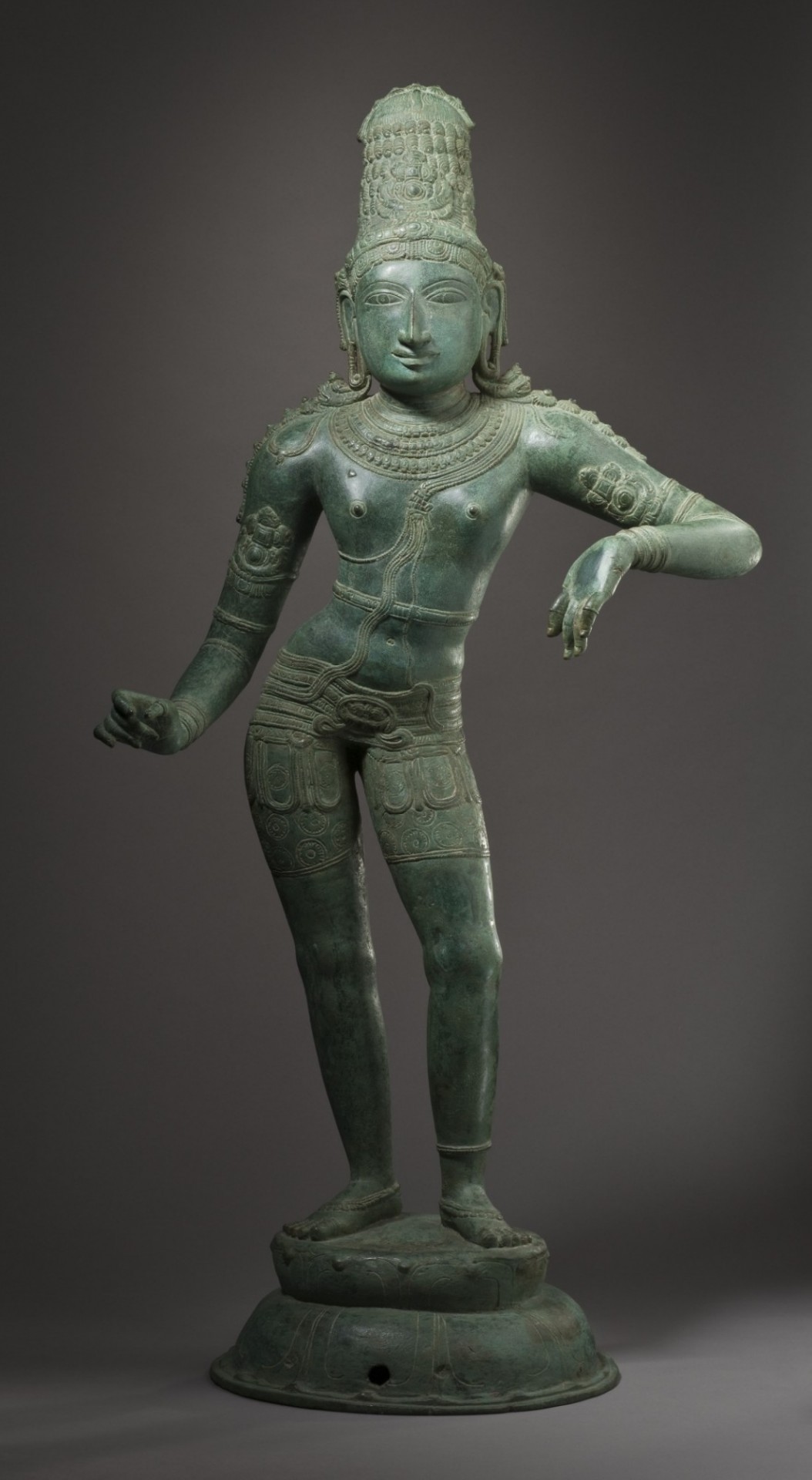 Previous
Next