An Artist Changes His Practice to Bring Attention to Racial Injustice
In a recent online GSAPP event, MIT Professor Ekene Ijeoma discusses how and why he shifted his work to incorporate data.
April 23, 2021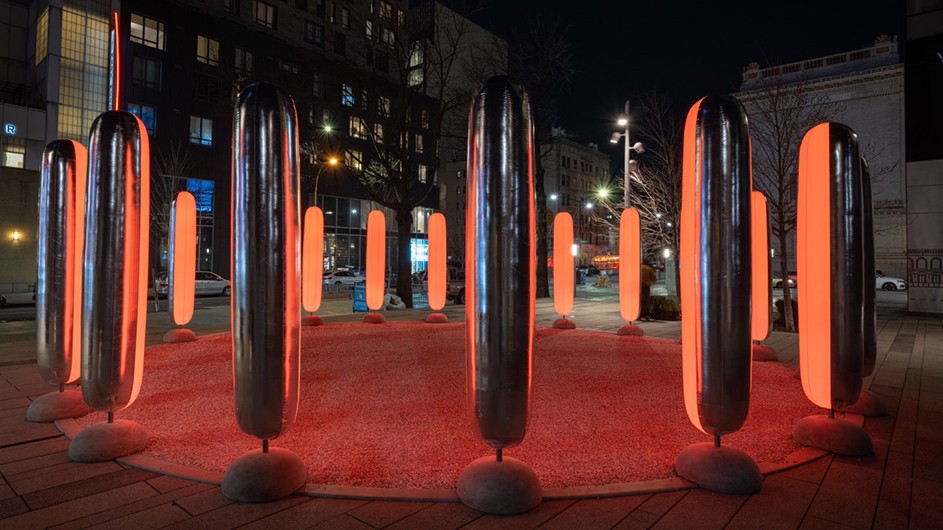 On March 22, 2021, artist Ekene Ijeoma delivered an online lecture on his multidisciplinary practice at the Graduate School of Architecture, Planning, and Preservation (GSAPP). Ijeoma is a professor at the Massachusetts Institute of Technology, where he founded the Poetic Justice Group in 2019. GSAPP Dean Amale Andraos provided introductory remarks.
"Bridging data studies and life experiences, Ijeoma draws computational design and conceptual art strategies together to reframe social issues through artworks," Andraos said. 
Ijeoma began by speaking about the evolution of his practice. After 10 years in the design industry, he realized that, as a first-generation Nigerian-American, he did not see himself reflected in his work. This propelled a decisive career shift for Ijeoma, who started incorporating data into his work.
"Just like all the education I'd had until then, my profession also hadn't taught me anything about myself," he said. "So I transitioned to a social-political-conceptual art practice, and now produce projects that reflect me, my communities, and others across multiple mediums, from sculpture and installation to sound and video." 
Graphic Design As a Game Changer
In 2014, Ijeoma collaborated on The Refugee Project with the Brooklyn-based design studio Hyperakt. The website tracks migrations by refugees and displaced persons over the last 50 years based on data from the United Nations High Commissioner for Refugees. The project garnered international acclaim, and was included in the Museum of Modern Art's online curatorial project, Design and Violence.
"It was game-changing to produce a work that expanded what graphic design, or design in general, could be used for through art," Ijeoma said.
When the American Institute of Graphic Arts' 2016 Design Census revealed that Black designers comprise only 3% of the industry in the United States, Ijeoma launched The Ethnic Filter. To bring attention to racial inequality in the industry, the website-based project captures portraits of site visitors, and then applies a blur filter at a value correlating to the representation of different ethnic groups in the AIGA survey.
'The Star-Spangled Banner' Becomes a Social Barometer
Ijeoma added a new skill to his repertoire—musical composition—for the ongoing project, Deconstructed Anthems, a sonic mapping of data on mass incarceration rates in the United States. Ijeoma developed a generative algorithm to compose versions of The Star-Spangled Banner in which notes are omitted based on the systematic removal of Black and brown people from their families and communities.
"I taught myself how to read and write music not because I wanted to become a composer, but because I had this idea that if I could make The Star-Spangled Banner sound like what the social state of the U.S. is—sort of as a social barometer—then maybe people would do something to make it sound better," said Ijeoma.
Most recently, Ijeoma opened the outdoor installation Breathing Pavilion in downtown Brooklyn, which will remain on view through May 11, 2021. Visitors are invited to meditate by breathing in sync with dynamic lighting diffused through a ring of inflated columns. Ijeoma designed the public space as a sanctuary amid systemic racial injustice and the pandemic. 
---
Shannon Werle is the digital editor in the GSAPP communications office.