Barnard's Movement Lab Operates Along the Brain-Body Connection
Associate Director Guy de Lancey says it is a place that blends dance, performance, and tech.
March 10, 2022
The Movement Lab at Barnard is designed for experimentation and exploration at the intersection of dance, performance, and technology. It is a flexible, modular space for interdisciplinary research and collaboration involving faculty, students, and visiting artists who hold classes, workshops, pop-ups, and productions.
Guy de Lancey, the lab's associate director, spoke with Columbia News about what goes on there, as well as how his background as a political refugee from South Africa contributed to both his work at the lab and his own artistic creations.
How long have you been at Barnard?
I have been at Barnard since 2018. I worked professionally (and still do) as a director, designer, cinematographer, and filmmaker. I worked with Barnard Dance Professor Gabri Christa, the faculty director of the movement lab, as the designer and projection director for her performance piece, Magdalena. We discovered that we have similar working styles and aesthetic tastes. Acting on advice to engage a person with not only technical ability, but artistic skill as well, she encouraged me to join Barnard, and to help create the movement lab from the ground up.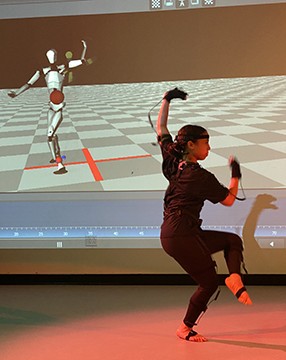 Is the lab affiliated with Barnard's dance department?
Yes, in that the lab's faculty director is part of the dance department's teaching faculty. We have a student-artists-in-residence program, which engages quite a few students from the dance department. During the height of COVID, when most physical spaces were closed, and it became necessary to create work for screens, we were the filming hub for all of the senior student dance projects.
However, the lab operates independently, as part of the Milstein Center for Teaching and Learning, along with all the other centers under the umbrella of Barnard Library and Academic Information Services.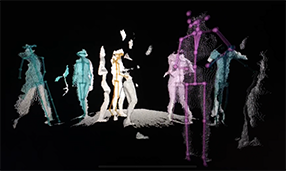 How do you decide what to showcase at the lab?
We created the lab as a sandbox for experimentation in technology and creativity. Rather than just equipping the lab with complicated, expensive technology from the start—that may or may not have use value—we allowed project ideas, as they were introduced by students and/or artists in residence, to determine what kind of tech we would need for each respective project, and acquired it for that purpose. Technology either becomes ubiquitous or obsolete rather quickly, so the goal was to allow ideas and concepts to drive our interaction with tech, and not the other way round.
An inspirational idea by Mimi Son, an artist friend in Korea, hangs on the wall in the lab: "Setting up the mood of chaos, to make a meaningful heart." Language is technology, cooking is technology, physical activity is technology. We don't see tech as a toy we play with, but rather as an interdisciplinary tool for human endeavor, thought, and dreaming. This approach can often lead to interesting outcomes.
In terms of programming and workshops, we meet as a team and discuss themes for each semester, and brainstorm what and who to engage for that particular theme. We have had classes in coding and choreography, and workshops that explore motion capture and avatar creation both in dance and for visual art projects. There was a workshop in artificial intelligence investigated through movement; another using virtual reality in dance as well as computer and art interfaces; and a workshop on the mechanics, dynamics, and aesthetics framework—a game design theory.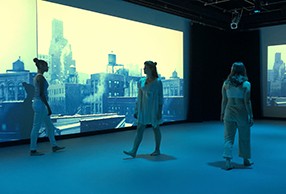 What upcoming programs are happening at the lab this spring?
We have a series of student-artist-in-residence projects, in which the lab is used to explore an idea, followed by a presentation showing the process of exploration and the results. Madi O'Halloran has a performance and installation piece scheduled on April 7, and Sophia Fung also has a performance piece coupled with an installation, Corps Exquis, which will happen later in the spring.
What was your path to a career in dance and movement?
I initially studied psychology and movement—biomechanics, sport science, gymnastics—and then added theater arts and performance, which included ballet, modern dance, and design. I started working in theater and film as a director, performer, designer, and producer.
I was granted asylum in the United Kingdom as a political refugee from South Africa. I refused to engage with and support the apartheid regime in South Africa at that time, and was a conscientious objector both to the racist policies of the government and the obligation to join the military and oppress fellow citizens. My options were a six-year jail term, going underground as an objector, or claiming asylum outside the country. I returned to South Africa when the Berlin Wall came down and Nelson Mandela was released. Later, I studied in Italy, then arrived in the United States in 2012.
I think what that experience contributed to the work I do is encapsulated in the quote previously mentioned: "Setting up the mood of chaos, to make a meaningful heart." I also have a very delicate appreciation of the value of "what comes next?" as it pertains to all artistic practice—being open to fortuitous encounters and connections.
Advice for anyone going into the performing/visual arts?
Commit. Cultivate a healthy dose of irreverence. Be attentive to that question, "What comes next?" Don't be superficial. When you have somebody's attention, your aim is not to keep it, but to do something with that attention. Learn to love the labor of making the work above all other aspects of being an artist. Don't make work principally for your peers. Don't claim novelty for low hanging fruit. And don't give people what they already know they want.
What are you working on now?
I am designing a theatrical piece, A Kid like Rishi, for Origin Theatre Company in New York. It's a forensic, documentary-style play about Rishi Chandrikasing, an unarmed 17-year-old who, on November 24, 2012, was shot dead on a railway station platform in the Netherlands by a policeman. I will also be post-producing (color grading) a film I did the cinematography for last summer. I would like to get a production of Samuel Beckett's television play, Quad, into rehearsal in the lab.
What's the best part of working at Barnard?
The easy collaboration between people. The opportunity to combine one's work with research into best practices in the field, and to test and share those things in creative practice in the movement lab.