Braving the Unknown
After eight years away, I returned to clinical practice to join my nursing colleagues at the frontline.
July 27, 2020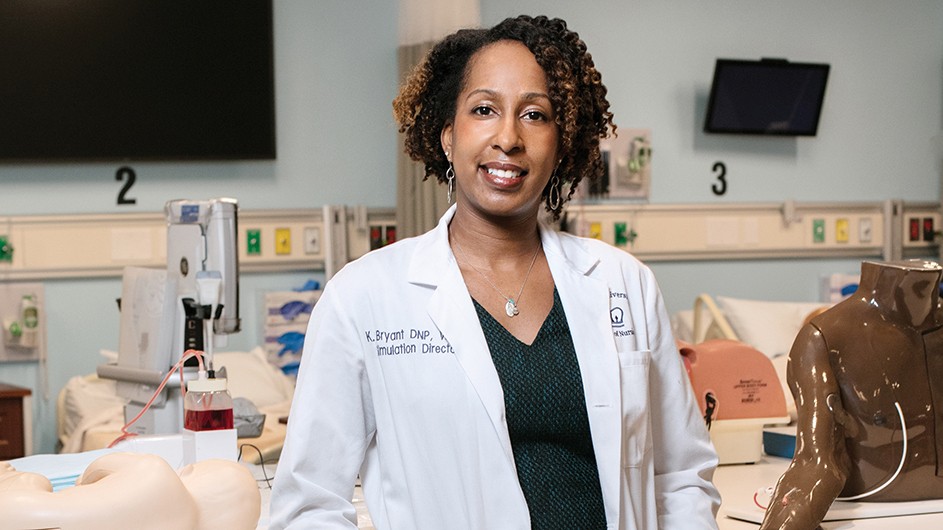 On March 8, I went from overseeing the day-to-day operations of a simulation center, a facility at the nursing school designed to simulate clinical practice for students, to taking on responsibilities that took me out of my comfort zone.
One moment I was working with our wonderful team to teach students clinical skills by simulating patient scenarios using our manikin and hired actors. The next I was sitting at my computer staring at an email that said the center would be closed until further notice due to needs dictated by the COVID-19 crisis.
When our staff heard the news, there were so many questions. Are we going to be redeployed to the frontlines? How will we teach our students the skills they need? When will we reopen? These were questions I couldn't answer.
Within a week we went from our very familiar state-of-the-art simulation lab to the unfamiliar environment of NewYork-Presbyterian Hospital. We were asked to assist Columbia Doctors outpatient practice, which included working with health care providers we'd never met.
I felt anxious about my new role yet committed to aiding efforts to support patients and clinicians in any capacity. So much was unknown about this virus, and here I was trying to provide leadership to my team of six without all the answers. Our team had to quickly prepare policies and training sessions with limited resources or guidelines. The world had never dealt with such a unique pandemic, so we relied on our best judgment to develop a plan and revised as we went along. 
New responsibilities included revamping a hands-on nursing curriculum into a virtual platform, collaborating with hospital educators to implement nursing refresher courses and assisting with testing new hospital protocols for treating patients with COVID-19. I  joined the staff in the fever and cough clinic testing patients.
My new role made me realize why I fell in love with nursing and how much I missed interacting with patients. I had been away from clinical practice for eight years. I always knew I wanted to return to practice one day but never envisioned it would be in this way.  
As nursing educators at the epicenter of COVID-19, we were approached by colleagues seeking guidance. We used our experience to help educators from all over by conducting webinars on our strategy for dealing with this terrifying virus. In addition to learning to adjust to new responsibilities, there was the constant worry of contracting the virus on the frontline. But I was able to push the anxiety away—and hope I helped my staff to do the same—because my desire to assist turned out to be stronger than my fears.
Although this pandemic has caused worldwide devastation, it has also allowed me to see some positive outcomes: that is, in times of need, people come together and discover strengths they may not have known they had.
Uniting with other clinicians and staff during this crisis has fostered new relationships and opportunities for interdisciplinary collaborations to improve health care. For example, I am now working with nursing educators globally to conduct webinars to prepare our students for the post-COVID health care world.
I am proud that I've had the opportunity to play my part in fighting this pandemic. I hope I will continue to take away the positive things I have learned and be able to accept and adapt to our new norms.
---
Kellie Bryant is executive director of simulation and assistant professor at Columbia School of Nursing.