The Healing Power of Art
School of the Arts Dean Carol Becker explores the idea of experimental preservation with Jorge Otero-Pailos and Sam Van Aken.
November 05, 2020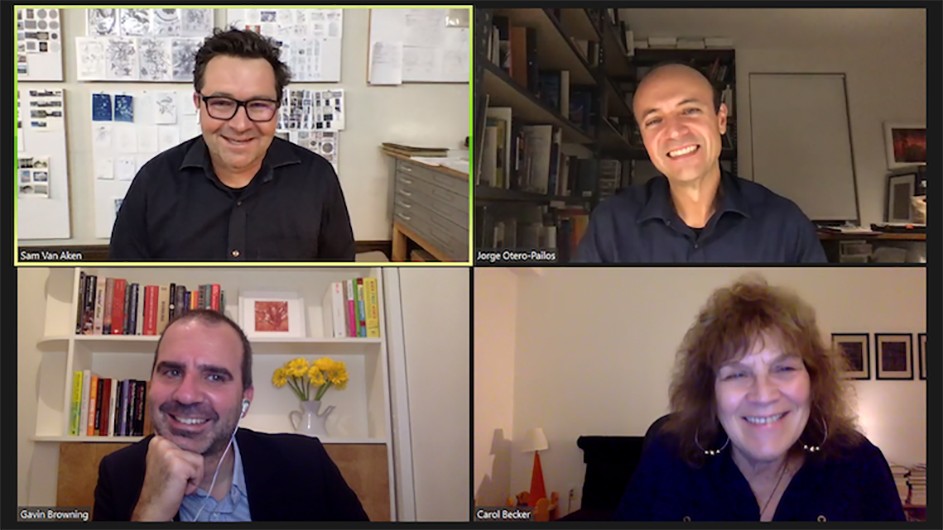 On October 22, 2020, Columbia School of the Arts Dean Carol Becker and Gavin Browning, director of the school's public programs, hosted a conversation with artists Sam Van Aken and Jorge Otero-Pailos, director of the historic preservationprogram at the Graduate School of Architecture, Planning and Preservation. The event focused on the artists' innovative approaches to preservation.
In her introductory remarks, Becker spoke about how the arts can be a vehicle to heal our society. "We are exploring creative practices that engage social and political initiatives committed to reimagining and transforming the frayed relationships between humans and the social structures we have created, as well as those between humans and other species, humans and the planet, and those conflicted relationships within ourselves, which often are in need of some form of repair."
Both Van Aken's and Otero-Pailos's projects, as Becker noted, engage "issues of embedded history, preservation, conservation, and healing."
Each artist then presented his current project:
Watershed Moment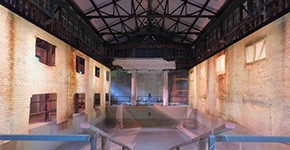 Otero-Pailos's Watershed Moment is a site-specific, multidisciplinary installation set in a ruined pool house on the Lyndhurst estate in Tarrytown, New York. The work combines water sounds and latex casts of dust, which have been removed from decaying walls. Monumental in size, these glowing and suspended casts "envelop visitors in the sounds of New York State's main water bodies," said Otero-Pailos.
Visitors won't find any descriptive labels that they may typically expect when viewing artwork. This decision was intentional, explained Otero-Pailos: "I didn't want interpretive texts telling people, 'This is the artwork, and this is not the artwork.' I wanted visitors to draw that line in their own minds, to walk in and ask themselves, 'Where does this artwork begin?'"
In this way, Otero-Pailos sought "to create an opportunity for people to plunge into their own memories as measures of time, and to use their own bodies as measures of space." However, keen-eyed visitors may spot one snippet of text—an old newspaper clipping of the pool in its heyday. Otero-Pailos discovered the clipping tucked into the trim of one of the doors during the restoration process, and decided to keep it as part of the installation.
The Open Orchard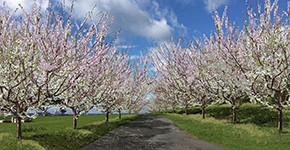 Van Aken's The Open Orchard is made of hybrid fruit trees—each one "grafted with multiple varieties of peaches, plums, apricots, nectarines, cherries, and apples that originated or were historically grown in the New York City region over the past 400 years," said Van Aken. When planted on Governors Island and in community gardens citywide, the project will reintroduce crops that have been lost to industrial agriculture, while preserving biodiversity for future generations. 
Reflecting on the genesis of the project, Van Aken discussed how extremely humans have whittled down the varieties of fruits and vegetables, and how he was excited by the possibility of "taking an entire orchard and collapsing it into a single tree." The project, he noted, has evolved into an index of what's disappearing. The loss of these varieties results not only from industrialization, but also commercial fruit growers, who typically grow only a few varieties.
Meanwhile, amateur farmers like Van Aken are more interested in unique and rare varieties. "I've been working on these trees for 10 years, and I've learned quite a bit, but every year I'm reminded of how much I don't know," he said. "I don't think being an amateur is a bad thing because the root of the word is amatore, which is Latin for lover. It's nice to do something out of love."
Caretakers of the Ephemeral
After the presentations, Becker said that she considers both artists "caretakers of the ephemeral" because their projects are deeply invested in preservation. 
Becker asked Otero-Pailos about how he moves from one discipline to another—artist, preservationist, professor. "I don't see it [art] as moving away from preservation," he said. "I think that it's a deepening of my commitment to preservation, but also, of my commitment to art."
Otero-Pailos then noted that The Open Orchard shows how art has the power to "present the possibility of another world," shaping reality in a distinct way. Another important role art plays is in shaping communities, which is at the heart of The Open Orchard. Van Aken, with the support and collaboration of Governors Island and GreenThumb, has been able to offer a series of workshops and other public programming as part of the orchard project. The workshops have covered topics such as pest-control and grafting, and will soon tackle tree-planting as well. Local community gardens have also reached out to Van Aken, eager to collaborate and share knowledge. "The project is centered on Governors Island, but somehow I've worked my way into a public art project that's across the five boroughs now," Van Aken said.
"It tells you how hungry people are to be part of nature, and to be, in any way, shape, or form, part of the repairing of the planet," said Becker.
---
Watch the full conversation here: