What Do Ronald Reagan, Feminism, and Chippendales Have in Common?
A new podcast by three Columbia alumni wants to help you connect the dots.
March 03, 2021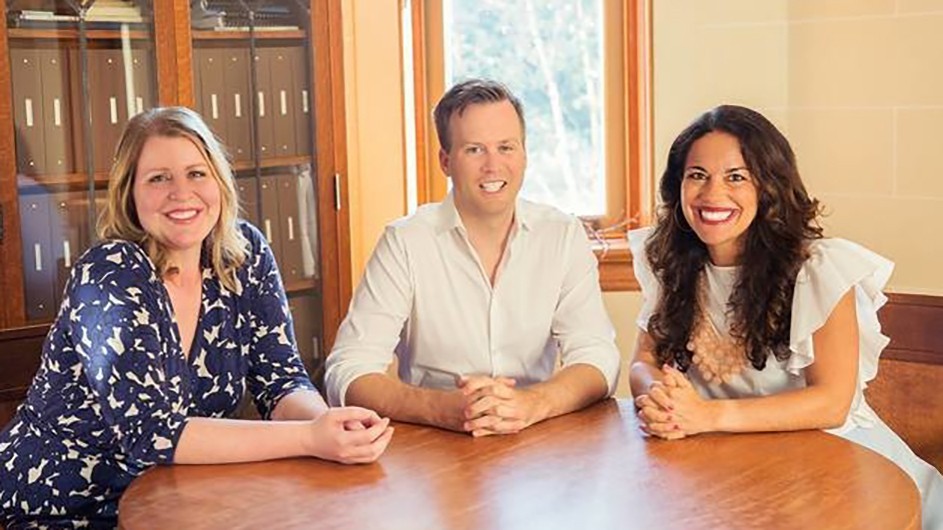 How are G-strings and male exotic dancing linked to second wave feminism and women's liberation? A new podcast, Welcome to Your Fantasy, aims to answer that question. The venture, a collaboration between the producers of the Past Present podcast, historians, and Columbia alumni, Natalia Petrzela (CC '00), Neil J. Young (GSAS '08), Nicole Hemmer (GSAS '09), examines those connections by taking a close look inside the world of Chippendales in late 1970s Los Angeles. On top of their cultural analysis, the producers managed to weave in a storyline that includes murder, arson, and greed.
Columbia News met up with one of the producers, Nicole Hemmer, to find out why she and her Past Present colleagues decided to examine the world of male strippers, what Chippendales tells us about 1970s/1980s America, and whether or not she went to see a performance (pre-COVID) in person. 
Q: You're a political historian who writes for The New York Times and an associate research scholar on the Obama Presidency Oral History Project. How and why did you and your partners decide to produce a podcast about Chippendales? 
 A: It seems like a bit of a departure, yeah? But one of the big things that drives me as a historian is a deep curiosity about parts of a culture that have been overlooked by most other historians, written off as either unimportant or not that interesting. Believe it or not, that's how conservative media, the subject of my first book, appeared when I started working on it in 2006.
My cohosts on Past Present and partners in true-crime on Welcome to Your Fantasy, Natalia Petrzela and Neil Young, feel the same way. We've always been drawn to the quirkier cultural topics in our podcast, so when Natalia came to us with the idea of a podcast on the history of Chippendales—a story that's as much about greed and crime as it is about men stripping off their clothes—we were sold. We pitched the idea to Pineapple Street Studios, a podcast-production company in Brooklyn, and they loved it just as much as we did. And that set us down the road of this year-and-a-half-long adventure.
Q: Welcome to Your Fantasy focuses on the early days of Chippendales in Los Angeles in the 1970s and 80s. What does Chippendales tell us about that time in U.S. society? Was Chippendales the product of the feminist movement?
 A: So this is the cool part of the story, because it turns out, Chippendales tells us a lot about Reagan's America (something near and dear to all three of our hearts, since we've all written histories on some aspect of conservatism). It's a moment when sexual liberation, second-wave feminism, and the religious right are all on the march—and Chippendales turns out to be perfectly calibrated for the culture wars that come out of that political mix. It's racy, obviously, and pitched as a way for women to finally turn the tables on men. But it's also oddly chaste. The men, after all, keep some of their clothing on.
So in a way, it's a product of the feminist movement, which helped shake loose some of the old assumptions about "what women want." But to be clear, this idea of "role reversal"—of women finally getting what men always had—was as much a marketing pitch as anything, a way of cashing in on women's liberation. Did some women find Chippendales liberating? Absolutely. Were feminists the driving force behind it? Not at all.
Q: I know this is on many people's minds: pre-COVID, did you go to Chippendales performances to do research for the podcast? If so, what was that like?
A: We did indeed find ourselves at a Chippendales show in Riverhead, New York, one summer evening in 2019. Neil was out in LA, so Natalia and I, along with our two superb producers, Eleanor and Christine, went to see what the current-day show was like. It was…not at all what I expected. It was a lot campier than I thought it would be, with way more audience participation. We'll have more to say about it on the show, but I will say this: the women there seemed to have a spectacular time!
Q: In 2021 with sex work and dancing happening in online spaces, how does Chippendales stay relevant? Or does it?
A: Just like live concerts survived the digital revolution, the live male dance revue seems to be doing just fine in an online era (whether they survive the pandemic is another matter). But Chippendales will survive, I think, because it's not just about getting to see a man take off his clothes. It's about the women in the audience, who almost never come by themselves. They're almost always women in groups (or men in groups) who are there for a certain kind of bonding experience: older women working on their bucket lists, bachelorette parties, divorce parties—even just a fun night out. And while we're all doing our best these days to replicate that over Zoom, the IRL experience is, I think we can agree, irreplaceable. 
Q: What do you hope people take away from this series? 
A: Chippendales isn't just this piece of historical fluff that inspired a famous Saturday Night Live skit. It's a window into these huge historical forces—immigration, feminism, the sexual revolution, capitalism, changing ideas of masculinity—that all collide in Los Angeles in the late 1970s, and then spirals out into this international phenomenon that remade our culture on a cellular level. From beefcake calendars to bachelorette parties, from Magic Mike to new masculine norms, Chippendales has left its fingerprints all over the U.S. We're excited to show people exactly how.
And if that isn't enough to pique your interest: it's also got arson, murder-for-hire, and an international manhunt led by the FBI.  
---
Welcome to Your Fantasy is out now. Listen to it here.