Claude Lanzmann Talks About Shoah, de Beauvoir and His Memoir With Charlie Rose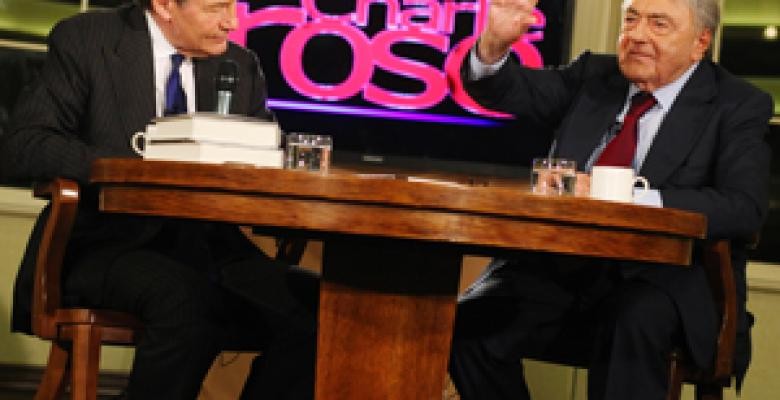 In completing his critically acclaimed memoir, French filmmaker Claude Lanzmann eschewed chronological order. The iconic 87-year-old director of the definitive Holocaust documentary, "Shoah," dictated every word, in a method that "was a process of discovering myself," he said. "As with 'Shoah,' I didn't make a plan before I started."
Lanzmann discussed his autobiography and his film in an on-campus taping of Charlie Rose hosted by the Columbia Maison Française on March 20. (It aired on June 6.) Their conversation, like the book, spanned Lanzmann's life as a French Resistance fighter, journalist, film director and member of Jean-Paul Sartre and Simone de Beauvoir's intellectual set. "He has lived an astonishing life as both an eyewitness and actor throughout remarkable episodes of European history," said Shanny Peer, the director of the Maison Française, who invited him to campus.
Lanzmann's book, "The Patagonian Hare," is a best seller in Europe, where it was published in 2009, and the English version hit bookstores this month. Central to the memoir are his seven-year affair with de Beauvoir, the famed philosopher and feminist, and the making of his nine-and-half-hour cinematic masterpiece.
"Shoah means destruction," Lanzmann told Rose and a rapt audience of about 300 in Faculty House. "If there was a way to avoid giving it a name, I would have," because he didn't want to put a name to such unimaginable "barbarism," he said.
Lanzmann was born in Paris to a Jewish family who assumed a new identity and went into hiding when the Nazis invaded France. As a teenager, he fought in the French Resistance and didn't learn until later that his father was one of its leaders. He then worked for the French newspaper Le Monde and traveled the world as a journalist, becoming friends with Sartre and contributing to Les Temps Modernes, the cultural review that the existential philosopher founded in 1945 and of which Lanzmann is editor-in-chief to this day.
Turning the interview to questions about Lanzmann's affair with de Beauvoir, Rose said, "Well, it's taken me a while to get here, but it's exactly where I want to be." The filmmaker discussed their relationship with the same blunt honesty for which his book has been praised.
Lanzmann had known de Beauvoir, 17 years his senior, through Sartre. "I thought she was very beautiful, especially in the eyes." He admitted to being "very susceptible to nostrils, and she had the nostrils of an aristocrat," which made the crowd roar with laughter. "I called her and asked her to a movie. She said, 'Which movie?' I said, 'This is not the point.'" They never made it to the theater. Long after their physical relationship cooled, they remained friends and confidants. De Beauvoir once wrote that Lanzmann's Jewish identity was "the ruling force of his life."
Lanzmann had traveled to Israel with Sartre in the early 1950s, a trip that was influential in his trajectory towards making his Holocaust documentary, a collection of first-person narratives released in 1985. In the 12 years it took him to make it, he collected 350 hours of film, exhaustively tracking down former prisoners, as well as Nazis, some of whom he secretly filmed.
Rose showed a haunting clip in which Abraham Bomba, a Jewish barber, recalled being forced to cut his neighbors' hair in Treblinka, an extermination camp in Poland, knowing what awaited them—and knowing that they were ignorant of their own fate. "Natural death doesn't exist. Every death is a violent one," Lanzmann said solemnly.
His memoir's unique title is a reference to a number of encounters he has had over the years with, of all things, hares—particularly one in Patagonia that leapt in front of his car and made him feel fully alive in that place and time: "at this very moment Patagonia and I were true together," he said. Lanzmann told Rose that he has always admired the animal for its speed and "courage to escape."