Columbia and City Expand Program for Minority, Women and Locally Based Contractors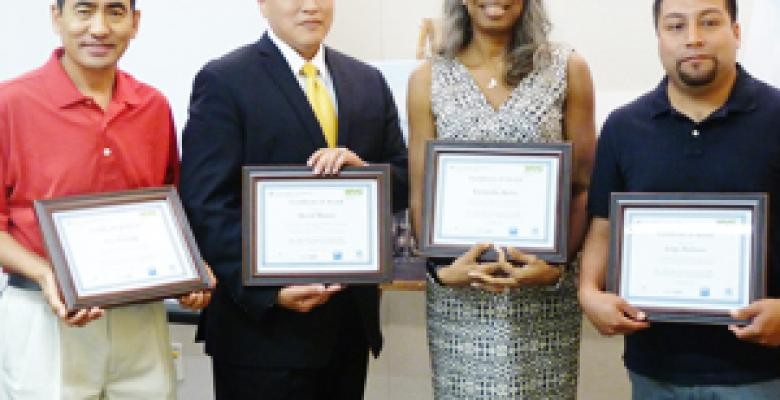 Catherine Jallim has owned her own construction business for 11 years and thought she knew everything there was to know. Then she was accepted into Columbia University's two-year construction mentorship program, where she learned even more.
It has "helped my company improve in marketing, networking, its safety program," she said. "I have increased my bonding capacity since learning how to do it here, and I have received six contracts since joining the program."
Columbia has a rigorous commitment to minority, women and local (MWL) business enterprises and supports this commitment through a variety of initiatives. The construction mentorship program was formed in conjunction with New York City's Department of Small Business Services (SBS) in January 2008. Since then, professionals from 53 firms have graduated and garnered more than $60 million in construction trades work with the city and Columbia.
"From the beginning, our vision was to create a mentorship program that would benefit MWL firms in the construction trades industry and help identify firms that might be able to work with Columbia or other large institutional firms," said Joe Ienuso, executive vice president of Columbia University Facilities. "We have been successful in both regards."
The two-year mentorship program includes academic work in such topics as marketing and communications, disputes and negotiations, insurance and bonds, as well as project planning and sustainability. Professionals in the program work on a case study and are assigned mentors from big construction firms to help them learn the challenges of bidding on large-scale projects. When they complete the program, participants receive a certificate from Columbia's School of Continuing Education.
"As a small company we learned how to retain good employees, to promote our business, and demonstrate credibility as a company," said Yam Gurung, of Harlem-based J&Y Electric and Intercom Co. Inc., who is halfway through the program. "Since the market is so competitive, we have to constantly improve our skills to gain a competitive advantage."
Last year, the city expanded its minority- and women-owned business efforts, which had previously been confined to the public sector, to include opportunities with private companies and organizations.
Columbia is one of 11 founding partners in the Corporate Alliance Program, a public-private partnership that aims to connect MWL participants to opportunities with corporate partners. "The city has made tremendous progress in expanding the opportunities available to minority and women business owners under Mayor Bloomberg's leadership, but there is still more to do," said Rob Walsh, commissioner of the city's Department of Small Business Services. "With partners like Columbia, we will continue to help minority- and women-owned businesses succeed."
The University's goal is to spend at least 35 percent of all construction dollars with MWL firms and have at least 40 percent of its construction labor force made up of women, minorities and local workers. "We have some of the most aggressive goals around," said La-Verna Fountain, vice president for Construction Business Services and Communications. "It would be impossible to achieve them without the active support of our MWL Advisory Council made up of local industry experts like the Greater Harlem Chamber of Commerce, the Harlem Business Alliance and the New York Women's Chamber of Commerce."
Columbia University has received a number of accolades recently for its groundbreaking work. In May, the facilities department was recognized for outstanding advocacy on behalf of the Minority- and Women-Owned Business Enterprise Community. Fountain herself received the Minority- and Women-Owned Business Enterprise Advocate of the Year Award in June. And Tanya Pope, executive director of Construction Business Services, was named an Outstanding Woman by the National Association of Professional Women in Construction.
In addition to the construction certificate/mentorship program, the Eugene Lang Entrepreneurship Center at Columbia Business School continues to offer a two-year program providing specialized assistance to a wide range of MWL firms. The University also is expanding its role as the host of the first and only Small Business Development Center (SBDC) serving Harlem and Upper Manhattan, which will provide technical assistance, training and support to entrepreneurs, small businesses and nonprofit organizations in the local community.