A New Platform for Students to Reflect, Collaborate and Address Global Challenges
The Global Columbia Collaboratory will kick-off on June 22 with a public seminar on how the COVID-19 pandemic affects supply chains. 
June 18, 2020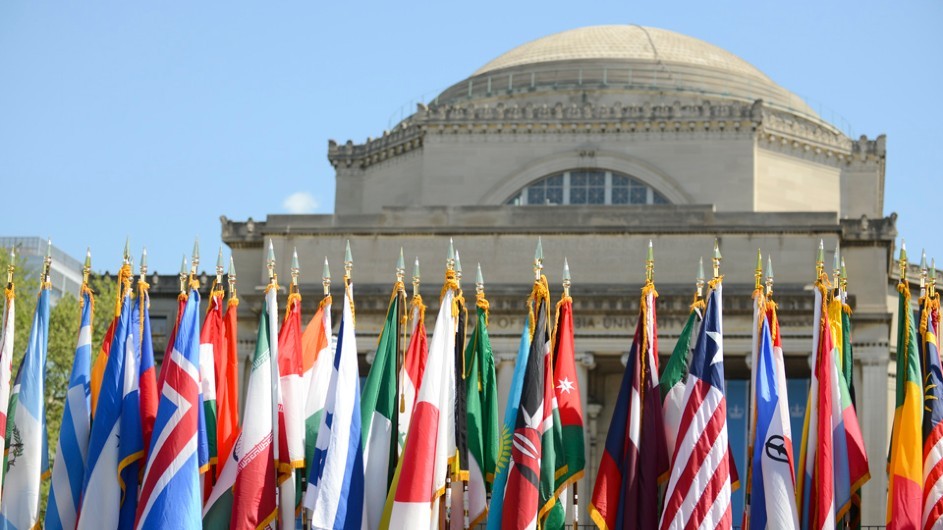 Columbia University announced today the launch of the Global Columbia Collaboratory designed to help students develop the necessary skills to become future global leaders. Sixty Columbia University undergraduates, chosen from a competitive pool of applicants, will join the Collaboratory's summer pilot program beginning on June 22. 
"We're at a moment when the need for global cooperation to address the problems facing humanity has never been greater," said Columbia University President Lee C. Bollinger. "This program offers students the opportunity to learn about these complex challenges, collaborate with experts and with their peers, and propose meaningful solutions that can translate into action." 
Global Columbia Collaboratory
The Collaboratory, created in partnership with Undergraduate Global Engagement, the Columbia Global Centers and Columbia World Projects, will feature three components:
Participation in three theme-based global seminars with faculty and experts drawn from Columbia's global networks.
An active reflection component for the exchange of perspectives on the challenges framed by the global seminars.
The creation of collaborative projects that address important issues in today's global society. Select projects will receive funding to turn their plans into reality.
According to Dean James J. Valentini of Columbia College, who led the creation of the Collaboratory concept, "undergraduates are living through what may be the defining collective experience of their young lives. We want to use this as an opportunity for them to develop skills that will enable them to meet the many challenges they will encounter throughout their future lives."
The Collaboratory's pilot program will run throughout June and July as a live virtual seminar series. The seminars are mandatory for participating undergraduate students, and the series is open to the global public who can fully participate and interact with the panelists. Each seminar will feature renowned thought leaders and academics addressing some of the most critical global issues that have been affected by the pandemic: supply chains, human interaction and public health. The first seminar on June 22 will be introduced by Safwan Masri, executive vice president for Global Centers and Global Development at Columbia University, and Shannon Marquez, dean of Undergraduate Global Engagement, Columbia College.
"We most often think of 'global supply chains' in commercial terms," said Masri. "They are not exclusively about physical items transported rapidly over borders—or grinding to a halt, as we recently experienced. From the transnational spread of COVID-19 and concomitant travel bans, the consequences for our daily lives, particularly in developing countries, have become abundantly clear. The global transmission of products, problems, and solutions creates unprecedented challenges, to be sure. But if we have leaders who can rise to the challenge, it also creates unprecedented opportunities to advance human progress."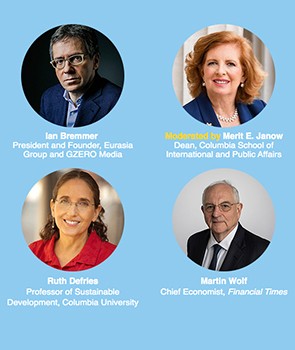 The inaugural Collaboratory seminar, "The Future of Globalization: Consequences of the Pandemic on Supply Chains," will feature Ian Bremmer, president of Eurasia Group and GZERO Media, and a professor at Columbia School of International and Public Affairs (SIPA); Martin Wolf, chief economist at the Financial Times; Ruth DeFries, professor of ecology and sustainable development at Columbia University; and SIPA Dean Merit E. Janow. They will examine the important role supply chains have played in the pandemic, including areas such as manufacturing, pharmaceuticals and food. Panelists will also discuss how the pandemic has disrupted global supply chains and had an impact on global trade, as evidenced by the rising tensions we see today between China and the United States. Register here for the seminar, which will be held on June 22 at 10:30 a.m. (ET).
"For over 30 years, the field of international education has demonstrated the use of virtual exchange platforms to support global engagement activities that are not solely dependent on international travel. The launching of the Global Columbia Collaboratory, a virtual exchange, has been a strategic priority of the Center for Undergraduate Global Engagement. To address the complex global challenges facing the world today—such as the COVID-19 pandemic—and help empower students to make a difference in the world as global citizens, the Global Columbia Collaboratory will help prepare students to understand cross-cultural cooperation and communication, enhance their skills and global competencies, and serve as a platform to reflect, ideate and collaborate," said Marquez.
---
Live Streaming of the event will also be available on Facebook Live. See sidebar for reading materials relevant to the seminar.
To learn more about the Collaboratory, visit here or contact [email protected]. To learn more about Columbia Global Centers, visit here or contact [email protected].
For a weekly digest on the world's biggest political and economic trends by Ian Bremmer and his team of experts, subscribe to GZERO's Signal newsletter here.