Columbia Engineering Grad Sees Data Science Answer to Public Transit Woes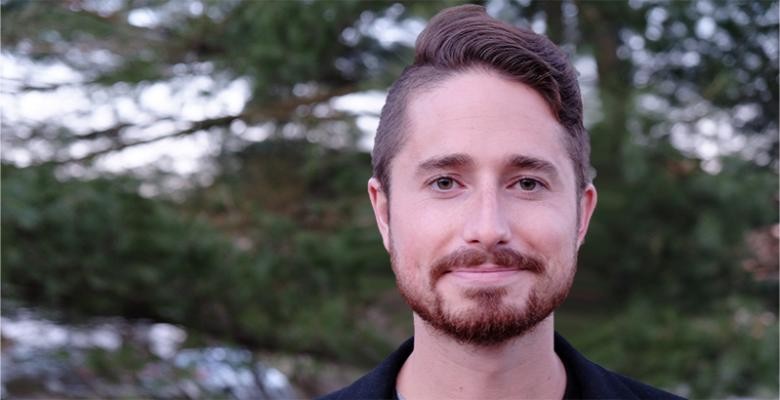 In Will Geary's visualization of New York City's mass transit system, trains, ferries, and buses blur into a glorious mass of complementary, moving parts. In real life, things are more complicated.
"New York City subways have the worst on-time performance of any major metro system in the world," he says. "And with an average speed of 8 miles per hour, the bus system is one of the slowest. My fascination with public transportation comes from a curiosity for how things could be better."
Geary leaves the Engineering School with a master's in data science and a vision for how technology could improve public transit. He'll start executing those ideas this summer when he starts work at CitySwifter, an Ireland-based startup using deep learning to optimize city bus networks. CitySwifter hired Geary after adapting one of his visualization tools to its platform.
"Will has an undeniable passion for the transportation issues that affect most major cities," said CitySwifter CEO Brian O'Rourke. "We're excited to have his help in trying to solve the urban transportation puzzle."
The oldest son of a technology investor and an accountant, Geary spent much of his childhood in Wellesley, Mass., on rollerblades, skateboards, and bicycles. "I still think there's no better way to experience a place than on a set of wheels," he says. As an undergraduate at Duke University, the death of a close friend in a car crash made Geary rethink society's dependence on the automobile. By the time he moved to New York, for a financial analyst job at Merrill Lynch, he had become a daily bicycle commuter and an advocate for the Vision Zero approach to safer streets.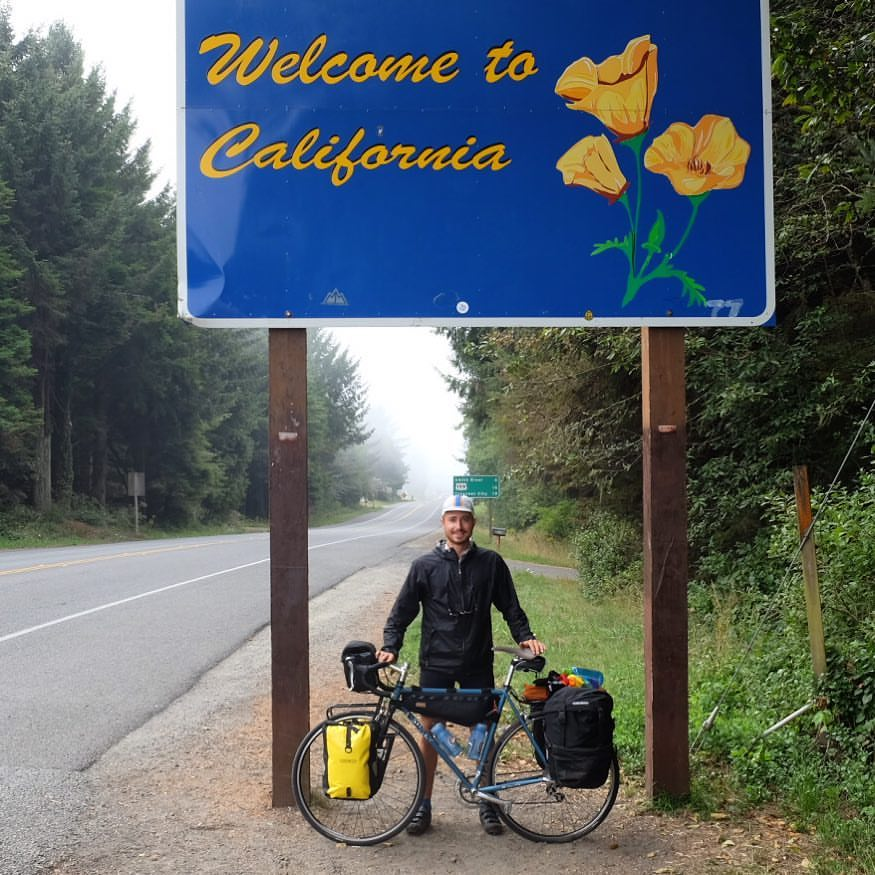 The summer before Geary started at Columbia, in 2016, a long distance bike ride from Vancouver to Los Angeles prepared him for everything that came next. "It fundamentally changed how I perceive time and space," he says. "And I got to spend a lot of time studying maps." When he arrived on campus, he made a bee-line for the School of Architecture, Planning and Preservation. An elective he took that first semester, Mapping for Urbanism, Architecture and the Humanities, taught him geographic information systems, the foundation for all of his later maps.
His first transit map, New York City Subway Flows, visualized 24 hours of scheduled activity, and morphed into Multimodal Symphony, a celebration of the City's multiple transit modes. Not long after The Atlantic featured both maps on its CityLab site, Geary was offered a dream internship at Mapzen, an open-source mapping startup in San Francisco.
During his time there last summer, Geary used Mapzen's Transitland platform, with its aggregated transit-network data, to develop his own software tool called TransitFlow. The tool lets users visualize the frequency of trains and buses in cities around the world based on their published schedules. CitySwifter, among other companies, adapted TransitFlow for its own use, to visualize bus delays and bunching in real-time.
Geary's work has gone well beyond mass transit. This spring, he and his capstone team built a model to help New York City's Taxi and Limousine Commission better match cars with fares. By scraping flight data for area airports, they trained a neural network to accurately forecast taxi demand at LaGuardia airport.
In an internship with the UN last fall, Geary helped the Department of Peacekeeping Operations analyze armed-conflict events in South Sudan. Their spatial analysis found that the location of politically motivated violence was more closely linked to road networks in densely populated areas than to the gold mines and oil fields driving the conflict. The agency is now using that insight to chart new ways of addressing conflict in the region.
Data-driven visualizations can deliver powerful insights like this by distilling lots of information, he says. "A two-minute movie can convey the information in a 60-page PowerPoint deck and create room for better, more nuanced conversations to happen."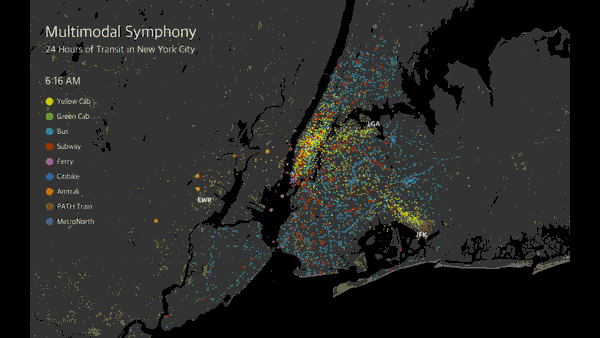 But reducing and simplifying also creates dangers. Geary emphasized this repeatedly in the weekly data visualization workshops he led at Columbia for three semesters. "While data is often presented as objective or neutral, all models, maps and visualizations produce worlds that are based on human biases, processes and power structures," he says.
"Bias and uncertainty are familiar concepts to anyone in the humanities, and Geary took those lessons to heart at Columbia," says Laura Kurgan, a design professor who heads the Center for Spatial Research at the architecture school.  "He really understood that to be an innovative data scientist you need to learn from the humanities and design arts."
Geary recently worked with Kurgan and a team of artists and architects to map places around the globe that are well-lit at night but devoid of people, and conversely, places that are poorly lit with lots of people. Challenging assumptions about belonging and exclusion, the project, In Plain Sight, makes its debut at the Venice Architecture Biennale later this month.
Before starting his new job at CitySwifter, Geary will join his fiancé, Louise Contino, this summer in Ghana. He'll volunteer at a coding academy for teenagers while Contino, a master's student at the School of International and Public Affairs, works for One Million Community Health Workers, a global health campaign spearheaded by the Earth Institute's Center for Sustainable Development. The couple met three years ago after locking their bikes to the same sign post on the Lower East Side and have been together ever since.
In the two years Geary has spent at Columbia, he has watched society grow increasingly cynical about the technologies that were once expected to save the world. Still, he believes that data can be used for good, especially in delivering public services more efficiently. After all, no one ever complains when the trains run on time.