Columbia People: Marah Arbaje at Columbia University Facilities
By
Gary Shapiro
Photo by Eileen Barroso
November 20, 2014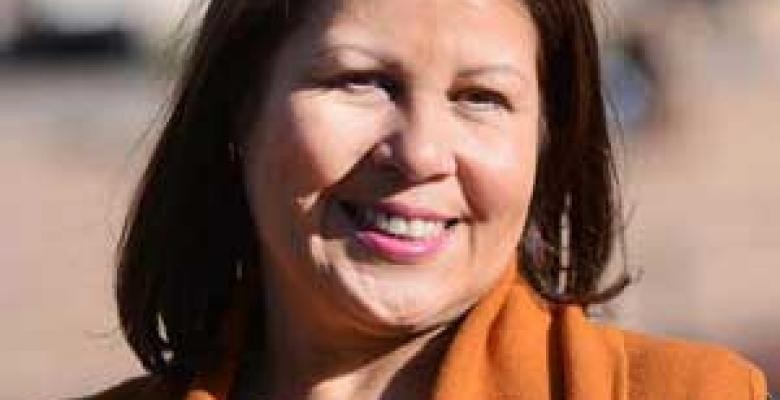 WHAT SHE DOES: Arbaje oversees 21 superintendents who manage 44 Columbia-owned residential buildings that house faculty, graduate students and other members of the Columbia community. All of her properties are located between Riverside and Morningside Drive, from 109th Street to 122nd Street. Her work includes communicating with tenants, addressing their concerns, and overseeing projects and renovations—all while providing the best customer service and ensuring the buildings are well maintained.

BEST PART OF THE JOB: Arbaje derives satisfaction from being part of a team, many of whose members have become good friends in her nearly two decades at the University. "Working at Columbia is like working with family," said Arbaje. In the mornings, she might be walking through the buildings, chatting with doormen, porters and housekeepers, or discussing issues with superintendents. "The great thing about Facilities is every day is different," she said.
MOST MEMORABLE MOMENT: In 2007 Arbaje walked proudly across a stage to receive her master's degree from Columbia's School of International and Public Affairs. "I cannot express the emotion that I felt," she said. Arbaje said the support of her colleagues at Columbia encouraged her to pursue graduate studies at the University. "This is the American dream," she said. "Columbia has given me the opportunity to continue my education and a road to grow." Regarding her time as a student, Arbaje recalled with amusement how her classmates, who knew her job then included overseeing the SIPA building, would rib her by saying, "Marah, the room is too hot" or "Marah, it's too cold."
ROAD TO COLUMBIA: Arbaje grew up in the Dominican Republic, earning a law degree at the Universidad Nacional Pedro Henríquez Ureña in 1985 and working in the budget department of the Central Bank of the Dominican Republic. Arbaje came to New York in 1990 with her family, trading a big house in the Dominican Republic for a small apartment in Kew Gardens, Queens—a transition that required getting used to the cold weather. She worked in her father's furniture store, then served as an assistant comptroller at Mexico's Taesa Airlines. A relative who worked at Columbia encouraged her to apply for a job at the University, where Arbaje became a custodian in 1995. She would arrive at Dodge Hall at 6 a.m. daily to clean classrooms, offices, corridors and studios. Arbaje then enrolled in the American Language Program at the School of Continuing Education to refine her English. "Being in a classroom makes you feel young again," she said. In 2000 she was promoted to head custodian, responsible for Avery, Philosophy, Fayerweather and Kent.
In 2004, she became one of the custodial supervisors for the Morningside campus. Arbaje said the transition went smoothly since she knew many of the workers and had their respect. Three years later, she became a client service representative responsible for 14 Morningside campus buildings, including Low and Butler libraries and St. Paul's Chapel. Arbaje was promoted in January 2014 to her current position, where she stresses the importance of teamwork and keeping an open door. "Everything I learned in the classroom is part of me now," she said.
IN HER SPARE TIME: Arbaje loves to read fiction and history, alternating one book in Spanish with the next in English. She is currently reading The Alchemist by Brazilian novelist Paulo Coehlo in English. Her single greatest passion can be summed up in a word: family. She delights in her three children: one works in operations at Saks Fifth Avenue, the others as a personal trainer and graphic designer. Arbaje credits her success to her husband but most of all to her mother, saying, "She has always helped and guided me."