Columbia People: Michael DeMartino
By
Bridget O'Brian
Photo by Eileen Barroso
December 23, 2014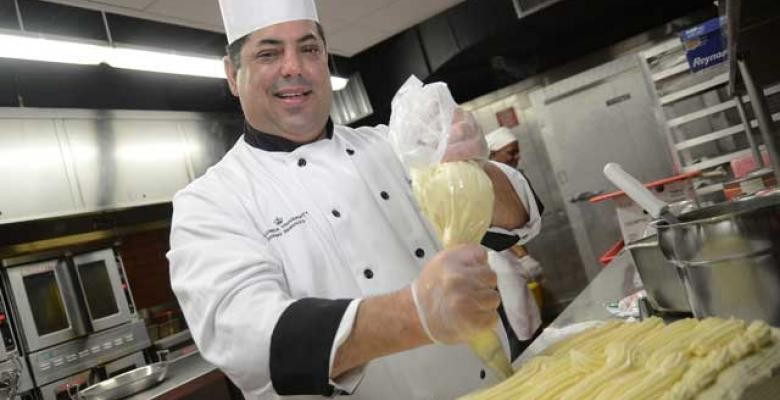 WHAT HE DOES: DeMartino is responsible for food service at the University's residential dining halls—John Jay, JJ's and Ferris Booth—as well as at Uris Deli, Café 212, Carlton Café and the three Blue Java cafés on campus. He oversees a staff of 160, who prepare some 12,000 meals a day.

BEST PART OF THE JOB: "Dealing with the kids. I feel like I'm everybody's parent, and I treat them all like they're my own," he said. "I know when they change their haircut or their hair color, and I know who the vegetarians are." An abundantly cheerful man with a quick laugh, he makes it a point to ask students how their day has gone. "Sometimes they just need to vent to someone."
MOST MEMORABLE MOMENT: "When you walk through campus and someone says, 'Chef Mike, how are you doing?'" he said. "The students know who I am when I'm out of uniform, or when I'm on the subway. If they didn't like what I do, they wouldn't take the time to stop and say hi."
ROAD TO COLUMBIA: A native of Staten Island, where he still lives, DeMartino comes from an Italian family where "everybody is a good cook." He started working in local delis and bagels shops at 13, but after high school was unsure about what he wanted to do. When he announced his plan to join the Marines, his mother quickly set him straight. "First she threw something at me, then when she calmed down she talked sense into me," he said, encouraging him to attend culinary school. He enrolled at the College of Culinary Arts at Johnson & Wales University in Rhode Island, where "you see more stuff than in 10 or 15 years in the field," he said.
After graduating, he was hired by the Intercontinental Hotel in Manhattan, where he started as a sandwich maker and, after working under four master chefs, became a chef himself. After five years there he went to work for the Marriott Corp., managing private dining rooms at banks and law firms. He made the switch to education in 1995, spending 18 years at Fordham University, where he rebuilt five kitchens and "had a ball," he said.
It was there that he met Vicki Dunn, now Columbia's executive director of dining, who enticed him to join her at Columbia 18 months ago. "She is without a doubt the best person I ever worked with or for," he said. "She gives me freedom culinary-wise and let's me expand my ideas."
IN HIS SPARE TIME: What with working 12 to 14 hour days, DeMartino doesn't have much of it, "but I go home happy as hell," he said, to his wife of 25-plus years, Liz. If his two sons, 22 and 17, and daughter, 20, are home, he'll make them pancakes at midnight. Otherwise, "it's whatever the family wants to do," he said. He calls his mother every morning when he gets off the train at Morningside Heights.
As for his own dining habits, "I don't sit down to eat," he said. On a recent day, he spent hours preparing for the annual holiday dinner at John Jay Dining Hall and baking 800 gingerbread men. "By the time I get to eat, everything's cold so I put something between two slices of bread and it tastes fine."
While he may be casual about what he eats, he takes great pride in his culinary skills. "My gift is cooking, and I like enriching people that way," he said. "I'm an artist of food, that's how I feel. You go to a museum, you see paintings. My art is chicken."