Columbia School of Nursing Introduces New Curriculum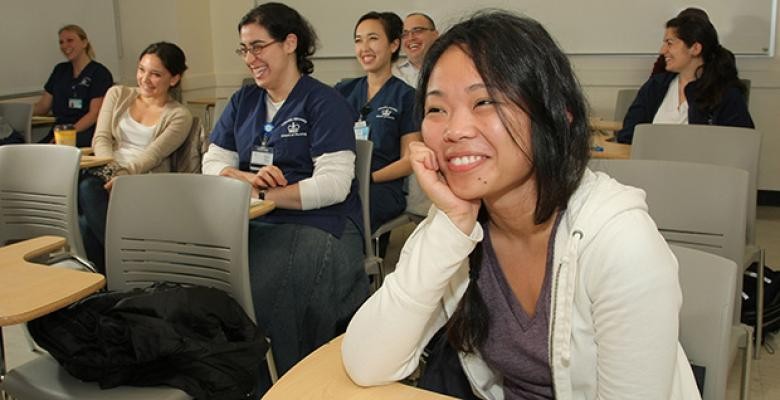 Citing the changing demands of health care, Columbia University School of Nursing has instituted a new 15-month master's program.
The Masters Direct Entry program will replace a 12-month Entry to Practice program for non-nurse college graduates. The school no longer will offer a bachelor's degree in nursing.
"Our graduates will be better educated and more prepared for the challenges of today and in the future," said Judy Honig (TC'77,'95; NRS'05), associate dean for academic affairs and dean of students at Columbia Nursing. "They will enter the health system with a stronger skill set and more knowledge to make a difference in the lives of patients and their families. As master's prepared nurses, they will be positioned to assume leadership roles."
The curriculum changes come as new technology, gene-based treatments and an impetus to keep costs down present new challenges for nurses. People are living longer, often with more complex medical conditions. "Chronic diseases that used to be fatal in the short term are now being managed," said Bobbie Berkowitz, dean of Columbia Nursing and senior vice president of Columbia University Medical Center. "Doing something because it's always been done is not good enough."
The shift will strengthen themes in the curriculum. One course will concentrate on research methods, interpretation of data, and applying new findings to practice. Another will focus on coordination of care among various inpatient and outpatient settings. " With the emphasis on care coordination, the Columbia MDE graduate will foster effective communication among health-care disciplines and facilitate the patients' care across and between settings where gaps in service and breaches in quality may occur."
There also will be content in health promotion, disease prevention, health policy and advocacy and the role of religion and culture in the patient-provider relationship. "The enhanced content will be integrated throughout students' education and the principles will be applied in their practice," Honig said.
After getting their master's degrees, students will sit for the nationwide licensing exam and have the option of moving directly into a doctoral program.
Columbia Nursing also is adopting a recommendation from the American Association of Colleges of Nursing that new advanced-practice nurses, such as nurse practitioners and nurse midwives, have a doctorate in nursing practice (DNP). Beginning next year, students in a 33-month DNP program will be able to choose from several advanced-practice specialties, including a program that focuses on adult and gerontology care, , pediatrics, family medicine, nurse midwifery, mental health, and nurse anesthesia.
For those interested in research or teaching, there is a separate Ph.D track.
"Columbia Nursing has been a leader in clinical education since the school began," said Honig. "We're building on that leadership. The more our students know, the better they can care for patients and improve how care is delivered."