Columbia Unveils New Campus Sustainability Plan
Columbia University has pledged to cut greenhouse gas emissions by 35 percent in the next three years through a mix of energy conservation and efficiency measures under its first campus sustainability plan.
April 21, 2017
The three-year plan, released a day before Earth Day, represents a practical fulfillment of the sustainability principles that university President Lee C. Bollinger announced at the beginning of the academic year. It sets clear targets for shrinking Columbia's carbon footprint and reducing waste by improving efficiencies in campus operations, boosting composting, recycling and public transit-use, and investing in energy-saving technology.

"At Columbia, we have long understood the profound threat climate change poses to the future of our planet and the role our community should play in confronting it," Bollinger said. "Through our actions, policies, and behavior, we provide a model for the kind of global response we seek. Most significant in this effort is the basic research conducted by Columbia's faculty and actively engaged student body working in schools and departments across the University."
More than a year in the making, the plan was produced with extensive input from students, administrators and faculty scientists—many of them world leaders in the sustainability field. The plan's overarching goal is to reduce greenhouse gas emissions by zeroing in on energy use and conservation, transportation and waste management.
"Columbia has led pioneering research on the environment, and how our actions will affect future generations," said Executive Vice President for University Facilities and Operations David Greenberg. "With this plan, Columbia is taking concrete steps to limit our own contribution to climate change. Setting measurable goals and actionable strategies will allow us to track our progress."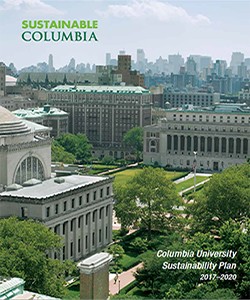 Achievable, Measurable Sustainability Goals
Energy goals include reducing greenhouse gas emissions from buildings and purchased electricity by 35 percent over 2006 levels by 2020, and matching New York City's emission-reduction target of 80 percent by 2050. The University will also measure, publicly report and verify its greenhouse gas emissions through The Climate Registry, a rigorous greenhouse gas accounting protocol.
Transportation goals include establishing baseline greenhouse gas emissions for all University-related and commuter travel, setting guidelines for buying fuel-efficient vehicles and creating programs to incentivize commuters to walk, bicycle and use public transit. Columbia will also explore ways to reduce and offset greenhouse gas emissions for air and other long-distance travel.
Waste management goals include developing baseline metrics for waste, expanding Columbia's food-composting pilot project with NYC Department of Sanitation, improving recycling rates, including reuse of campus furniture, and calculating the University's first waste diversion rate.
"As an institution engaged in education and research on environmental protection, it is important that we practice what we preach and apply what we learn," said Michael Gerrard, an environmental law professor who heads Columbia's Sabin Center for Climate Change Law. "We still have quite a bit of work to do but this plan will show the way."
Robust Stakeholder Engagement
Led by Greenberg and Gerrard, Columbia's Senior Sustainability Advisory Committee developed the plan and will guide its implementation and oversight. Columbia's Environmental Stewardship Office led the 16-month stakeholder engagement process and will handle the day-to-day implementation process.
To continue the spirit of cross-campus collaboration, the Environmental Stewardship office is branding its initiative Sustainable Columbia and creating a network of ambassadors, the Sustainable Columbia Leaders Network, to promote the plan's greenhouse gas and waste-cutting measures. The hashtag #sustainablecolumbia has been created for students, faculty and staff to share ideas.
The Sustainable Columbia brand will unify Columbia's many sustainability-focused programs, and the Leaders Network will help to engage students, staff, and faculty across all Columbia schools. Deans from each school will nominate a student, faculty member and administrator to join the network.
"This plan dedicates resources to reducing Columbia's environmental footprint," said Columbia College undergraduate Sophia De Bois Hill, who contributed to the plan and is studying sustainable development. "As a student, it's important to me that Columbia is putting its values into practice."
Guided by Core Sustainability Principles
The plan builds on the Sustainability Principles announced by President Bollinger last year. Developed in a cross-campus collaboration led by University Facilities and Operations and Columbia's Earth Institute, the principles focus on three areas: advancing Columbia's educational, research, and outreach missions; strengthening initiatives to reduce the environmental impact of campus operations; and fostering a sustainability culture on campus.
Progress will be reported in real-time, as well as annually, to promote transparency and encourage feedback. A revised set of goals and strategies will be developed for 2020 and beyond. "This plan should be seen as a living document that will evolve over time," said Jessica Prata, Assistant Vice President of Environmental Stewardship.
The Sustainability Plan is available at Sustainable Columbia.