Columbia Welcomes Minouche Shafik to the University
Columbia's next president, following the big announcement, embarked on a meet-and-greet tour with students, faculty, and staff.
January 20, 2023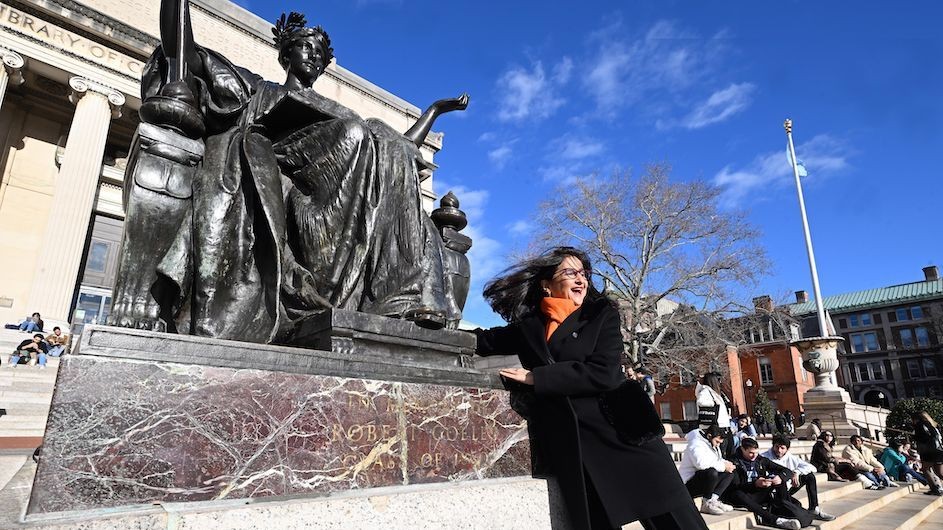 After the announcement on January 18, 2023, Columbia's next president, Nemat "Minouche" Shafik, embarked on a tour of the university. Columbia News tagged along. 
She was greeted warmly everywhere she went. Students, faculty, and staff clearly enjoyed meeting her, and we like to think she enjoyed herself, as well. 
Photos were taken by University Photographer Eileen Barroso. This article will be updated as more images become available. 
---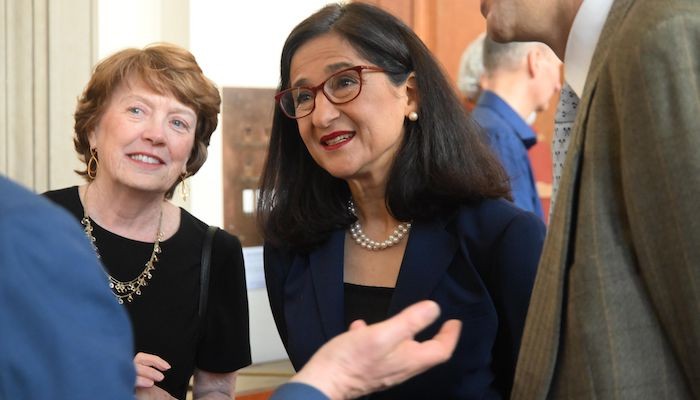 Provost Mary Boyce hosted a reception reception for the next president in Low Memorial Library before Shafik started her campus tour.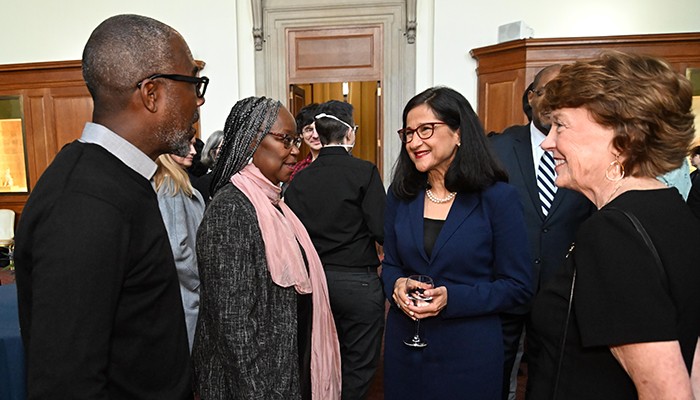 During the reception, Shafik spoke with many members of the faculty, including Farah Jasmine Griffin, the William B. Ransford Professor of English and Comparative Literature and African American Studies, who also served on the Presidential Search Committee, and Samuel K. Roberts, associate professor of history and of sociomedical sciences, at the Mailman School of Public Health.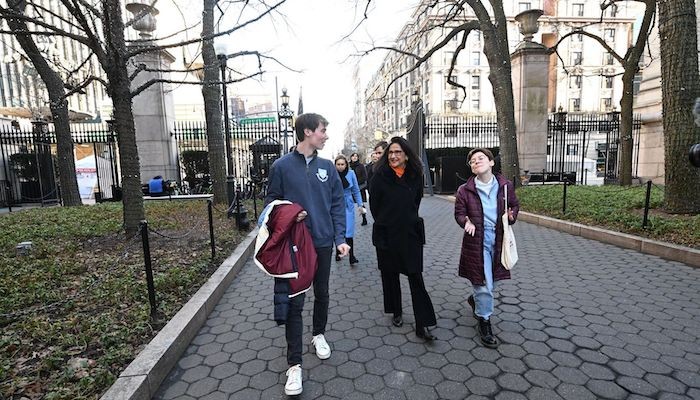 Student tour guides Charlie Wallace and Kath Carraway take Shafik around the Morningside campus.
First stop on the tour, the "cleanroom" at the Schapiro Center for Engineering and Physical Science Research. Here, Shafik and her husband meet with Keren Bergman (center left), Charles Batchelor Professor of Electrical Engineering, and Nava Ariel-Sternberg, the senior director of Columbia Nano Initiative labs.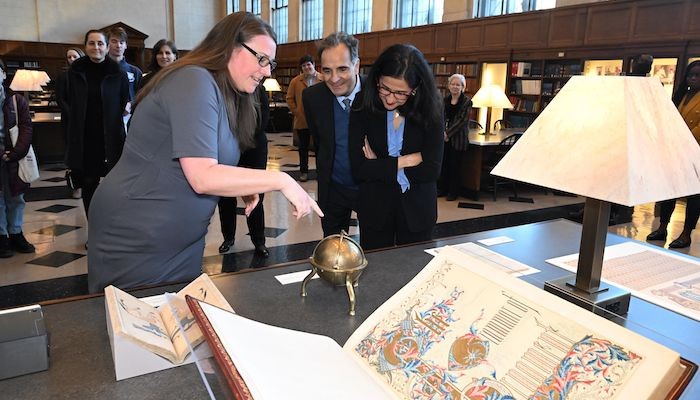 When Shafik entered Butler Library, people erupted in applause. The indiscretion was allowed—no one was shushed.
---
At the end of the campus tour, Shafik attended a student reception at Lerner Hall. During the event, student-athlete Kaitlyn Davis presented Shafik with her very own Columbia jersey. And somehow Roar-ee managed to join the festivities.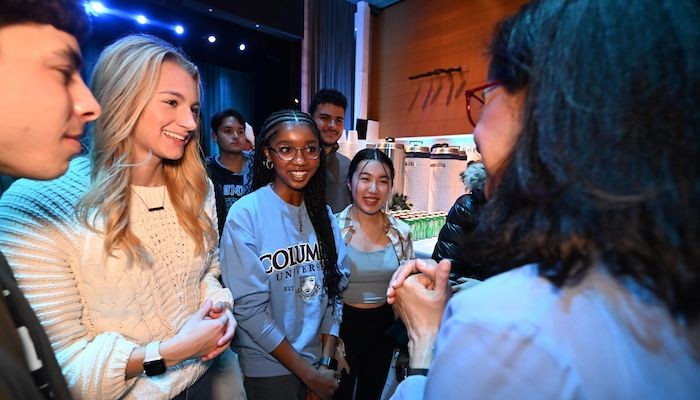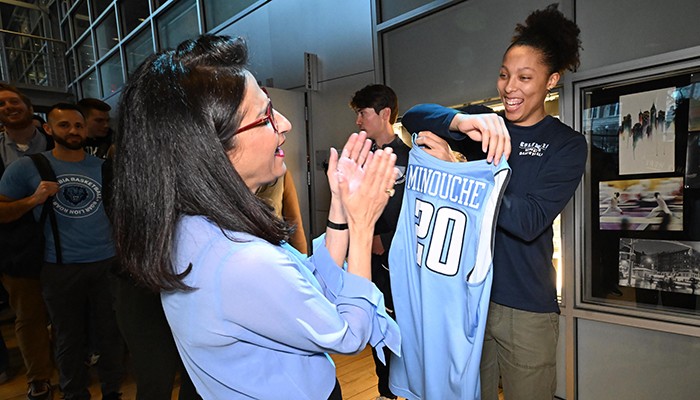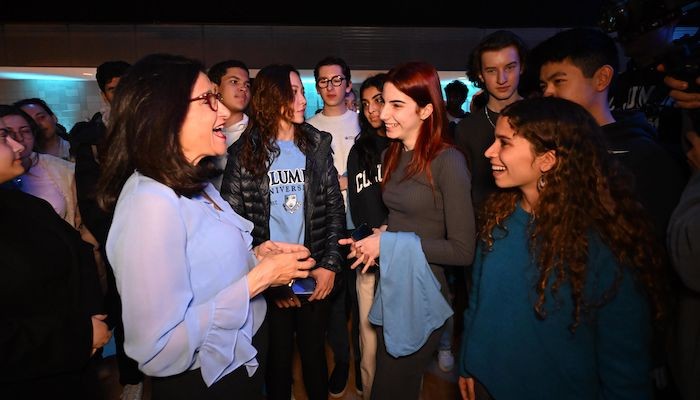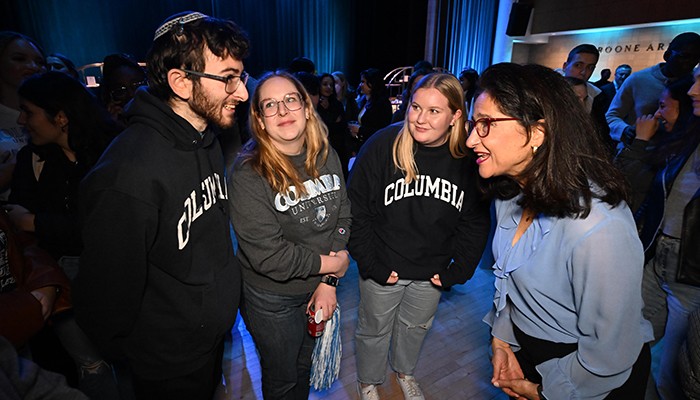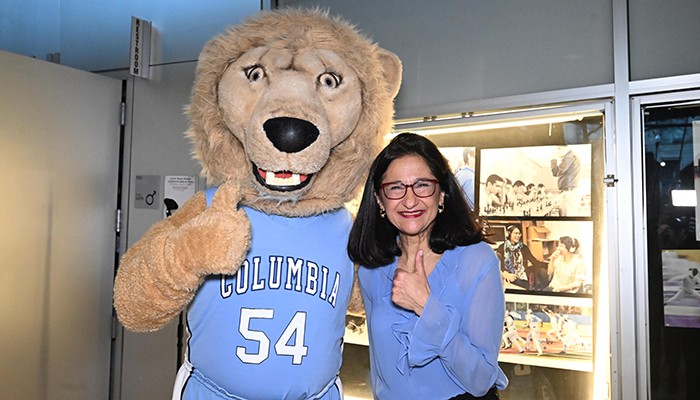 ---
On January 19, Shafik continued her tour of the University's four campuses, visiting the Lamont-Doherty Earth Observatory, which is part of Columbia Climate School and is located across the Hudson River in Palisades, NY.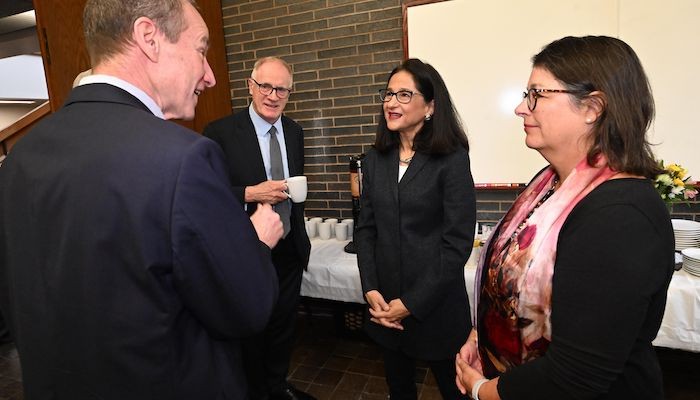 At Lamont, two of the co-founding deans of the Climate School, Alex Halliday and Maureen Raymo, hosted a breakfast reception for the next president to meet faculty and students. 
Part of the visit included a tour of the Core Repository in the basement of the Geoscience Building at the Lamont campus. 
---
In the afternoon, Shafik returned to Manhattan to visit the Columbia University Irving Medical Center, which is home to Columbia's College of Dental Medicine, Mailman School of Public Health, School of Nursing, and Vagelos College of Physicians and Surgeons.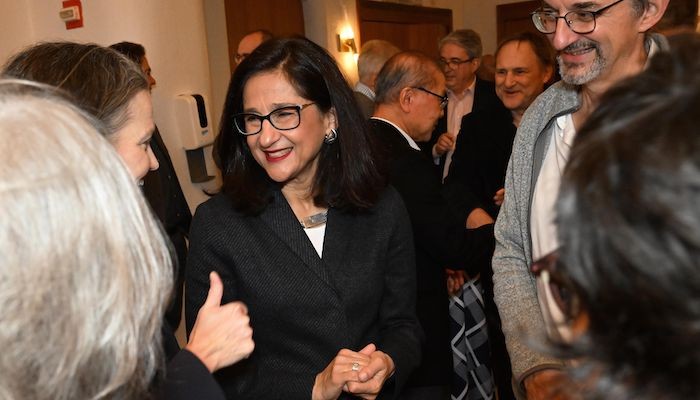 Katrina Armstrong, chief executive officer of the medical center and dean of Vagelos College of Physicians and Surgeons, hosted a meet-and-greet for Columbia's next president.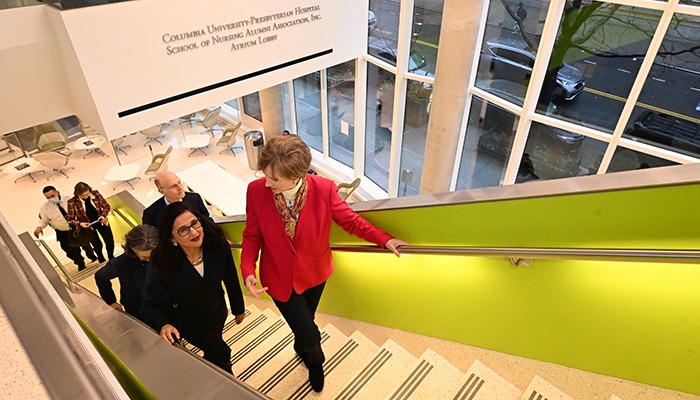 Lorraine Frazier, dean of the School of Nursing, took Shafik on a tour of the school, which included a visit to the Helene Fuld Health Trust Simulation Center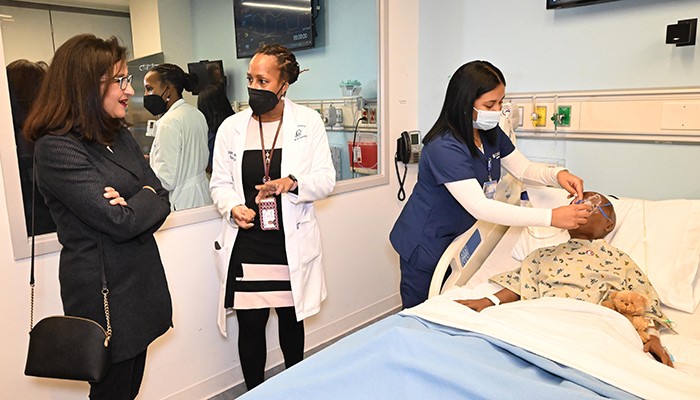 For a final stop at the medical center, Shafik met with David Ho, the Clyde '56 and Helen Wu Professor of Medicine and the director of the Aaron Diamond AIDS Research Center, and toured his lab.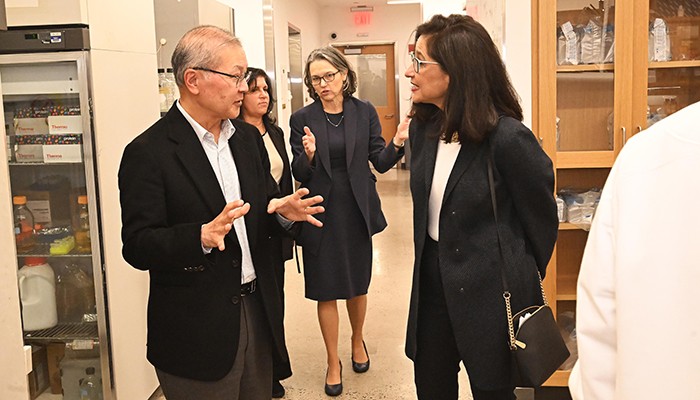 ---
On January 20, Shafik continued her tour of Columbia's campuses with a breakfast reception for community, city, and state leaders at Manhattanville Market.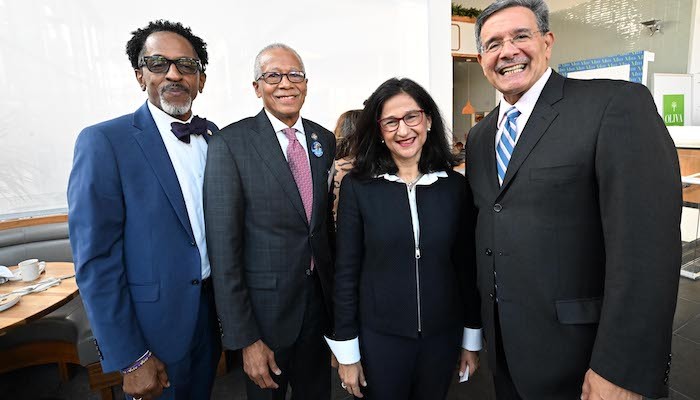 Presiding Justice Rolando T. Acosta (right), who is on Columbia's Board of Trustees, hosted the reception for Shafik. Guests included Assemblyman Al Taylor (far left) and Senator Robert Jackson.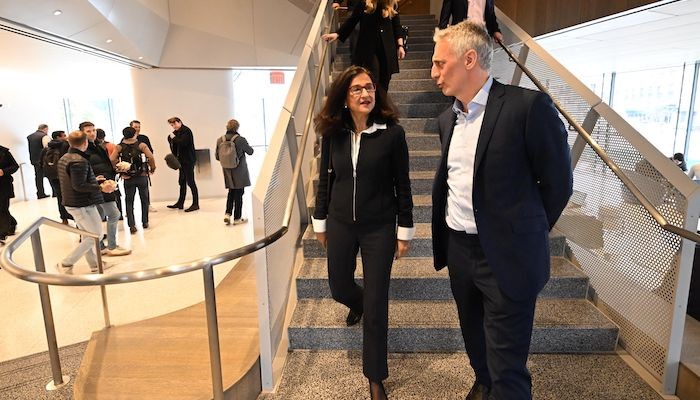 After breakfast, Business School Dean Costis Maglaras showed Shafik around Columbia Business School on the Manhattanville campus.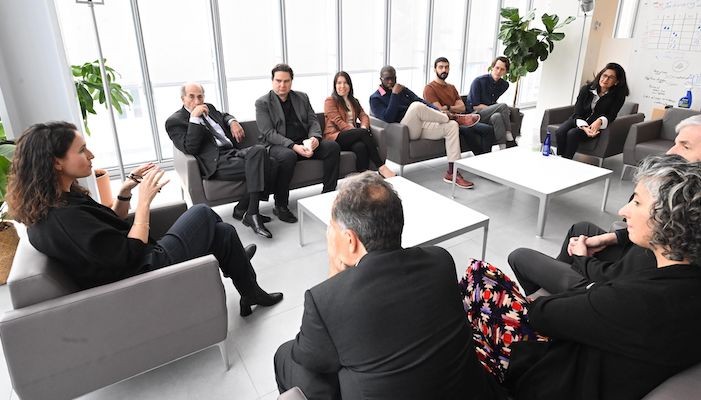 Daphna Shohamy, associate director of Columbia's Zuckerman Mind, Brain, Behavior Institute, met with Shafik, following a tour of the Jerome L. Greene Science Center, where the institute is housed on the Manhattanville campus.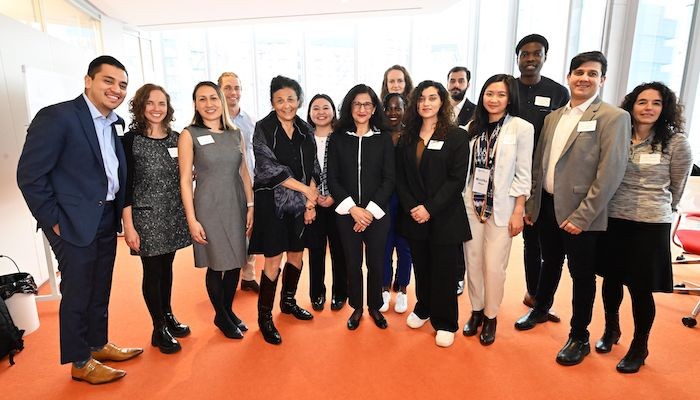 The final stop on this whirlwind tour was at The Forum in Manhattanville. There, Shafik met with Wafaa El-Sadr, executive vice president for Columbia Global, the Dr. Mathilde Krim-amfAR Chair of Global Health, founder and director of ICAP, and University Professor. El-Sadr is also the director of Columbia World Projects, where she oversees the Obama Scholars at Columbia. 
---
That's a wrap. Columbia News looks forward to seeing President Minouche Shafik in July. Until then, safe travels!