Columbians Receive Prestigious Awards, Fellowships, and Promotions
From science to engineering, writing to social sciences, here are the Columbians who received awards recently.
March 09, 2022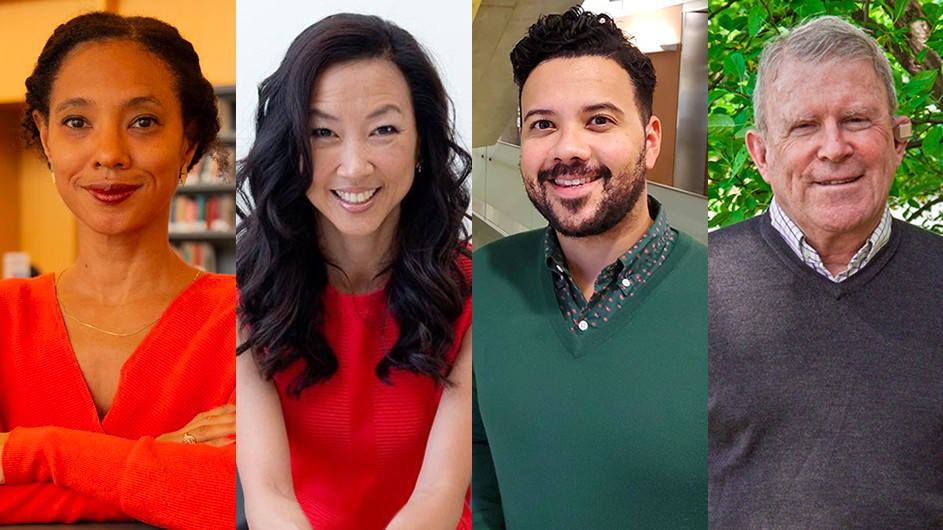 Columbia News produces a biweekly newsletter (subscribe here!) and article series featuring a roundup of awards and milestones that Columbia faculty, staff, and students have received in recent days. In this edition, you'll find awards and milestones from February 24–March 10, 2022.
Have an award or milestone you'd like to have featured in the newsletter or article online? Please send an email to [email protected]. Note that we'll be running this series every other week. 
You can take a look at past accomplishments on our Awards & Milestones page. And you can subscribe to receive the newsletter in your inbox. 
FACULTY
ARTS & HUMANITIES
Kaiama L. Glover, the Ann Whitney Olin Professor of French and Africana Studies at Barnard, is the lead researcher of a new $5 million Mellon Foundation grant, and also received a $40,000 National Endowment for the Humanities award. 
Karen Van Dyck, Kimon A. Doukas Professor of Modern Greek Language and Literature, will receive an honorary doctorate from the National and Kapodistrian University of Athens' Department of English Language and Literature.
Mabel O. Wilson, Nancy and George Rupp Professor of Architecture, Planning, and Preservation, was elected to the American Academy of Arts and Letters.
SCIENCE & MEDICINE
Six faculty and staff at Columbia's Vagelos College of Physicians and Surgeons (VP&S) received Martha A. Hooven Awards for Excellence this year in recognition for their contributions to the medical school's workplace and community. They are: Margaret Lin Zhu, department administrator, Center for Radiological Research; Susan Muscatella, administrative assistant, Department of Anesthesiology; Dajiang "Kevin" Sun, senior staff associate III, Herbert Irving Comprehensive Cancer Center; Melvin Acevedo Jr., laboratory technologist, Department of Pathology and Cell Biology; Dr. Jean-Marie Alves-Bradford, associate clinical professor of psychiatry; and Dr. Urmi Anand Desai, assistant professor of medicine.
Minoree Kohwi and Chao Lu, early-career scientists at VP&S, have received 2022 Hirschl Trust Research Awards. 
Claudia Lugo-Candelas, assistant professor of clinical medical psychology, has received the American Psychopathological Association's 2022 Robins and Guze Award.
Elaine Larson, New York Academy of Medicine senior scholar-in-residence and professor emerita at Columbia Nursing and the Mailman School of Public Health, has received the 2022 Elizabeth Hurlock Beckman Award for her outstanding contributions as a professor and mentor. 
Kareen Matouk, a clinical psychologist in the Columbia Gender Identity Program, was recently selected for the Society for Psychoanalysis and Psychoanalytic Psychology's Scholars Program, which is part of the American Psychological Association. The program focuses on providing mentorship and training in working with gender and sexual minorities.
William B. F. Ryan, special research scientist at Lamont-Doherty Earth Observatory, is the 2022 recipient of the Geological Society of London's Lyell Medal. He recently spoke with Columbia Climate School about his long career mapping and exploring the seafloor in this feature: Detective of the Deeps.
ENGINEERING
James Anderson, assistant professor of electrical engineering, has won a National Science Foundation (NSF) Career Award for his work developing controllers for large-scale networked systems like the internet, power grids, and self-driving vehicles. 
Elham Azizi, Herbert and Florence Irving Assistant Professor of Cancer Data Research at the Irving Institute for Cancer Dynamics, has won an NSF Career Award to study interactions between cells in and around breast cancer tumors to understand how aggressive tumors evade the body's immune defenses.
David Knowles, assistant professor of computer science, has won an NSF Career Award for his work developing bioinformatics tools to understand RNA splicing's role in ALS, cancer, and neuron development.
José L. McFaline-Figueroa, assistant professor of biomedical engineering, has won an NSF Career Award for his work defining how cancer cells respond after exposure to anti-cancer therapy, and how that response depends on the genetic background of individual cancer cells. 
Soulaymane Kachani has been promoted by University Provost Mary Boyce to senior vice provost from vice provost for teaching, learning, and innovation.
Helen Lu, Percy K. and Vida L.W. Hudson Professor of Biomedical Engineering, has been promoted to senior vice dean of faculty affairs and advancement. 
Garud Iyengar, Tang Family Professor in the Department of Industrial Engineering and  Operations Research, has been promoted to senior vice dean of research and academic programs.
SOCIAL SCIENCES
Jennifer Lee, Julian Clarence Levi Professor of Social Sciences, has been named a Fellow at the Institute for Advanced Study in Princeton, NJ for the academic year 2022-2023.
Mahmood Mamdani, Herbert Lehman Professor of Government, was one of three finalists for the Professional and Scholarly Excellence (PROSE) Awards in the category of World History for his latest book, Neither Settler nor Native: The Making and Unmaking of Permanent Minorities.
Anupama Rao, associate professor of history at Barnard College, has been awarded $220,000 from the Consortium of Humanities Centers and Institutes (CHCI) for her project "Global Racisms, Cold War Humanism, and Just Futures." 
Pamela H. Smith, Seth Low Professor of History, has received the Digital Innovation Award from the Renaissance Society of America for her interactive digital resource, "Secrets of Craft and Nature in Renaissance France." 
STAFF
Tanya Pope, assistant vice president of university supplier diversity, was recognized as one of Crain's New York Business' 2022 Notable Black Leaders and Executives for sourcing diverse vendors for Columbia and leading programs to help minority-, women-, and locally owned businesses expand their contract portfolios. 
STUDENTS
Ellis Stump (SOA'23), playwriting masters student, has been named one of the Ascending Playwrights of 2021 at Yonder Window Theatre Company in Brooklyn, New York. 
Didac Suris, PhD student in computer science, has won a Microsoft Research Fellowship to continue his work developing automated techniques for analyzing video. 
Albert Fernández Veiga (GSAS'22), who just completed a master's in biomedical engineering, made Nova Spain's Nova 111 Student List which recognizes top talents in engineering and technology.