Columbia's Head Start Program Grows Up
On June 8, a Head Start ribbon-cutting ceremony celebrated the opening of a brand-new space for the program. 
June 18, 2012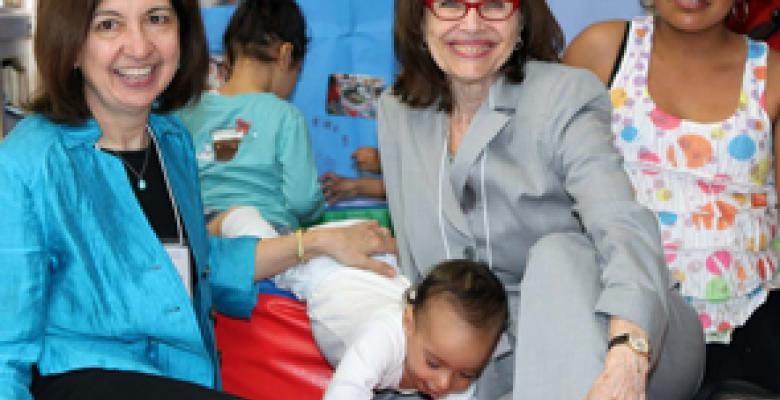 As a small child in the predominantly Latino community of Washington Heights, Gerardine Peralta adored her "escuelita"—Spanish for little school. That's what she called the Columbia Head Start program she attended as a preschooler, graduating at age 5 in 1995 with the very first Columbia Head Start class. "I still have very fond memories," says the City College senior, who attributes much of her continued academic success to the program that literally gave her a head start in life.
On June 8, Peralta was back at Head Start for a ribbon-cutting ceremony celebrating the opening of a brand-new space for the program. She was one of nine speakers that included New York State Senator Adriano Espaillat; New York State Assemblyman Guillermo Linares; Mexican Consul General Carlos Sada; John S. Santelli, MD, MPH, chair of the Mailman School's Heilbrunn Department of Population & Family Health; and the Mailman School's Dean, Linda P. Fried, MD, MPH.
When Gerardine and her 50 Head Start classmates attended Columbia Head Start, it was indeed a small school—one large room around the corner from the Mailman School, which created and sponsored the program. Over the years, it expanded to better serve its mission to support healthy childhood development for low-income children in the Washington Heights community. Today, close to 300 children are enrolled at the new space at West 192nd Street and a second location in West Harlem.
Speaking at the event, Dean Fried attributed this growth to a coordinated effort between the University and its partners in the community and government. "Together we are helping ensure the health and success of future generations in our community," she said.
Columbia Head Start was one the country's first university-affiliated Head Start programs, and is the only such program in New York City. This special relationship makes possible all manner of preventive health programs, said Dr. Fried, such as dental and mental health screenings, while ensuring that children have access to medical insurance and up-to-date immunizations. Among those involved are faculty and students from across the Medical Center—including the Schools of Public Health, Medicine, Nursing, Dentistry—as well as Teachers College.
Faculty at the Mailman School, which administers and helps fund Columbia Head Start, have played a key role, creating model programs like ACURI (Appropriate Care of Upper Respiratory Infections), which promotes health literacy, and Ready for School, which gives parents the tools to boost their child's math and reading skills. The latter, noted Dean Fried, is now being used by Head Start programs around the country.
An Environment That Enriches Kids and Community
Life at Columbia Head Start can begin even before birth with prenatal classes for moms and continues through age 5. Some participants are preschoolers, but most are infants and toddlers in the Early Head Start program—one of the largest such programs in the city.
A tour of the new location, which opened in May, reveals six sunlit classrooms and an airy outdoor play area and space for a garden. "In early childhood, the environment is so important," noted Carmen Rodriguez, PhD, director of Columbia Head Start, who helped design the space.
Spanish and English labels can be seen on everything from a child-sized chair (silla) to a cubby area (área de cubículos). All classes are bilingual. According to education director Gloria Farber, EdD, this gives the primarily Latino immigrant children a leg up. "Learning two languages stretches their minds," she said.
You also see plenty of parents. Some are with their younger children in classrooms. Others are there for classes in child development, nutrition, health and safety, and job readiness skills. A few of these are made possible by partners like the Mexican Consulate, which has supported classes in financial literacy, and Lincoln Center, whose WeBop education program brings jazz music to families at Columbia Head Start.
"Parents are part of everything we do," says Dr. Rodriguez, who is also a faculty member in the Department of Population & Family Health. This involvement extends beyond learning. Elected parent representatives provide input to the program's Policy Council on key issues, including hiring decisions. In one instance, parents voiced the need for classes in basic literacy for some newer immigrant parents. The classes have now been available since 2010, and some parents serve as volunteer teachers.
For many, life at Columbia Head Start continues for years. Milagros Ruiz's son completed the program in 2010, but she continues to serve on the Policy Council as a community representative. Leonicia Peralta, the proud mother of Gerardine Peralta from the first graduating class, has been a child specialist at Columbia Head Start since 1996.
Back at the podium, Gerardine addressed her mother and a crowd of other staff members, public officials, and members of the community. She explained that Columbia Head Start taught her to read and write and make the transition to kindergarten: "This program gave me the confidence to do anything I set my mind to."