Courtney Chartier Is the New Director of the Rare Book & Manuscript Library
Her background as an archivist enables her to see the full scope of the stewardship of rare collections.
November 01, 2021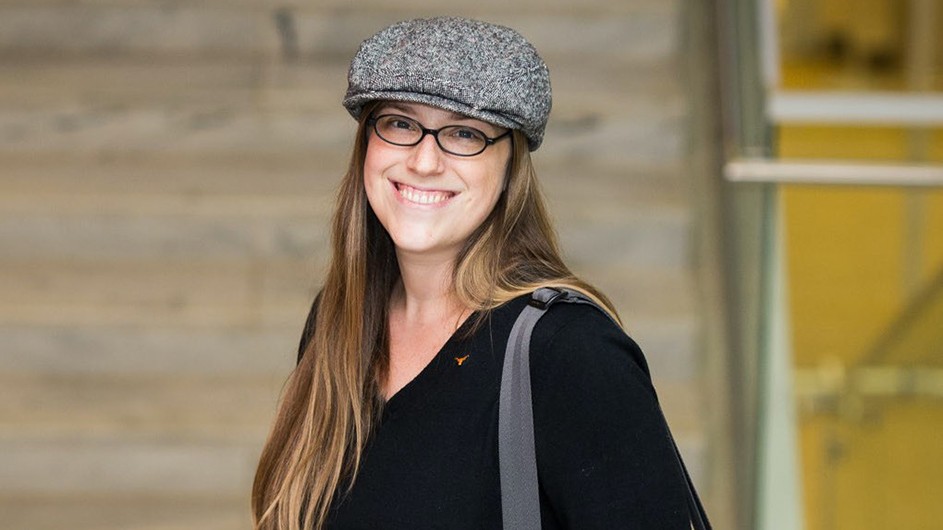 In July 2021, Courtney Chartier became the new director of Columbia Libraries' Rare Book & Manuscript Library, where she is leading its research services, collection strategies, and exhibition program. 
Previously, Chartier was the head of Research Services at the Stuart A. Rose Manuscript, Archives & Rare Book Library at Emory University, where she provided strategic oversight for the reference, instruction, and outreach programs.
Chartier's background is as an archivist; she currently serves as President of the Society of American Archivists. "That gives me a good perspective for this work," she said. "I see the full scope of stewardship, from when an item travels from the creator's hands, to the curator's, to the archivist's, and then to the user's. All of those stages are a part of the same process, and can't operate in balance without the others. That's what is always on my mind, and what I hope will make me successful at RBML."
Chartier is also a founding member of the Atlanta Black Archives Alliance, a group of professional archivists working in institutions that collect African American materials. The organization hosts public programs and workshops, and is currently developing an online guide to researching Black collections in Atlanta.
Columbia News caught up with Chartier recently to discuss her new position at RBML, what programs and exhibitions are on view there now, and what her hopes are for the library moving forward.
Q. What are your top goals for RBML?
A. I've just passed my four-month anniversary at RBML, and my top goal was "Don't break anything." That goes for collections as well as relationships!
For the short term, I am here to learn, and to help with the day-to-day pressures that make operations work tough for our staff. Long term, I am excited to bring new directions to what we do. My experience as an archivist is in the technical side of our field, but my strengths are in instruction, public programming, and community building. I am eager to collaborate with the team here to rethink who we consider to be our community (that word can mean so many things!), and how we reach them. What is RBML here to do and for whom?
A goal anywhere I go is to make life easier for my colleagues. That may come through doing something as simple as making a paperwork process more efficient, but I want to show my colleagues that I value them, every day. Our jobs are not who we are, or the most important thing in our lives, but we spend a lot of time at work, and that time should feel rewarding. 
Q. Are there any new archive/collections acquisitions or projects that you can tell us about?
A. I was delighted to find that we recently acquired a part of the archive of Broadway actor Patti LuPone! I fell in love with her for her turns on the TV shows Oz and American Horror Story, then learned about her singular stage career. Her scrapbooks are a blast.
I've already learned so much about Columbia from the collections in our University Archives. Not long after I came here, our University Archivist, Jocelyn Wilk, received a gift of early-20th-century glass slides of campus. We know they date to before 1903, which is when the Daniel Chester French statue of Alma Mater was installed on the steps of Low Library, because an image of Low from the gift does not show the iconic statue. There are also views of Riverside and Morningside parks. (The slides were added to our Historical Photographs Collection.)
Q. What exhibitions are now on view, and what programs are coming up at RBML?
A. We have some great in-person exhibitions on view for the fall semester, which are open to all Columbia students, faculty, and staff. One is an overview of the life and work of founding father John Jay, In Service to the New Nation, which marks the completion of the John Jay Papers Project. This seven-volume editorial project, which has been ongoing at RBML since the 1990s, has involved the publishing, in paper and digital formats, of John Jay's papers.
We've also just opened a centennial exhibition about the celebrated composer Jack Beeson, who joined Columbia's Music Department in 1945, and served as department chair from 1968 to 1972. His many accomplishments include establishing a doctorate in music theory and composition, adding degrees in ethnomusicology, and connecting the University's music program to Juilliard's. He also served behind the scenes on the awarding of the Pulitzer Prize in Music.
Every month we have an online program in our curatorial shorts series. On November 15, Karen Green, Curator for Comics and Cartoons, will be in conversation with Alexis Hagadorn, Head of the Conservation Program, about the Persinger scrapbook—a 50-pound scrapbook from Kansas started in 1928, which is currently being digitized.
On November 3, we'll be cohosting The Science of Abolition, with Dr. Eric Herschtal, a history professor at the University of Utah. This program is part of the Lehman Center for American History's new book series: Historians in the Archives. Next up in the series on December 1 will be To Make the Wounded Whole: the African-American Struggle Against HIV.
You can also learn more about issues in the archives through the Columbia Libraries podcast series Overdue Conversations, hosted by curators Thai Jones and Melina Moe.
Q. How will RBML research and teaching evolve under your leadership?
I'll resist being glib and not say "for the better!" Our team already does a lot of fantastic research and teaching, and I've been consistently impressed with what is happening here. The breadth and depth of knowledge among the staff, as well as their creative drive, is terrific. I hope to keep us all moving forward, and bring some holistic practice to the who and why of that work. We don't need to do "more" if we already work at our capacity and at very high quality, but there is always room to rethink and assess. Those are the kinds of strategic pieces that an individual may not have the space to do every day, but a good leader should be able to keep that conversation centered.