Creating a Healthier Harlem, One Block at a Time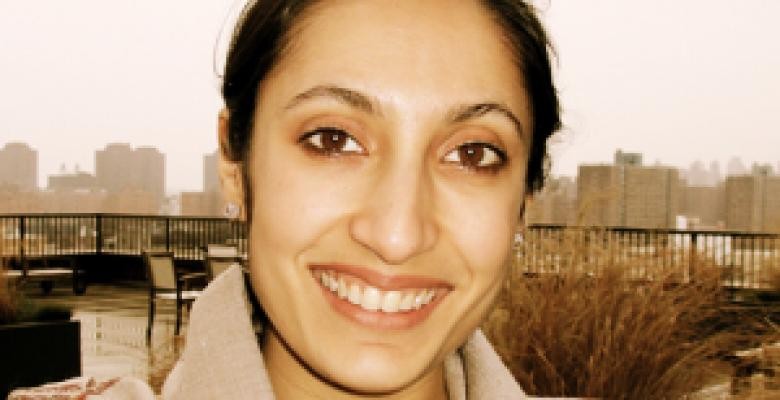 Health care is arguably the nation's most contentious issue. Manmeet Kaur, a graduate student earning her M.B.A. on May 16, knew she was going to be entering a fraught field—but chose to pursue it anyway.
Troubled by the dearth of health care services in poor communities, Kaur started City Health Works, a nonprofit aimed at combating high rates of preventable chronic conditions, such as obesity, diabetes, heart disease and depression. "There's a huge need to catch people who aren't yet that sick," Kaur said.
Her interest began shortly after her 2005 graduation from Barnard, when Kaur spent time in Africa and India. She worked at a small community-based organization in Africa that offered preventative health education and then at an organization called LabourNet in Bangalore, India.
LabourNet served as a two-way exchange of information between construction workers and employers about issues such as banks, health insurance and work resources. The experiences helped her realize "how extremely low-resource environments are forced to do a lot more with a lot less."
When she returned to New York, she began working at Columbia's Earth Institute and considered applying to graduate school. Kaur had originally planned to pursue a career as a human rights lawyer, but the time abroad fueled an "a-ha" moment—she could help people by creating a business.
"Occasionally we have an M.B.A. candidate with a passion to improve life of those in dire need," said business professor Clifford Schorer, entrepreneur in residence, The Eugene Lang Entrepreneurship Center. "Manmeet is such a person. Her project will assist in elevating the quality of life for people struggling with chronic afflictions."
With a robust advisory board, including a senior vice president from FEGS Health and Human Service System, a New York-based organization that serves over 100,000 people, and a five-year plan to expand throughout Harlem, City Health Works is already preparing to launch its pilot program in East Harlem. The group aims to build a model that will help educate and support at-risk communities on how to lead healthier lives without spending a lot of money.
Program participants meet in a support group with community health workers, also called peer coaches, who are trained and hired by City Health Works. Over the course of a year, the coaches provide periodic checkups to make sure members are staying on track. Kaur's company is forming partnerships with hospitals and seeking reimbursement for the preventative services from insurance companies. The goal is to reduce long-term health care costs for both hospitals and insurance companies.
She says the motivation to see the project through might not have been possible without her graduate school training.
"The mentorship from faculty has been so critical not just to refine my idea and build a business plan, " she said, "but also to have the confidence, technical support, partnerships and plans to get this off the ground."