CU People: Flores Forbes, Urban Planner
Who He Is
Associate Vice President for Strategic Policy and Program Implementation
Years at Columbia
9
June 29, 2016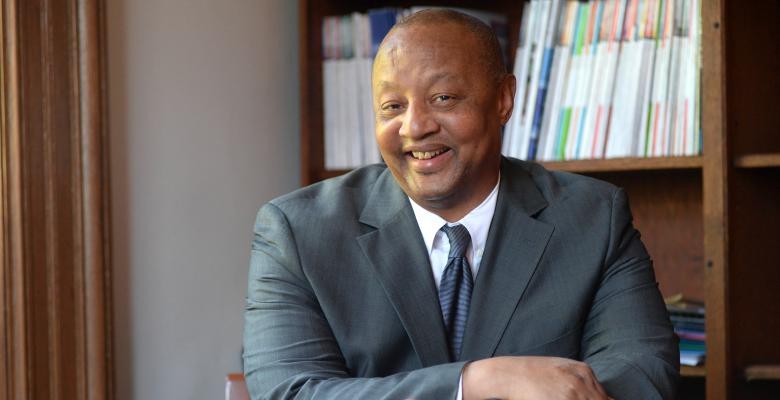 What He Does
Forbes is an urban planner who focuses on economic development in Columbia's local community, particularly Harlem. He identifies obstacles to market growth, consults on how Columbia can help meet the community's needs and works with local groups in Upper Manhattan.
He works closely with the Columbia-Harlem Small Business Development Center, which supports local businesses and entrepreneurs. The center recently organized a fair that connected food producers with buyers, such as Whole Foods and Columbia Dining. Other programs he oversees include job training in hospitality and healthcare for those in the local community, networking events and business competitions.
"Faculty here advise countries all over the world. They advise governments and financial institutions and train MBAs," said Forbes. "Just imagine if the same brainpower advises small businesses and entrepreneurs in a community that's been depressed and oppressed for years. Uplifting is a major component of what the University can do."
Related: Campus Food Fair Introduces Small Harlem Businesses to Bigger Opportunities, Columbia News, May 16, 2016
Road to Columbia
Forbes grew up in San Diego, California, and says he was deeply affected by the civil rights and black liberation movements of the 1960s. He joined the Black Panther Party at age 16 after witnessing, and being a victim of, police brutality and corruption. For 10 years, he participated in the Panthers' Free Breakfast Program for school children and the Sickle Cell Anemia Research program. He was later recruited into the military arm of the Panthers and participated in a variety of operations with its leader Huey P. Newton. After spending three years on the run from police, Forbes chose to turn himself in and subsequently served five years in prison on a charge of second-degree felony murder.
"Back then I saw the Black Panthers as a way to develop my community," he said. "My major goal was: How can I help my people?" After his release in 1985, he asked himself: "How can I continue to help as a professional? Urban planning was a way to do that."
Forbes received a master's degree in urban planning from New York University in 1989. While consulting for the New York State Urban Development Corporation, he often crossed paths with Maxine Griffith, now Columbia's executive vice president for Government and Community Affairs. In 2007, she invited him to apply for a position as her associate vice president.
Best Part of the Job
Forbes is perhaps proudest of his work with Columbia initiatives that focus on criminal justice, including the Center for Justice, the Tamer Center for Social Enterprise and his mentoring of the formerly incarcerated in New York City. "I got a second chance," Forbes said. "The University gives people second chances. The most important part is having the University's faculty, students and administration involved in furthering the community's development."
Most Memorable Moment
On June 10, the University joined President Obama's Fair Chance Higher Education Pledge, a sign of its continuing commitment to removing the barriers that prevent people with criminal records from pursuing work or education. It was an especially meaningful moment for Forbes who knows that it can take "years, plus education and a social network," for the formerly incarcerated to find academic and career success.
In His Spare Time
Forbes has written two memoirs. The first, Will You Die with Me?: My Life and the Black Panther Party, was published in 2007. "I had 18 years with the Black Panthers, as a fugitive, and later in prison. Things I couldn't put on a resume." Writing about his time with the Panthers helped him realize that community development has been his passion from the beginning. It also continues to inform his criminal justice-related work at Columbia.
In October, Forbes' second book, Invisible Men: A Contemporary Slave Narrative in an Era of Mass Incarceration, will be published. It focuses on how African American men with criminal records manage to find professional success, often by "hiding in plain sight until they can remove the stigma of incarceration."