CU People: Jim Bittel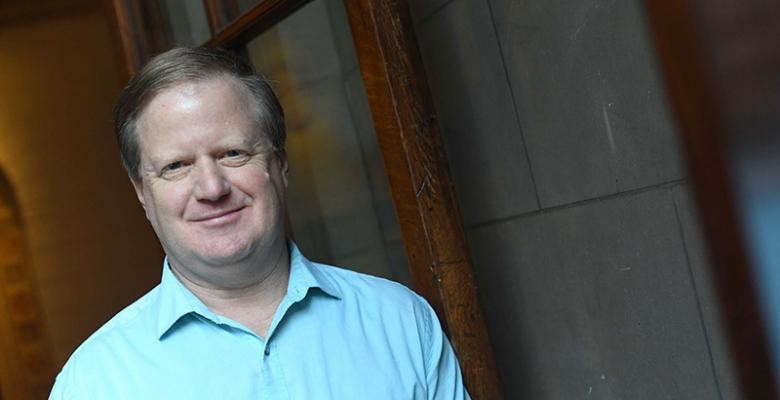 Title
Director of Broadcast and Multimedia Technology, Graduate School of Journalism
Years at Columbia
6
What He Does
Bittel leads the day-today operations and strategic planning for newsgathering technology at the Journalism School. His department includes a state-of-the-art video broadcast production facility in Pulitzer Hall that gives students and faculty the ability to report live from the field and produce onset interviews that can be transmitted to news outlets worldwide.
"It's a way for us to present Columbia's expertise to the general public and showcase the talent across campus," said Bittel whose team manages 5,000 pieces of equipment necessary for video and audio production, including cameras, lenses, tripods, lights, recorders, headsets, batteries and microphones. As part of his strategic planning, he works to keep the infrastructure nimble enough to meet changes in technology. "We want to have the capability to work with any formats that may be coming in the future," he said.
Bittel also offers audio and video production services for a range of entities on campus, such as the Pulitzer Prize office and Columbia Athletics. For those renting event space at the Journalism School, he sets up cameras and facilitates livestream events through Facebook and YouTube. "There are so many amazing events at Columbia. Livestreaming them has opened these up to the general public," he said.
Best Part of the Job
Bittel enjoys forging relationships across campus, but notes that helping students learn how to use broadcast and multimedia technologies is his first priority and favorite role. "The best part of the job is getting to pass along to our students the things that I've learned in my career," he said.
Memorable Moments
On April 20, 2015, Bittel's team managed the first use of new fiber-optic infrastructure and streaming capabilities to provide live coverage of the Pulitzer Prize announcement from the Journalism School's World Room, allowing newsrooms worldwide to see the announcement in real time. "This was a huge win for our entire team and the Columbia community," said Bittel. "Greatly enhanced coverage was now a reality."
Road to Columbia
"I've always been someone fixing things and figuring out how things work," said Bittel, who grew up in Harwinton, Connecticut and was interested in technology from a young age.
He studied broadcast journalism at the University of Bridgeport where he was captain of the baseball team. He went on to work at WTXX-TV, an independent television station in Waterbury, Connecticut, and later moved to a post-production company, making videos for corporate and broadcast clients. He won five industry awards along the way, including multiple Tellys.
Bittel then worked freelance for the ESPN Digital Media Group for six years where he directed and produced remote events such as the winter/summer X-Games. He shot and produced more than 100 videos for ESPN.com, including the four-part series, "So You Wanna Be an Olympian?" and also produced videos with athletes from the NFL, NBA, MLB and NASCAR showing their lives on and off the job.
Before arriving at Columbia, he worked on virtual trade shows, linking vendors to customers for GlobalSpec, a search, information services and e-publishing company with six million users in the engineering and manufacturing fields.
In His Spare Time
Each fall, Bittel participates in a car and motorcycle rally, The Dream Ride Experience, which raises money for the Special Olympics and other charities. The event brings thousands of motorcyclists and car enthusiasts together in Farmington, Connecticut, to celebrate the abilities and achievements of Special Olympic athletes who arrive on a red carpet in a fleet of exotic cars. "They get treated like celebrities and the kids light up," said Bittel. "It's their special day and for many of these athletes their time at the Dream Ride Experience is a memory that will last a lifetime. It's just so satisfying to be a part of it."